In a massive wildlife trafficking raid that took place in western India's Gujarat, the Wildlife Crime Control Bureau (WCCB) Mumbai, Gujarat Forest Department and the Wildlife SOS-GSPCA team seized two rhinoceros horns and elephant ivory products. The raid took place at a shop in Raopura area near Vadodara city. Four people involved have been arrested and the matter is being investigated further.
The year 2022 ended on a mixed note, with a bit of both good and bad. The joint operation ended successfully with the confiscation of two huge rhino horns and five elephant ivory (tusks) artefacts. The good part was the recovery and resultant termination of the sale of the body parts. The bad part is the recurring existence of the horns and ivory itself in the illegal marketplace.
As per the Wildlife Crime Control Bureau (WCCB), the organisation received intelligence about an individual based in Vadodara who was selling wildlife contraband artefacts on social media platforms like Facebook and WhatsApp. After tracing his location to a shop in the Raopura area of Vadodara, the WCCB, Gujarat Forest Department and Wildlife SOS-GSPCA teams conducted the raid. Four pieces of artefacts made out of elephant tusks were seized. Further, a thorough examination of his phone revealed photos of the accused holding rhino horns. Consequently, a search conducted at his residence led to the recovery of two genuine rhino horns and one elephant ivory artefact.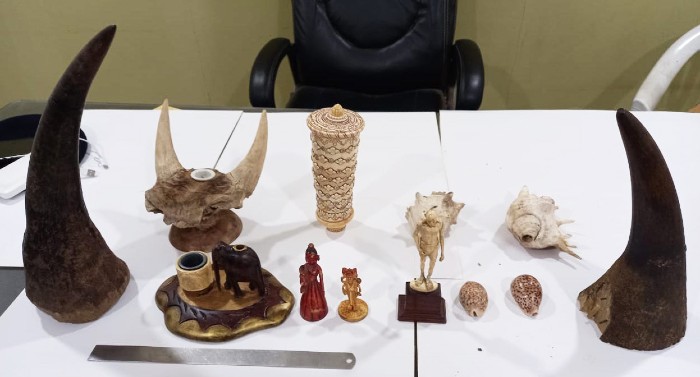 It is still not known how these materials were smuggled to this part of the country but further enquiry by the authorities may provide clues to a larger wildlife trafficking racket. What is known for now is the presence of similar elephant ivory in Rajasthan which has been seized by the state's Wildlife Crime Control Bureau. Currently, an FIR and charge sheet have been filed against the offenders. This is the first time that rhino horns have been seized in Gujarat, and the western part of India altogether. 
The demand for both rhino horns and elephant ivory is deeply embedded in a portion of the affluent section of society. Both species have been continually persecuted for the much coveted horns and tusks (from which the ivory products are made) as a symbolic representation of one's wealth. Elephant ivory products are also bought for superstitious reasons, believing a bangle or pendant can protect the wearer from harm or bad fortune.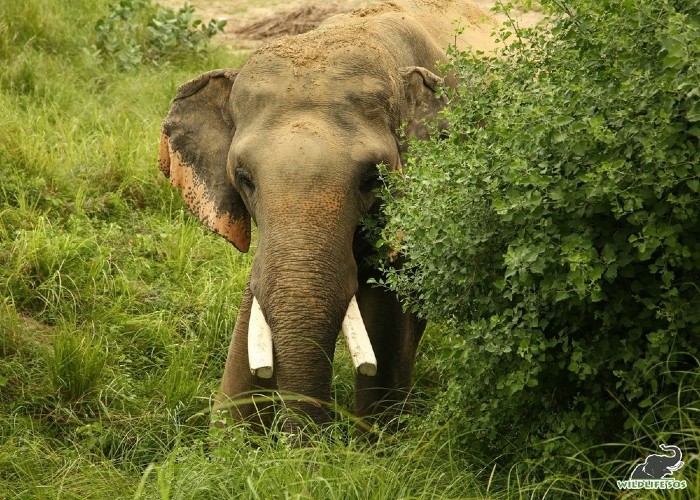 This is not where the myths stop, and consequently ivory has also found its use in traditional Chinese medicine. The tusk powder is believed to have healing properties and can apparently relieve convulsions, cure epilepsy, sore throat, consumptive fever and can even make one's skin glow! Similarly, the use of rhino horns in traditional Chinese medicine and as an aphrodisiac are major threats that have led to the decline in several significant rhino populations.
Poaching for their horns has been the single biggest threat to rhinos, both in India and globally. Nearly 150 Greater one-horned rhinos were killed by poachers in Assam between 2000 and 2006. In India, at least 100 individuals were poached between 2013 and 2018. Due to the illegal trade of rhino horns, the rhino population in the 1900s numbered only in the hundreds. Nepal, another range country of the Greater one-horned rhino, has seen a flurry of poaching activities as well in the past. Nepal's Chitwan Valley is a prime habitat for rhinos and they have also been mercilessly slaughtered there; in 2002, poachers reportedly killed 37 rhinos to cut off and sell their horns.
The illegal market in Vietnam and China for rhino horns, driven by frenzied consumer demand, has left African rhinos fighting for their survival too. Like elephant ivory, rhino horns have also become a status symbol and representation of one's opulence. The horns are also believed to cure cancer, act as a health supplement and even as a hangover cure! It is a tragedy that for such unfounded reasons, poaching of African rhinos hit its peak in 2015, with 1,300 of them losing their lives. In 2017, 691 rhinos were poached in South Africa.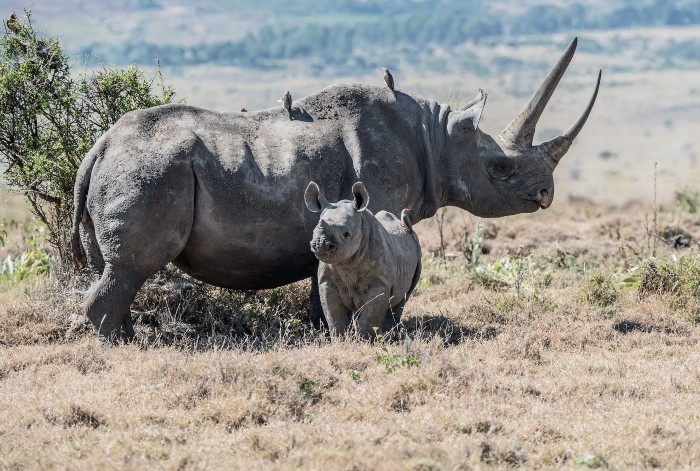 There are certain methods by which these innocent animals are killed. Shooting with a weapon is the most commonplace method. Traders and middlemen often hire sharpshooters and supply them with guns to carry out the task. Trapping the animal in a large, dug out pit is another method. Electrocution through high voltage power lines, poisoning by spreading pesticides or zinc phosphide on salt licks where rhinos frequent and strangulation by a noose are the other cruel and barbaric methods used.
India is home to at least 60% of the Asian Elephant population but they are also in severe jeopardy due to poaching. Data shared by the Ministry of Environment, Forest and Climate Change reveals that 90 cases of seizing elephant ivory were reported in the past three years in India. The states where the incidents took place include Meghalaya, Odisha and Tamil Nadu.
The year 2021 saw the highest number of elephant tusks being seized at 42, preceded by 21 in 2020 and 27 in 2019. According to a media report, in terms of poaching incidents, 29 such cases occurred during the same period. A total of 14 poaching deaths were reported in 2021, the highest among all three years, with nine in 2020 and six in 2019.
Today, wildlife trafficking stands as the second-biggest reason for biodiversity loss, after habitat destruction and fragmentation. Wildlife SOS contributes significantly through various initiatives to curb poaching and trafficking. Our anti-poaching unit 'Forest Watch' assists state forest departments and law enforcement agencies to capture wildlife traffickers and smugglers, and recover animals and their body parts. If you want to play a role in preventing these activities, do consider becoming a monthly donor for Wildlife SOS and support our work to put an end to the illegal wildlife trade.