As we near the year 2023, we can't help but wonder what an eventful time it was for the entire Wildlife SOS team. We take this moment to pay homage to our dedicated and hard-working teams striving day and night to help save India's wildlife. Read on as we highlight some of the most memorable and exciting wildlife rescues of 2022!
Elephant Rescues
Exactly a year ago, our team learnt about Lakshmi, deemed "India's skinniest elephant". Aged about 30 years old, she was found in a debilitated state due to long-term deprivation of basic needs while being abused and used for begging. After a long journey of about 400 kilometres, she finally reached the Wildlife SOS Elephant Hospital in Mathura. You can read more about Lakshmi's journey here.
She was found riddled with several injuries, ranging from bullhook wounds on her ear pinnae, abscess on her hips and a septic wound on her spine. Immediately, our veterinary officers charted out her treatment routine which comprises laser therapy, joint massages, wound cleaning, medicated footbaths, topical medicines, and oral supplements. Alongside, they also provide Lakshmi with a nutritious, well-balanced diet consisting of fresh fruits, vegetables, and porridge, to improve her condition. In the colder months, her diet is with a specialised masala — a concoction of jaggery, spices and herbs that helps generate heat within the body.
In June 2022, our team rushed to the aid of another begging elephant, Rosie. The 39-year-old pachyderm was found with heavy, painful spiked chains around her limbs, suffering from severe foot ailments and fragile health conditions. She is currently receiving treatment and care at the Elephant Hospital.
Sloth Bear Rescues
In August 2022, the West Bengal Forest Department was alerted about a 'dancing' bear in Malda. The 6-year-old male Sloth bear was being illegally transported from an area near the Indo-Nepal border in Bihar into West Bengal for street performances. He was found with smashed teeth, tugged rope through a pierced muzzle, extremely weak, and emaciated. Keeping in mind the well-being of the bear, the Malda District Court ordered the rehabilitation of the Sloth bear at the West Bengal Bear Rescue Centre in Purulia. The bear, whom we have named 'Baloo,' continues to receive medical treatment and lifelong care at the rescue centre which is jointly run by Wildlife SOS and the forest department.
In another incident, the Wildlife SOS team operating out of the Van Vihar Bear Rescue Facility assisted the Madhya Pradesh Forest Department in rescuing a 1.5-year-old Sloth bear cub trapped in a barbed-wire fence. After carefully cutting the wire and separating the entangled fur, an on-site medical examination was conducted by our veterinary doctor. As the mother bear was spotted in the vicinity, the young bear was reunited with her mother.
Leopard Rescues
In March 2022, Wildlife SOS and the forest department rescued a leopard who had wandered into the Mercedes-Benz India factory in Chakan, Maharashtra. The leopard's visit left the manufacturing plant closed for almost six hours but timely intervention by the rescue teams ensured that no one was hurt or injured. After securing the entire area, our veterinary officer tranquilised the 3-year-old male from a safe distance. This was followed by a quick, on-the-spot assessment of the leopard after which it was carefully shifted into a transportation carrier. Since the feline had not sustained any injuries and was deemed fit, it was released back into the neighbouring forested area.
Panic took over the villagers of Taharabad, Maharashtra when news of a leopard sighted within their village rapidly spread. The 10 to 12- year-old female had strayed into a shed housing cows and goats belonging to a farmer, who was alerted by her scuffling noises. The forest department and Wildlife SOS team operating out of Junnar carefully planned to safely extricate the animal.
This year, our team also successfully rescued and reunited several leopard cubs with their mothers, bringing the total to 100! In the most recent incident, sugarcane farmers spotted a 45-day-old male leopard cub in Junnar, Maharashtra and immediately informed the forest department and Wildlife SOS. After conducting a health examination, the cub was placed in a safe box for reunion with the mother. Watch the heartwarming reunion here:
Tiger Rescue
In a rather unusual incident, a Bengal tiger was spotted on the roof of a cattle shed in the Etah district of Uttar Pradesh. The encounter left the villagers in a nerve-racking condition, who rimmed around the area to catch a glimpse of the big cat. Along with the forest department, Wildlife SOS and Etawah Safari officials rushed to the location to plan and carry out the rescue operation jointly.
From controlling the crowd and securing the area to the tranquillisation of the tiger, the mission took almost eight hours to be completed successfully. After an on-site medical treatment, the animal was transported to Etawah Lion Safari.
Rescues from Open Wells
According to an estimate, there are about 8.7 million uncovered wells in the Indian subcontinent today. Since time immemorial, they've served as the primary source of water and support system for agricultural fields. However, wells often bring tragic news for the wildlife inhabiting the areas. Earlier this month, our team managed to successfully rescue a leopard from a 30-foot-deep open well in Maharashtra.
A few months ago, an Indian leopard was found trapped in a 45-foot-deep well located in Belhe village of Pune district in Maharashtra. While the locals and forest department lowered a cot into the well, Wildlife SOS reached the location to provide assistance. Using a trap cage, the leopard was successfully extricated from the well. Soon after conducting a medical check-up, it was released back into the wild.
In another incident, villagers spotted a Striped hyena struggling for life in a 30-foot-deep well. Aware and informed of the do's and don'ts in such a situation, they immediately contacted the Forest Department, who alerted the Wildlife SOS team to assist them in the rescue operation.
Our team has also rescued several other animals like Civet cats and Golden jackals. During the month of September, our veterinary officers also provided treatment to a female tiger cub rescued from an open well at the Van Vihar Bear Rescue Facility (VVBRF) in Bhopal. Understanding the life-threatening risk posed by open wells, Wildlife SOS is pioneering a monumental effort to cover open wells in Maharashtra. We have partnered with the local communities to reduce the risk of death to people as well as wildlife. You can make a difference by signing our petition against open wells.
Rescues from Road Accidents
With the expansion of roads, highways, and railways across the globe, unfortunately, many animals become victims of this linear intrusion. In fact, populations of mammalian species like leopards and hyenas are highly threatened by road accidents.
In June 2022, a Striped hyena had a close brush with death after getting hit by a speeding vehicle on the Pune-Nashik highway in Maharashtra. The animal was left grievously injured and was spotted by locals on the side of the highway. They immediately alerted the Forest Department and a team of officers carefully transferred the injured hyena to the nearest Forest Range office. Responding to the urgent situation, the Wildlife SOS team operating out of the Manikdoh Leopard Rescue Centre (MLRC) instantly rushed to the spot to provide urgent medical assistance.
Massive Bird Seizure in Delhi
Illegal trafficking reared its ugly head in the National Capital of India as over 1700 native birds were found crammed into suffocating cages in the Kabutar (Pigeon) Market near Jama Masjid, Delhi, in March 2022. Various species such as Alexandrine, Rose-ringed, and Plum-headed parakeets along with hundreds of munias (spice-finch), two hill mynas, and buntings were found within the grasps of these illegal poachers.
Through a complaint filed by PETA India under various sections of The Prevention of Cruelty to Animals Act (PCA), 1960, and the Indian Penal Code, 1860, a raid was carried out by the Delhi Police who put a halt to this criminal activity. The forest department took custody of the birds, and as per the direction of the Deputy Conservator of Forests, the rescued birds, including adults, chicks, and juveniles, were placed under the care of Wildlife SOS.
Since most birds were found with severe dehydration, infections, wing damage, and injuries, our teams worked day and night to provide aid to them. They were regularly fed and hydrated, while being kept in spacious and hygienic enclosures. The release of most of the birds was carried out in multiple phases — as and how the birds were deemed fit, they were released back into their natural environment. The remaining birds were handed over to the Delhi Forest Department.
Reptile Rescues
Throughout the year, our Rapid Response Units rescue hundreds of reptiles across the country. From massive crocodiles and monitor lizards to venomous and non-venomous snakes — the reptile rescues are numerous. Some of the most commonly rescued snakes include the Spectacled cobra, Indian rat snake, Indian rock python, Common sand boa, Black-headed royal snake and Indian wolf snake, to name a few. While some are found entangled in nets, others are spotted hiding in the crevices of homes!
Spotting crocodiles in human-dominated landscapes results in massive crowd gathering as they try to catch a glimpse of the reptile. While carrying out any rescues, our teams ensure the crowd is controlled and the rescue is carried out safely. In August, a 5-foot-long Mugger crocodile was rescued by our team along with the Forest Department after it was sighted in a village in Uttar Pradesh. The team based out of Vadodara, Gujarat also rescued a 10-foot-long Mugger crocodile from a celebratory venue.
In rare scenarios, the Wildlife SOS Rapid Response teams rescued venomous snakes like a Russell's viper from a canal in Delhi, Indian cobra from a classroom in Vadodara, and a Levantine viper from a wedding venue in Jammu and Kashmir. Recently, our team also conducted back-to-back operations, where they managed to successfully rescue three massive Indian rock pythons in Uttar Pradesh. The largest one measured nearly 12 feet long and weighed over 25 kilograms!
Anti-poaching Operations
Another monumental rescue operation that Wildlife SOS is actively involved in is busting illegal wildlife trade. Through the anti-poaching unit, Forest Watch, our team gathers and relays information to support other organisations in tracking wildlife traffickers.
Recently, the Wildlife SOS-GSPCA (Gujarat Society for Prevention of Cruelty to Animals) team assisted the Gujarat Forest Department in conducting a massive raid about 30 km from Vadodara, Gujarat. During the raid, the teams confiscated a total of 68 Black corals, 15 Monitor lizard genitals, 31 siyar singhi (believed to be jackal horns), 71 seashells and conches and even two live Softshell turtles. Four people involved in the trade were immediately arrested and interrogated for further information.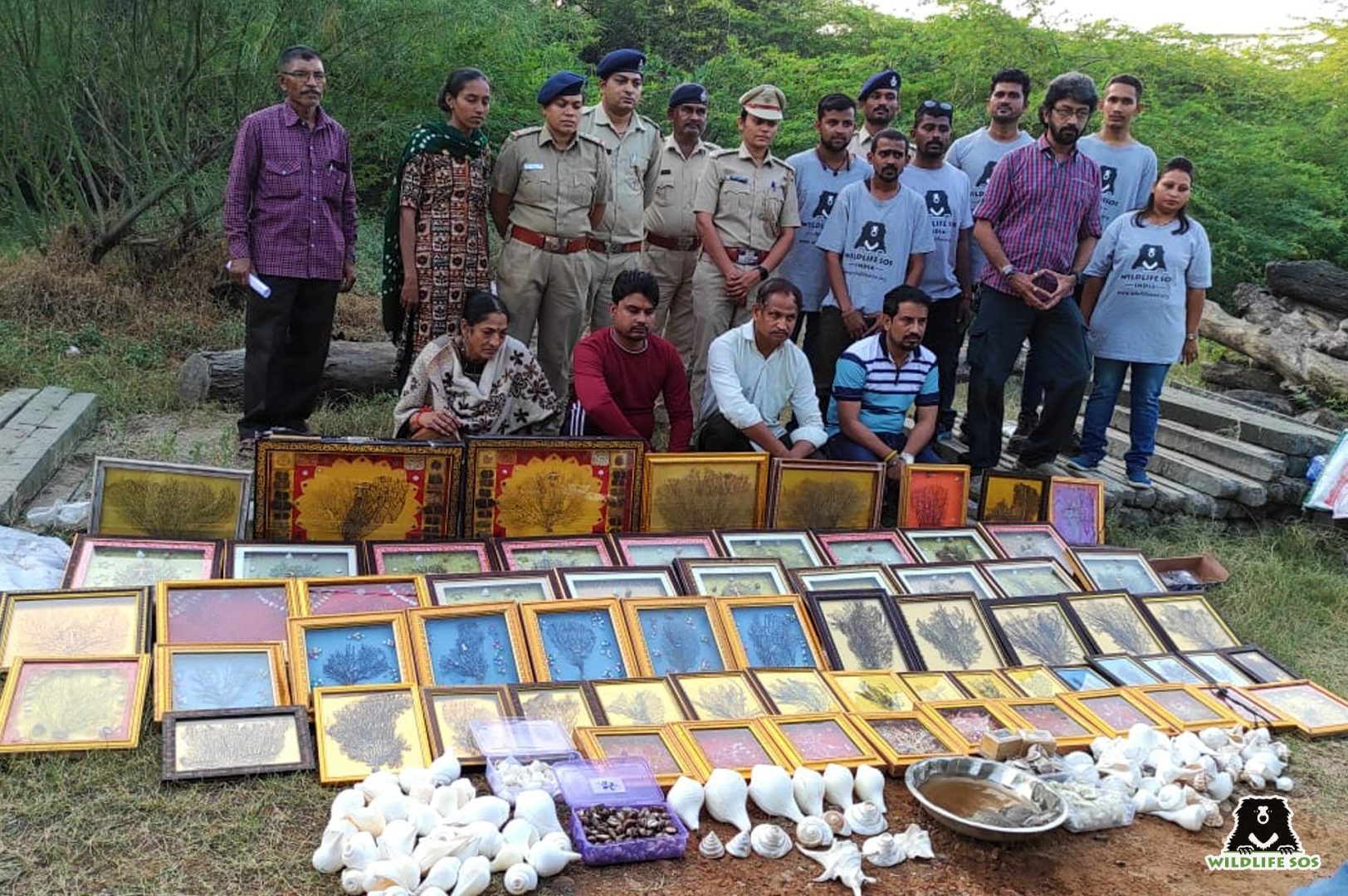 In July, the team busted another illegal trade racket involving a pair of Red sand boas near the Gujarat-Maharashtra border. The confiscated snakes were handed over to the forest department. Most of the animals are traded due to demands which are propelled by superstitions and irrational rituals.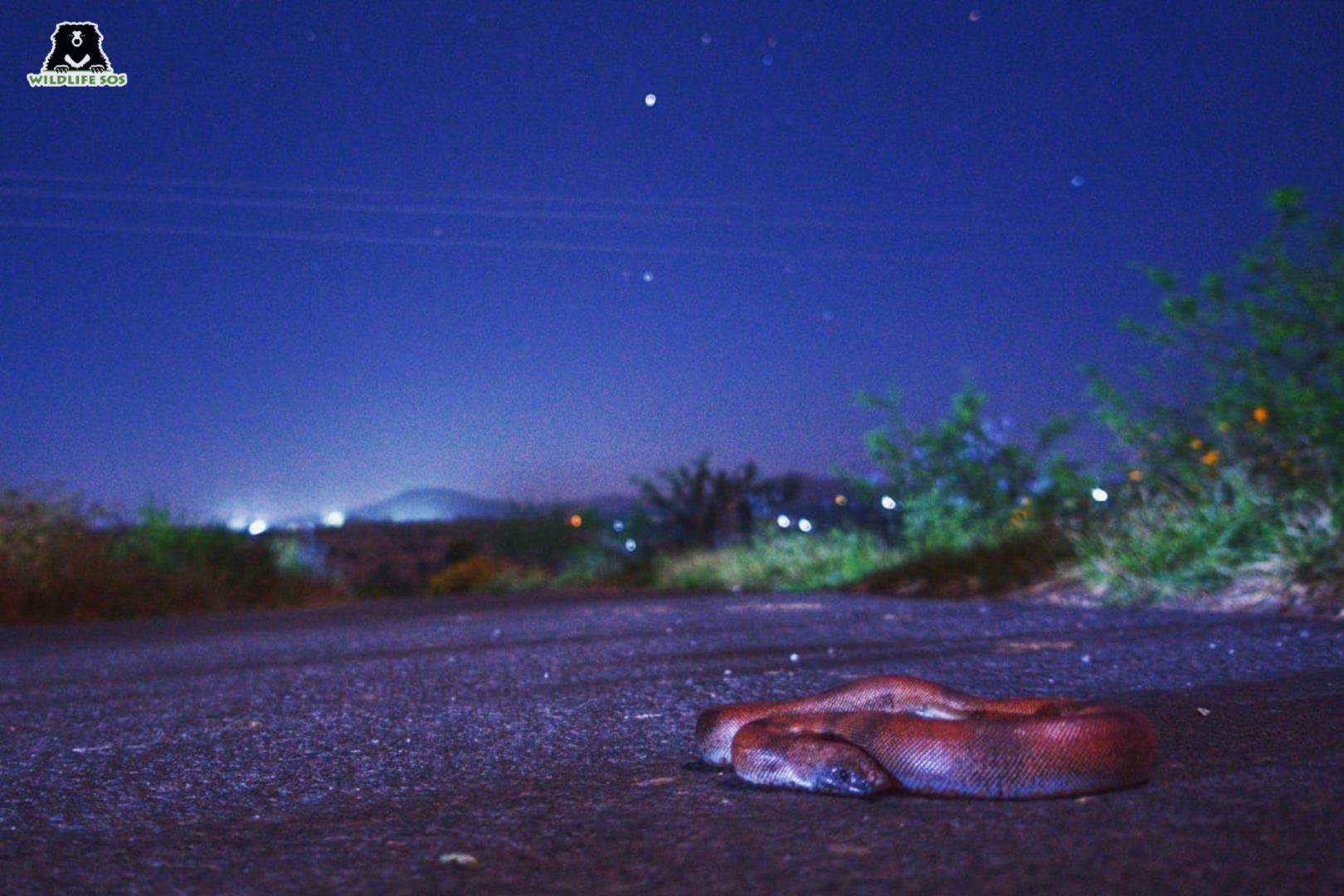 Rescuing Injured Birds
Every year during Makar Sankranti, a multitude of birds fall victim to the deadly manjha – a glass-coated string used to fly kites. The sharp string often cuts through bones causing permanent and irreparable injury to birds. Determined to provide aid to the avian population, Wildlife SOS collaborated with Eco Rescuers Foundation to set up a free, three-day-long bird treatment camp in Jaipur, Rajasthan. A workshop was also conducted on 'bird rescue and first aid with homoeopathy' prior to the camp, to ensure it has a long-lasting impact.
These were some of our most unique rescues of the year thus far. The Wildlife SOS team continues to rescue multiple animals every day! We hope to help many more animals each day.
If you come across a wild animal in distress, please call our 24-hour helpline number! Wildlife SOS operates 24×7 emergency rescue helplines in three cities:
Delhi NCR – +91-9871963535
Agra and Mathura, Uttar Pradesh – +91-9917109666
Vadodara, Gujarat – +91-9825011117
Jammu and Kashmir – +91-7006692300, +91-9419778280