It was a usual morning for the early-risers at the Bannerghatta Bear Rescue Centre (BBRC), but the mood changed all of a sudden when a surprise visitor arrived to see the Sloth bears! Indian actress Abhignya Vuthaluru, who hails from the Telugu entertainment industry, decided to pay a visit to BBRC to not only gain but also spread awareness about Sloth bear conservation.
Abhignya is well-known in the Telugu film and TV industry, and has played key roles in Boys in School (2019), Girls in School (2019) and Dog Lovers (2020). What most of her fans are unaware of is that Abhignya has been a vocal supporter of animal welfare and conservation as well, and is a practising vegan.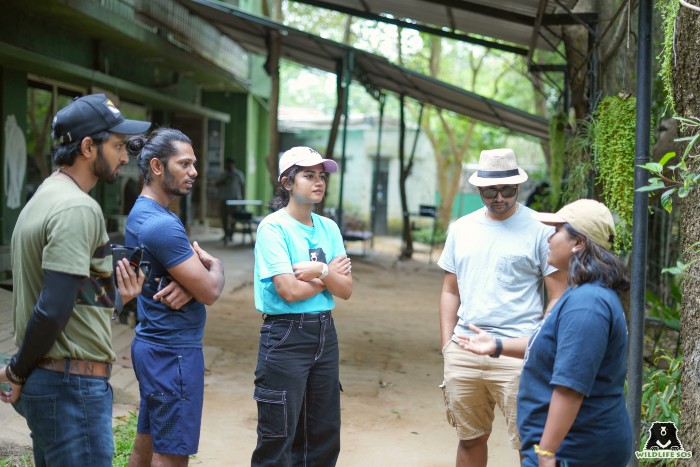 The actress spent a day at the centre where she was given a tour of the facility by our staff. She enthusiastically participated in some fun-filled activities as well. Abhignya helped the bear care staff and caregivers create engaging enrichments for the bears. The actress prepared a puzzle feeder enrichment wherein she put grasses and dates inside a hanging ball. The hanging enrichment ball, which is already a hot favourite among many of the bears, was coated with peanut butter. This attracted resident bears Shari and Tulsi, who grasped the enrichment to relish the treat inside it.
This was followed by a tour of the bear hospital. BBRC is home to over 65 rescued bears, and each individual requires long-term care. For some of them, this includes a prescribed and ongoing treatment as well. While visiting the bear hospital and the operation theatre, Abhignya interacted with the Wildlife SOS veterinarians who showed her the various medical equipment and explained the treatment procedures to her. One of the veterinary officers even demonstrated the mechanism of a blowpipe, a tool which is usually used to tranquillise an animal.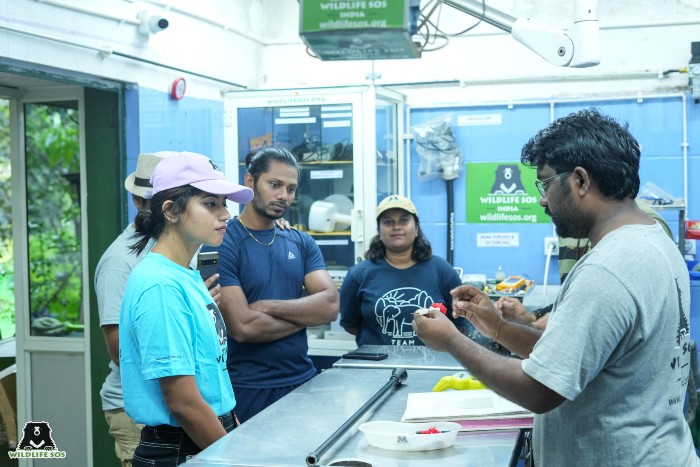 Along with medical care, a nutritious and healthy diet is an equally essential part of the bears' well-being. Our team guided Abhignya to the eco-friendly bear kitchen at BBRC, where food is prepared in a green and sustainable manner. The bear kitchen uses briquette stocks to cook porridge for the bears. Briquette stocks are made from vegetable waste, saw dust and wheat husk. This is a renewable source of energy as compared to gas and emits much less carbon dioxide compared to firewood. For over 9 years, BBRC has not used firewood or gas cylinders at all. This eco-friendly alternative is cost-effective and can burn consistently for up to 24 hours.
Even though her tour was packed with activities, Abhignya took some time out in between to relax, and indulge in a short and fun game of hopscotch.
The daylong visit included an interactive orientation session with the NGO's staff who spoke about the painful history of abuse and cruelty inflicted upon the former 'dancing' bears and the organisation's efforts to help these animals have a better life. Wildlife SOS has been instrumental in saving and providing long-term care for over 600 Sloth bears rescued from the cruel 'dancing' bear tradition, poaching, as well as human-bear conflict situations. Established in 2005, the Bannerghatta Bear Rescue Centre is jointly run by Wildlife SOS and the Karnataka Forest Department. Spread over 77 acres, the centre is divided into five different regions, where the rescued bears reside amidst the dry-deciduous forest of the Bannerghatta National Park, making it the world's second-largest rescue centre for Sloth bears in the world.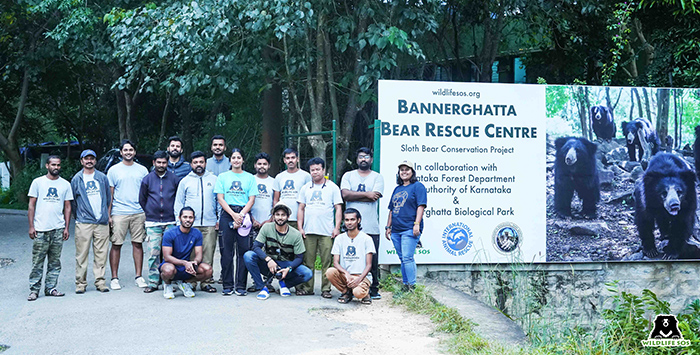 The actress' visit here concluded with a group photo, with Abhignya pledging her support to the 'Refuse To Ride' campaign of Wildlife SOS, which aims to end riding elephants for tourism purposes. Commenting on her experience, actress Abhignya Vuthaluru said, "To be the voice of the voiceless has always been something that I look up to. Thanks to Wildlife SOS who gave me an opportunity to join this team of 'Wildlife Warriors'. Visiting the Bannerghatta Bear Rescue Centre made me aware of the terrible past of the Sloth bears and how they were used as a source of income."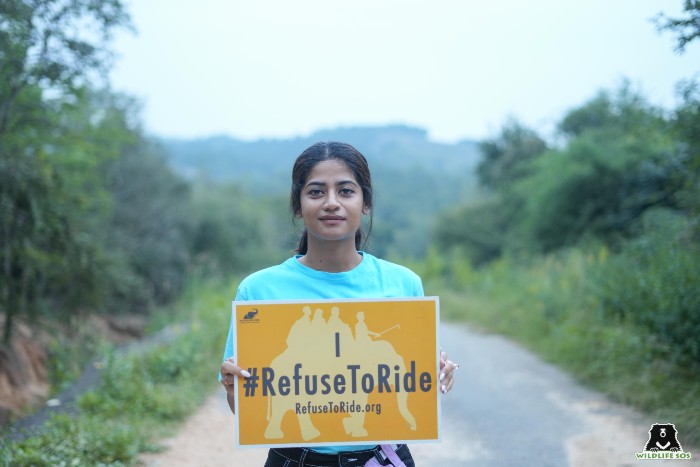 She extended her support to the whole Wildlife SOS team for bringing this issue to light by not just helping the bears but the tribal community as well. You too can support our work by volunteering with us at our centres. Email us at volunteer@wildlifesos.org for queries and details.
To visit or volunteer at the Bannerghatta Bear Rescue Centre specifically, you can write to visit@wildlifesos.org or sandhi@wildlifesos.org