A tale about brutality, perseverance, friendship, and love – the rescue story of Rhea is truly one for the books. Today, as we celebrate Rhea as the elephant of the month, we take a journey down memory lane, recounting her journey to freedom. With all its ups and downs, Rhea's story is in fact more than a mere tale, but rather a guide to love as boldly and fiercely as an elephant.
This majestic pachyderm was ripped away from her herd at a young age, brutally tamed, and forced to perform in a circus. The whips of a bullhook taught Rhea to shed her majestic posture and bend in unnatural positions. An ignorant audience would applaud as Rhea performed, unaware of the pain she was in. When not performing Rhea was chained and denied access to potable water and food. With the metal constantly piercing into her ankles, we can only imagine the state of desolation she was in.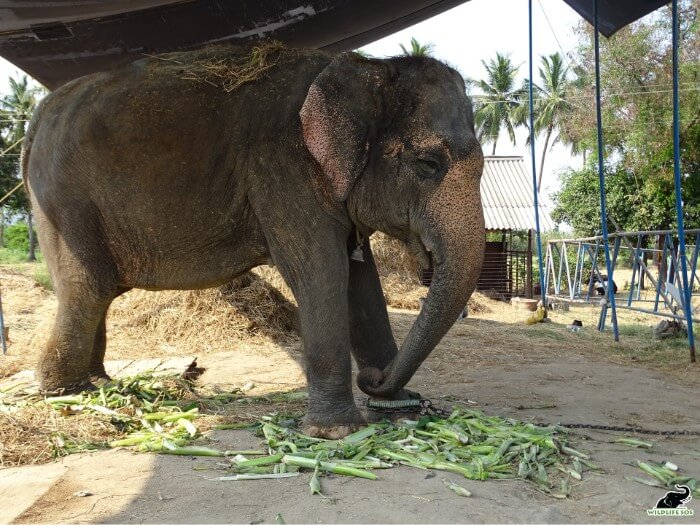 A glimmer of hope in this despairing situation was the love Rhea developed for fellow circus elephants called Mia and Sita. The three would frequently extend their trunks towards each other, sharing each other's sorrows and being each other's joy. Asian elephants are sociable by nature. Female Asian elephants specifically, depend on their herds for survival in the wild. For Rhea, Sita, and Mia, an integral aspect of their being, companionship, was ripped away at a young age. Yet, as they found each other, parts of their old self re-emerged.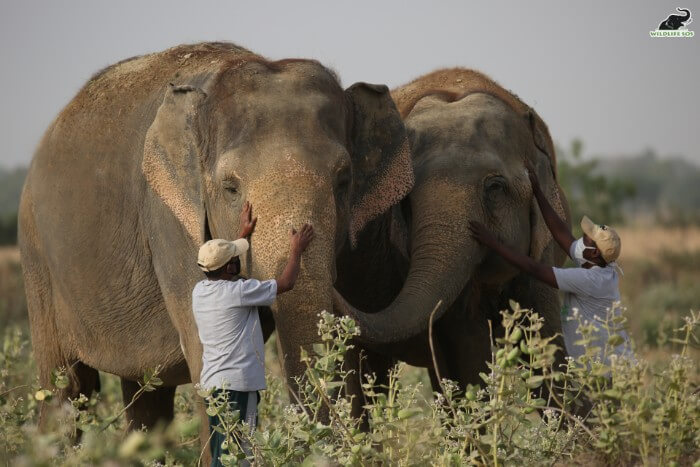 Yet, like all famous stories of love, Rhea, Sita, and Mia's story too involved a test of faith. In 2015, Wildlife SOS set out to rescue the three elephants and bring them to a new life of freedom. As fate would have it, Mia and Sita were rescued, while Rhea's rescue was delayed. Heartbroken to leave Rhea behind, the Wildlife SOS team worked tirelessly to rescue her. Five months later, armed with the necessary permit and the Elephant Ambulance, the Wildlife SOS team rescued Rhea. Her journey to the Wildlife SOS Elephant Conservation and Care Center (ECCC) took six long days. The day Rhea arrived, there were no dry eyes at the center. The frail pachyderm sniffed Sita and Mia's scent from a distance and there was nothing stopping them from being reunited. Trumpets and rumbles echoed throughout ECCC as the three greeted each other. We knew then that there would never be a moment again when the three were apart.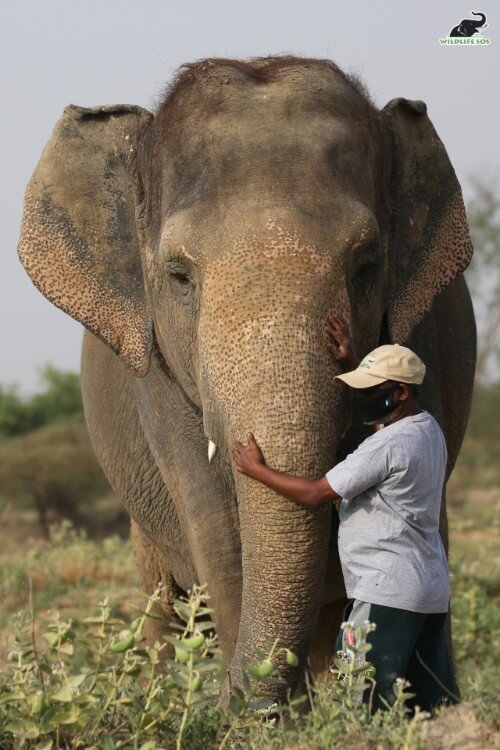 With Rhea's arrival, our team became laser-focused on ensuring the frail pachyderm regained her strength. Her feet were in the most deplorable condition our veterinarians had ever seen. Plagued with an aggravated case of osteoarthritis, toenail abscesses as well as footpad abscesses, Rhea was in a pitiful state when rescued. She required critical medical care which she received abundantly at the hands of our veterinary team. She was administered daily medicated footbaths, given vitamin supplements, and a nutritious diet of fresh fruits and vegetables.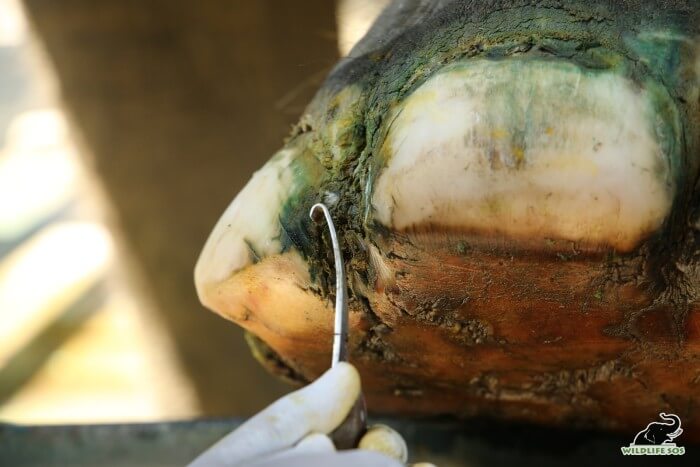 As Rhea began to adjust we discovered her true personality. Always close to Sita and Mia, the jovial pachyderm never failed to bring a smile to anyone's face. She revealed her love for watermelons, a snack she could never get enough of! Her enclosure is surrounded by cylindrical enrichments stuffed with juicy sugar canes. Rhea can often be found bending and extending her trunk to snack throughout the day! A true foodie at heart, Rhea has also started enjoying her target training, knowing that if she performs the desired task she will be rewarded with a juicy snack! With her belly full, Rhea enjoys naps during the day on her mud bed. With the Agra sun shining brightly upon her, Rhea snores away to glory!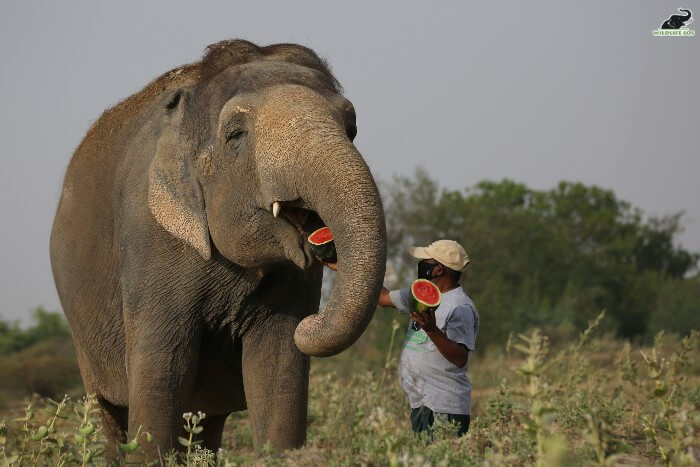 With Rhea acclimating to her new life, fate threw another test her way. A year after her arrival at the Wildlife SOS Elephant Conservation Center, Rhea's companion Sita passed away. Sita's body was unable to heal from the wounds inflicted on her during her time at the circus. Rhea and Mia bid farewell to their companion, with whose support they had triumphed through years of torture.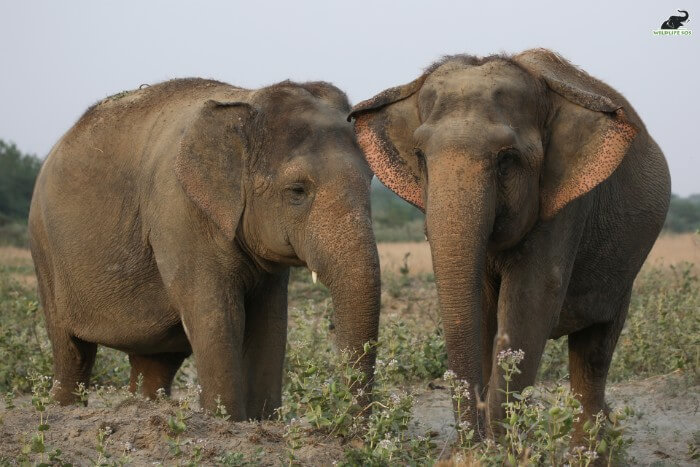 Saddened by the passing of Sita, our center fell silent. Rhea, however, transformed her sorrow into strength. She immediately became Mia's protective guardian, standing by her side at all times. She often shields Mia from the harsh rays of the sun or walks slowly to keep up with Mia's pace. In the case, an odd monkey or bird strays into their enclosure, Rhea courageously stands before Mia, protecting her from any potential danger. Today, the two pachyderms have fallen into a synced routine. They are taken on regular morning and evening walks together, undergo target training side by side, and are given showers and meals at the same time every day. At night the two pachyderms can be found sleeping side by side on their mud mounds. If any strange noise is observed by Rhea she immediately stands up, ensuring Mia is safe and right by her side.
Today, Rhea stands tall, her eyes shining with the wisdom she has accumulated over the years. Yet, Rhea will never be able to return to the wild. The wounds inflicted upon her during captivity, have left Rhea in need of lifelong care. She continues to suffer from osteoarthritis, toenail abscesses as well as footpad abscesses. Dedicated to giving Rhea the care she deserves, the Wildlife SOS works round the clock to heal Rhea. As we watch Rhea continue to battle the wounds from her past, we learn to continue to love without regrets, hesitation, or sorrow.
You can help us provide Rhea with the safekeeping she deserves. Click HERE to sponsor Rhea's care!