Every day at Wildlife SOS is a new and unpredictable ride, especially for the field team that is always working in close proximity to various species that inhabit our country! One moment Wildlife SOS veterinarians could be going through the diet plan for the resident bears at the Agra Bear Rescue Facility, and in the next they could be packing their bags to tackle an emergency where a tiger has wandered into a village! The veterinarians and the rescuers always have to be ready for any "wild" situation: be it to extricate a leopard from within a classroom or to treat a dehydrated snake that has been brought to the rescue centre. When working within the field of wildlife, one must be prepared to handle animals under lifelong care, as well as those wild animals who have lived in the jungle all their lives.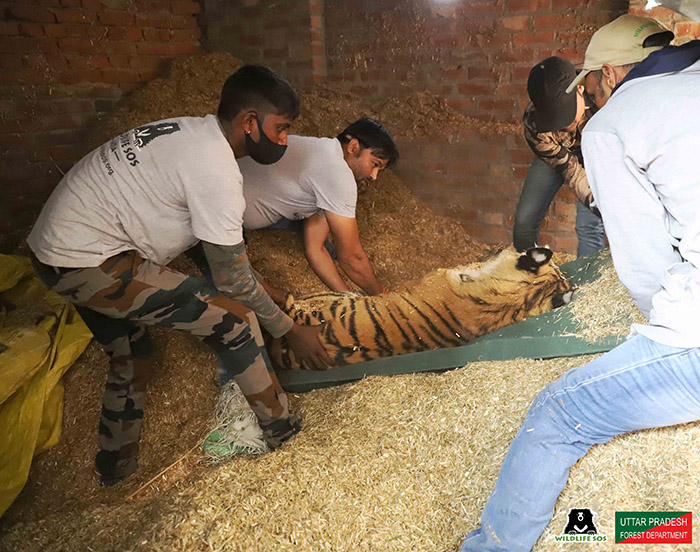 Challenges while working at a rescue centre and those while working in the wild are sure to vary. The rescue team always needs to be extremely cautious when dealing with animals in the wild. When entering jungles or unknown territories, it can be hard to predict what sort of dangers lurk in every corner! The rescue team is likely to find itself face-to-face with animals that know every nook and cranny of the forest!
To give you a better understanding of this, let's revisit the Chattisgarh elephant radio-collaring project undertaken by Wildlife SOS. A mammoth problem of Human-Elephant Conflict (HEC) existed near areas surrounding Chattisgarh due to declining forests. Instances of humans encountering wild elephant herds were on a steep rise. These herds were raiding entire paddy fields that the farmers had painstakingly grown for their subsistence and survival. The locals would take drastic measures to remove these animals from their territories. This situation was becoming increasingly dangerous for both parties involved.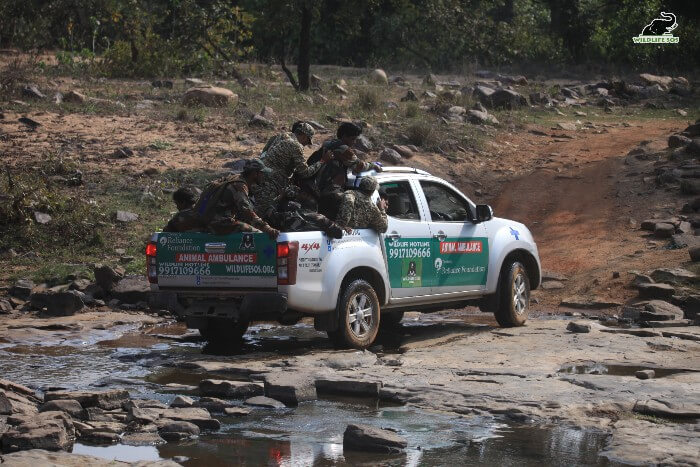 To resolve this, Wildlife SOS worked on radio-collaring of the wild elephants. This required intensive on-site research to understand the nature of the problem, as well as identify conflict areas and problematic herds. One of the herds identified in the venture was Van Devi's herd. The team set out to initiate the process by radio-collaring the matriarch, Van Devi, to understand the movement patterns of the herd. Radio-collaring the matriarch was no easy task, and the team went through a series of failed attempts, yet emerged through it with great learnings. After the radio-collaring was complete, training and awareness of the locals, as well as the cooperation of the Forest Department became necessary to ensure success.
In other instances of dealing with wild animals – such as rescues – the situation can prove to be quite unpredictable. No one can foresee how city-dwellers will react when a wild animal is in front of them. There may be widespread panic and even retaliatory killings. In one instance, the GSPCA-Wildlife SOS team in Vadodara rescued a crocodile from a residential area. The mugger crocodile (Crocodylus Palustris) was found in a water tank from which the stall vendors draw water throughout the day. Shocked to see the animal, their first reaction was to pelt stones at the crocodile to chase it away. The Reserve Police Force (RPF) had to ensure crowd control while the rescue team extricated the crocodile from the stressful situation.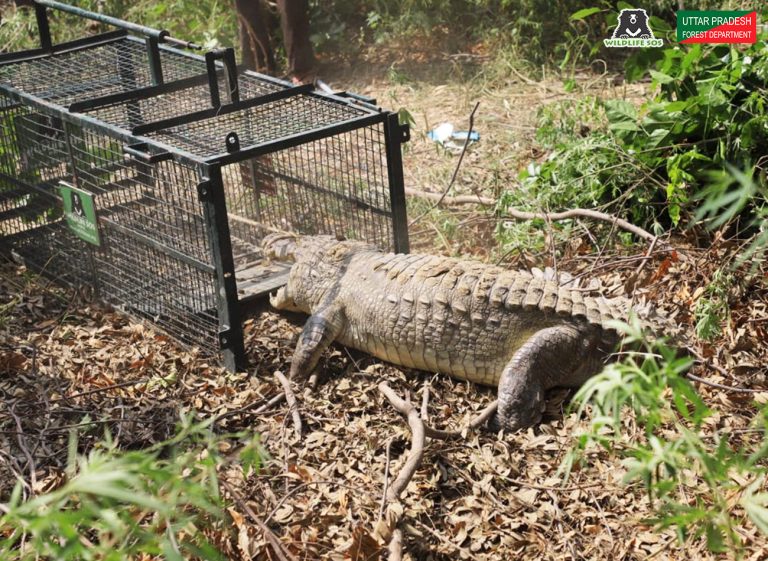 In rescue situations, one requires the right equipment to relocate the distressed animal. At Wildlife SOS, we are well-equipped with an Elephant ambulance, Mobile Veterinary Unit, trap cages, tranquilizers, and veterinary kit among others as rescue calls are sudden and frequent. The team needs to be ready to provide on-site treatment and first-aid to wild animals who may have been gravely injured. One such rescue was of a sloth bear named Millie, who was found dragging a snare trap on her paw in the forests of Karnataka. The rescue team had to act swiftly in this dire situation. Life-saving treatment was given to Millie on-site after she was tranquilized by the veterinarian. She was then moved to the Bannerghatta Bear Rescue Centre for rehabilitation. In certain events where there have been leopard or wild animal sightings, the animal disappears before the rescue team arrives at the spot. This doesn't mean that no work has to be done; the team may be required to stay back for a few days to scout the area.
Taking care of animals that live under lifelong care requires different resources than that of the rescues. For one, most of them are disabled and require treatment lasting their entire life! To house these animals, a large space with required infrastructure needs to be provided. This area should be away from cities or human settlements to ensure comfort and safety.
The Wildlife SOS Elephant Hospital Campus is built near the Yamuna river where the elephants are free to splash around and go on walks over the large area. We are currently working towards expanding the area for these disabled elephants.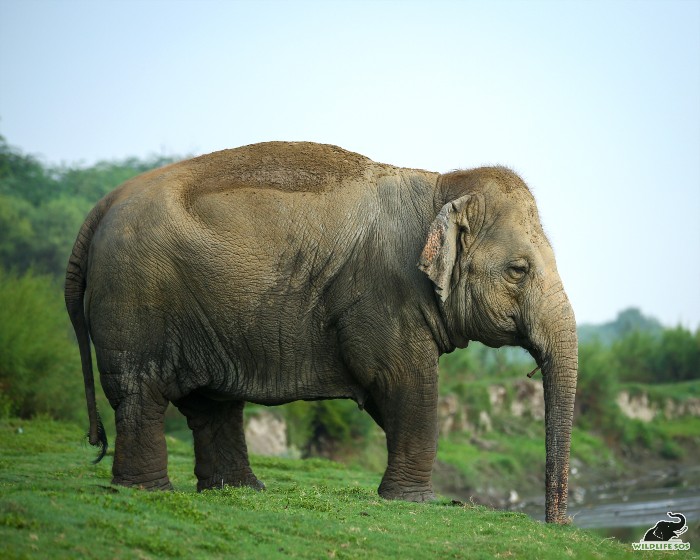 A lot of the rescued animals that reside at Wildlife SOS also display stereotypic behaviour like head-bobbing, swaying and pacing to cope with the psychological trauma that they have faced. To overcome stereotypy, rescue centres must be well-equipped with enrichments like cage feeders, hanging net enrichments, hammocks and scratch posts. The veterinary team also needs to keep in mind the needs of each individual animal and ensure that the enrichments are a right fit for them. On top of that, the enrichments also need to be altered regularly so that the animals are constantly engaged to try out new things.
A rescue centre also needs to be equipped with modern medical equipment that can support the care of different animals. For example, at our elephant care centres, everything is jumbo-sized, as standard veterinary equipment cannot meet the requirements of elephants! The rescue centres also need to have sophisticated operation theatres to be able to take on challenging medical interventions and emergency procedures. In 2019, our veterinary officer conducted an emergency surgery on a Great White Pelican that had sustained multiple internal tears and ruptures in the oesophagus after choking on a large fish.
Though there are different ways to handle animals in the wild and those living in rehabilitation centres, the common thread that ties them both together is the need for a skilled rescue team. Without rescuers who have braved situations and veterinary officers who are ready to take on any challenge, safe rescue operations cannot be carried out. We are extremely thankful to our dedicated team that has made tireless and immense effort to protect India's wildlife.
If you wish to contribute to our team's efforts, you can contribute to us here!