It was a tense yet hopeful winter afternoon in November 2021, when our team was preparing to rescue an elephant who had been battered by the absolute nadir of humanity. From there, it was a long journey to bring Pari home.
Here, home refers to the Wildlife SOS Treatment Unit of the Elephant Conservation and Care Centre (ECCC) in Mathura. As our veterinarians examined her on the spot, she was slowly liberated from the shackles of the heavy saddle and the threat of spears and bullhooks, and in this way, we were able to complete the first step of Pari's freedom.
A Past Worth Forgetting
What was special about Pari was that she allowed herself to trust human beings, and let us come close to her despite suffering from an unspeakably horrific past. That particular gesture made us realise how forgiving and trusting elephants can be. As she stepped into the Elephant Ambulance, she undertook a day's journey to reach the Treatment Unit of ECCC on December 1.
The severity of her injuries fooled the judgement of our expert veterinarians who had first estimated Pari's age to be around 40 years old. It turned out that Pari was merely 20 years young. Her poor condition and abnormal gait indicated that she had endured severe neglect, lack of medical attention and was also chained for long hours leading to a permanent disability. Most of the elephants we rescue face foot-related problems, but Pari's was on a scale that was extremely acute.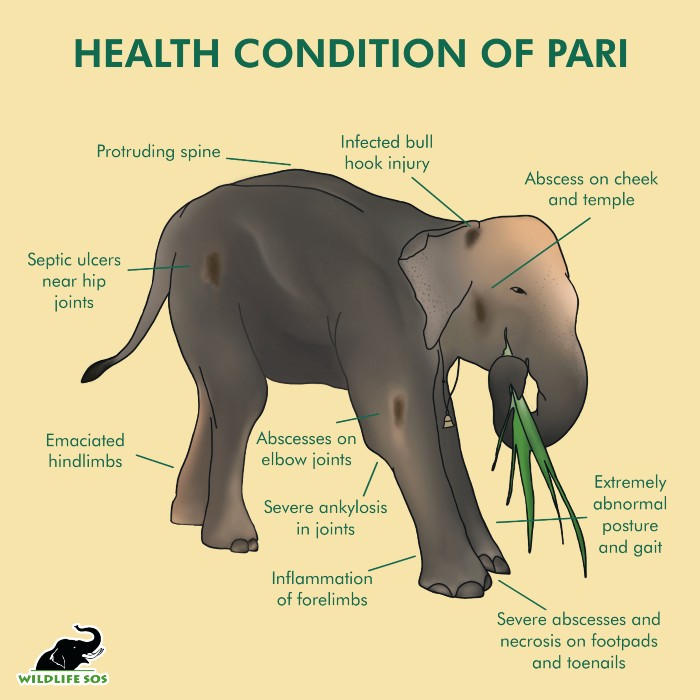 Her life was all about walking endlessly on tarmac roads not meant for elephants to walk on, and begging for alms until she was at the point of collapsing. All this resulted in severe bone degeneration and ankylosis in her limbs. She was also suffering from necrosis and abscesses on her toenails and body, and carried severe cracks on the footpads of all four limbs.
Mending the Wounds
As the saying goes, a stitch in time saves nine. The veterinarians worked hard to come up with a diet plan to help Pari regain the weight that she had lost while living in a constant state of exertion and starvation. She was fed a variety of fruits and vegetables like bananas, papayas, watermelons, sugarcane, and cucumbers. To add warmth to her body, her caretaker also fed her jaggery mixed with some masalas. Mashala is essentially a concoction of jaggery, carom, and turmeric that helps our elephants fight cold and easily digest food.
In just one month, the injuries on Pari's body started to show signs of healing, and she began to trust and interact with her caregivers and the veterinary staff. A few days into her stay at the Treatment Unit, it became quite clear to us that Pari was highly food-motivated. That is why she cooperates more when she gets to gobble down bananas or sugarcane during her treatments.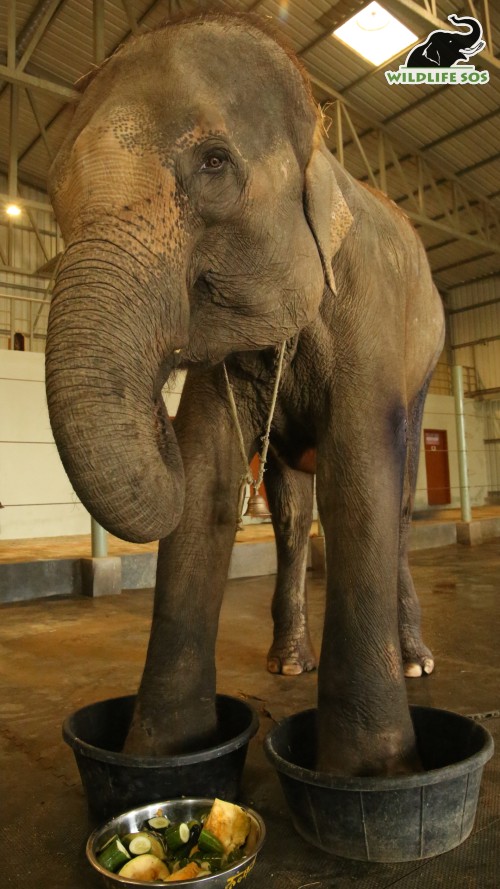 One of the most important steps to expedite her healing involved removing a certain psychological barrier: Pari's bell. The bell around her neck was a constant reminder of her traumatic past, therefore removing it was crucial to her mental recovery. During her days traversing the city lanes, the bell that Pari wore would ring constantly. A sudden removal would have perturbed her, and that is why the veterinarians had to choose the right time for it. Once the veterinarians realised that Pari was used to her new surroundings, they removed the bell, thereby eliminating the last remnant of her past life so that Pari could begin a new chapter.
The Story of Now
During her initial days, this young elephant could not walk more than a few metres due to the degeneration of her bones. But as days progressed, we saw her do more than just taking small and careful steps. The regular treatments greatly facilitated her recovery and now, she ventures out for short walks. Her caregiver takes care that it's an easy route with no slopes, and her walks are mostly in the areas surrounding the Treatment Unit building.
Pari is yet to cover larger areas, such as going near the Yamuna river bank where the other elephants go for their walks. Seeing the improvement in her condition, we are hopeful that she will be able to go on longer walks soon. All this is a reminder of the horrible physical abuse that she was subjected to, which snatched the most basic freedom of walking freely away from her.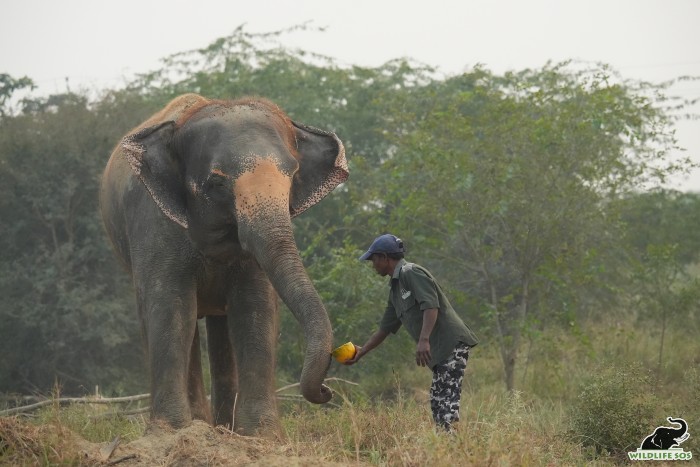 Pari is still receiving regular medicated foot baths in a mixture of Magnesium sulphate, turmeric powder and boric acid to treat her foot pad and toenail abscesses. Her hip abscess is in a much better condition now, but she is still receiving laser therapy treatment, as well as the application of an ointment with anti-microbial properties for the ankylosis in her limbs.
With the arrival of winter, there is also an increase in the amount of jaggery in her diet. This is supplemented by a cooked concentrate with a mix of special condiments like garlic, ginger, black pepper and turmeric. As the temperatures drop further, we will enable her enclosure with halogen lamps and cover them with tarpaulin sheets to provide comfort from the chilly nights. Often, massages that are given with coconut and mustard oil after Pari's bath encourage better blood circulation in her body.
Our veterinary team and the caregivers are working constantly to facilitate a faster recovery for Pari. The first year after rescue has been highly important as well as special, as it allowed Pari to not only get accustomed to her new life and environment, but also get enough time to leave her past life behind. With each successive year that she completes, we aim to improve her health and quality of life remarkably, so that she can be the best version of the wild individual she was meant to be.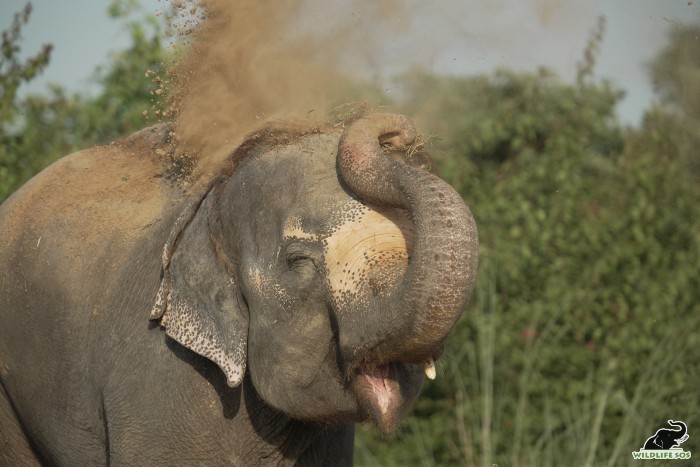 You can support Pari's upkeep by clicking here.