At the time when Wildlife SOS was establishing the Van Vihar Bear Rescue Facility (VVBRF), authorities at the Van Vihar National Park in Bhopal, Madhya Pradesh, placed four rescued wild sloth bears under the long-term care of Wildlife SOS, one of whom was Nathan.
Nathan is a 30-year-old female and is our 'Bear of the Month'. She has been with Wildlife SOS since 2006. When Nathan was placed under our care, she was 14 years old and having spent 16 long years with us, Nathan is no less than family now. She can rightfully be called one of the veteran bears of the centre as she is the oldest one in our care. Nathan stepped into VVBRF along with Ram, Shyam and Singori, all of whom were rescued from human-wildlife conflict situations. When she arrived at the centre, her canines were completely intact, along with her primal instincts – a sign that she was as wild as a bear could be.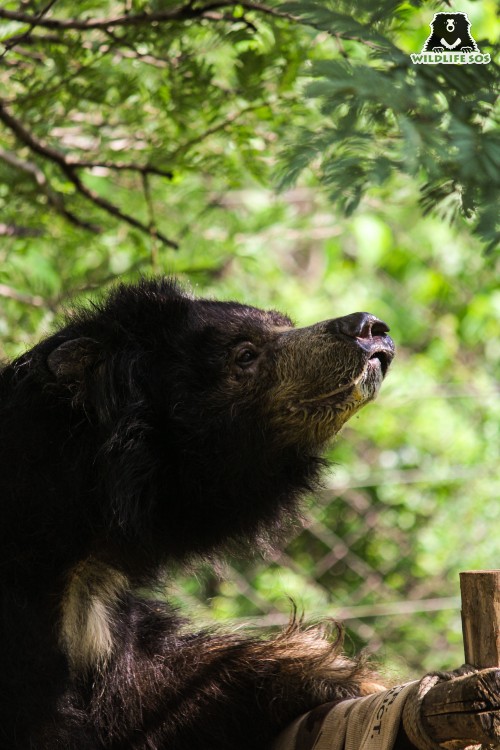 Today, Nathan is in her advanced years and is placed under specialised geriatric care. On an average, Sloth bears can live up to 15-20 years in the wild, but under captive care, they can live up to 25-30 years (even up to 35 years in some cases). Older bears have different physical and emotional needs and go through behavioural changes, becoming more reserved. Nathan is clearly less active as compared to her younger days.
However, with an understanding of her needs, we provide her with the most appropriate geriatric care. As we see bears becoming less active with age, food-based enrichments replace structural enrichments gradually. Surprisingly, Nathan still holds her hammock very dear to her heart. After her evening meal, she will steadily walk to the open field, climb up and just relax on the hammock; probably one of the best ways to enjoy life! Taking her old age into account, the bear care staff carefully built the hammock at a lower level and installed rubber tyres around it that act as support, which help Nathan climb.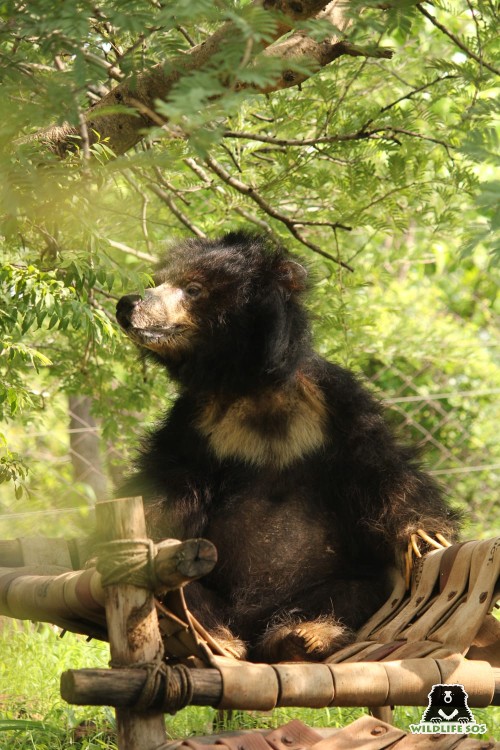 Initially Nathan was kept in the company of Ram, Shyam and Singori. But over the years as dotage took over, Nathan was assigned a separate enclosure, since interaction with other bears reduces considerably with ageing. Today, Nathan enjoys her own company more than anything else. She knows her meal times and is never late for her morning and evening porridge. But it's the afternoon time which she looks forward to the most, when she gets to gobble her favourite watermelons. She loves watermelons so much that when papayas are served during the colder seasons, she would still prefer watermelons over them. During the summers, Nathan's diet includes fresh, ripe mangoes as well.
As part of the geriatric care, we also have water sprinklers in the field which make the soil soft and ensure that she does not face any difficulty while walking. This helps most during the summers, since central India experiences high temperatures. For Nathan, peak summers and winters are the times when she would rather not expend her energy. As part of the summer care, we have air coolers installed in the bears' enclosures and Nathan seems to take full advantage of them. It's during the monsoon season that the caregivers at VVBRF see her more active, exploring the open field more frequently.
Nathan suffers from chronic uterine infection, due to which our veterinarians take extreme care and have administered year-round medication. Due to her old age, she also experiences alopecia or hair loss, because of which she is given thorough massages with coconut oil and turmeric powder. This is done by positive reinforcement training, a method that involves rewarding the animal with treats every time they perform the desired action.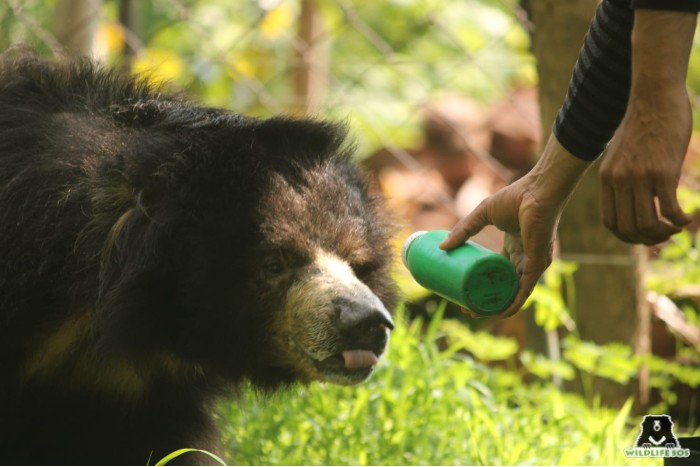 For bears, these actions include responding to basic vocal commands, putting their paws out for blood draws, opening their mouths for dental examinations, among others. In Nathan's case, honey does the job for the veterinarians and the caregivers, and she is happy to oblige.
Not only that, the veterinarians at VVBRF also gave injectable medication to Nathan for her vaccination using operant conditioning. These methods of conditioning have been proven to reduce stress, provide mental stimulation and help maintain cooperative behaviours. The process of conditioning itself takes several weeks according to the willingness and cognitive ability of each individual. Nathan was first made acquainted with mock pricking trials several times, before she was actually injected with a proper needle.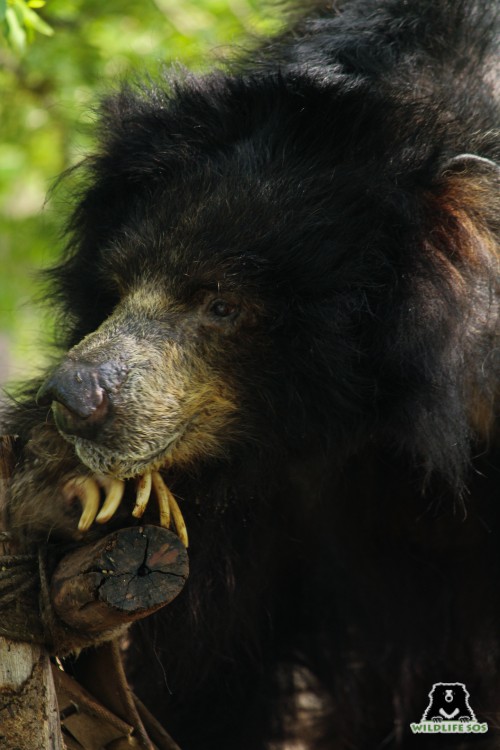 Our 'Bear of the Month' probably realises that we are doing our best to take care of her; it is evident in the way she responds with trust and equal co-operation. Seeing Nathan live a peaceful life fills us with utmost joy and we are grateful to all those who have supported us till now. If you wish to see Nathan continue living a healthy life, please consider becoming a monthly donor.