Lakshmi, infamously known as India's Skinniest Elephant, caught the attention of the public after her malnourished and emaciated photos flooded the internet. Lakshmi was rescued from her poor plight as a begging elephant. Following a complaint filed by local animal lovers, the Forest Department seized Lakshmi from her owner who was keeping her in miserable conditions. When the Wildlife SOS team reached Lakshmi at Bada Malhera in Madhya Pradesh, they found her to be suffering from severe ailments.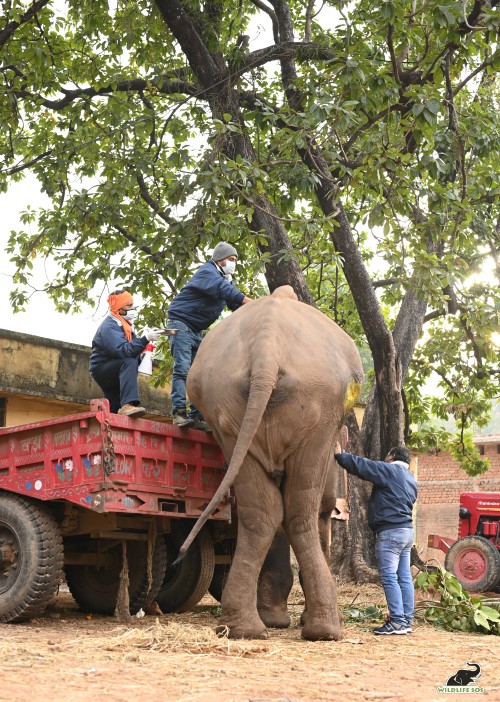 Wildlife SOS veterinary officer, Dr. Pramod Rajpoot who was at the site, thoroughly examined Lakshmi. He found that she had several injuries; ranging from bullhook wounds on her ear pinna, abscess on her hips and a septic wound on her spine. During rescues, one often has to improvise and use whatever infrastructure is available in the surroundings. Dr. Pramod climbed atop a tractor, near which Lakshmi stood, to get a clear view of her spine.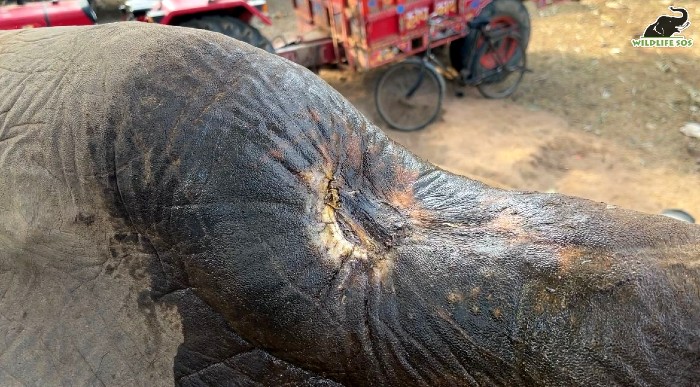 While standing below, the rescue team could see that there was an unnatural and painful-looking bend in Lakshmi's spine. However, from the vantage point atop the tractor, the veterinarian had a clear view of how deep the damage actually ran. There was a wound on Lakshmi's spine. Her captor probably prodded at her with a sharp object like a bullhook. Moreover, with her owner riding on her back every day, the saddle-burn never allowed the wound to heal.
Wildlife SOS often rescues animals from terrible conditions and grave injuries. Yet, Lakshmi was certainly one of the worst cases that we have ever witnessed. Her bone-deep exhaustion was clearly visible to the team. The poor elephant continuously leaned against a tree for support. Her unnatural gait caused her to be unsteady at all times and she mostly stayed still at one spot. The Wildlife SOS team gave her food to coax a reaction out of her. Some concerned locals in the area would also carry a tractor-full of fodder to her every morning. However, nothing seemed to lift Lakshmi's uneasiness.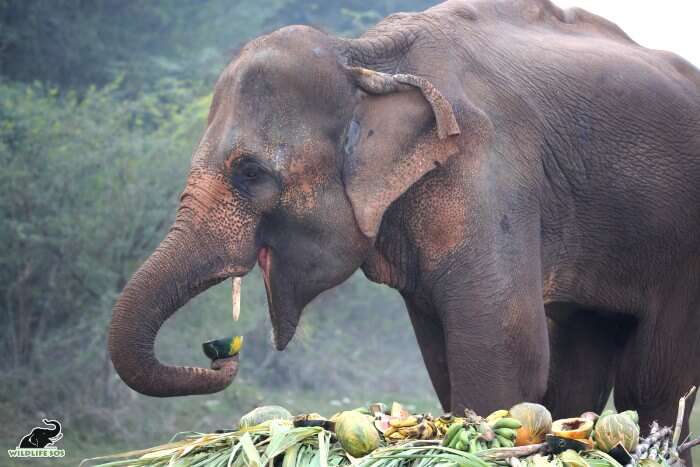 Dr. Pramod decided to start laser treatment, joint massages, and wound-cleaning for Lakshmi on the spot. It seemed to provide her with momentary relief from her pain.
The rescue team brought her to the Elephant Hospital in Mathura, as soon as she could travel. The team travelled through the night; braving the fog and the cold to ensure that Lakshmi was able to get to safety. We welcomed Lakshmi into our family on 1st January 2022, starting the new year on a hopeful note!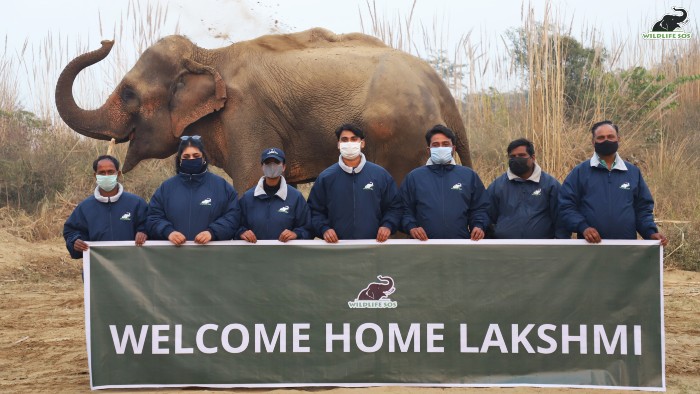 The veterinary team used the medical equipment at the hospital, such as the x-ray machine and thermal imaging to compile all the necessary details about Lakshmi's ailments. She was suffering from various conditions such as a degenerative bone disorder in her limbs, which caused a deviation in her limbs and gave her an unnatural weight. Of course, she also bore the name of "India's Skinniest Elephant" for good reason – she was extremely malnourished.
The veterinarians at Wildlife SOS have been hard at work, ever since, to improve her condition. As much as we would like to present the juiciest fruits to Lakshmi on a silver platter, the matter had to be handled carefully. A sudden increase in weight could cause immense pain to Lakshmi due to the deviation in her joints. Her limbs are far too weak to take on any more weight. The process of helping Lakshmi regain her strength needs to be gradual and well thought out.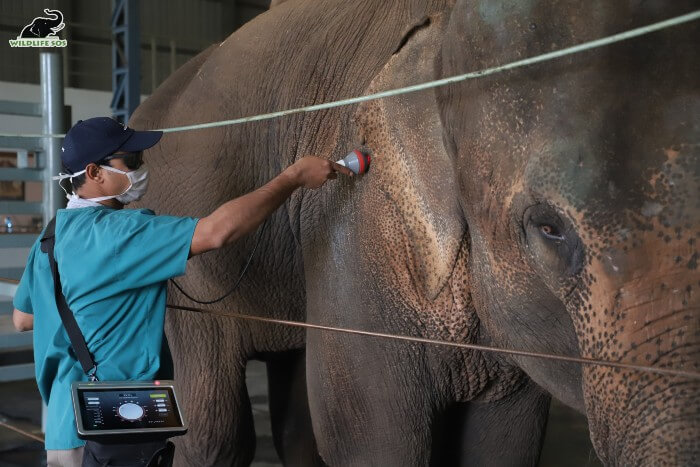 Keeping this in mind, our veterinary team chartered a balanced diet plan to ensure utmost nutrition for Lakshmi while also managing her weight. Under the care of Wildlife SOS, Lakshmi has gained about 300 kgs since the time of her rescue. Lakshmi has been eating a lot of papayas, bananas and sugarcane as a part of her diet. She also consumes the special masala which we give to our resident elephants to keep them warm in the winters. The masala is a concoction of jaggery, spices and herbs that generate heat within the body.
The elephant care team covered Lakshmi's enclosure with tarpaulin sheets to protect her from the chilly winds that blow at night. However, the winter seems to be receding slowly and we can see the weather becoming warmer day by day at the Elephant Hospital campus in Mathura. Lakshmi seems to have grown accustomed to her enclosure and is developing a relationship with her caregiver. He spends a lot of time feeding her and caring for her so that he can gain her trust.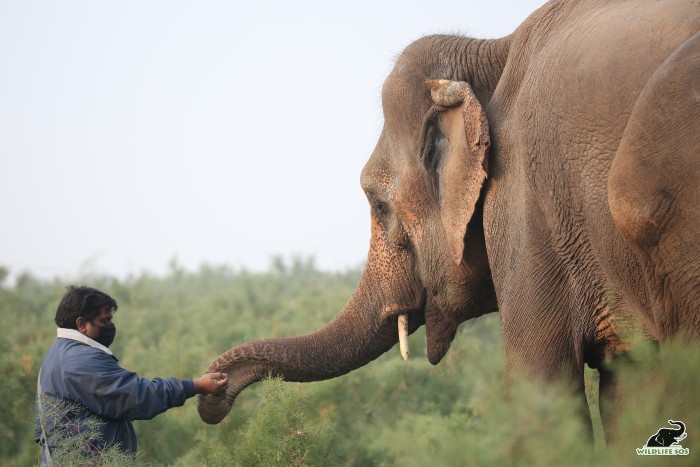 The team piled up a mud bed within the enclosure to provide support to Lakshmi when she wanted to lie down to sleep. The mud bed acts as a comfortable surface for her to sleep on during the night. In the morning, she collects the mud in her trunk and uses it to take dust baths. In the wild, you often see elephants take regular dust baths and engage in this type of 'playing'. However, elephants in captivity are often not allowed to fulfill this basic instinct. Their captors want the elephants to look clean and presentable for weddings and processions, so simple acts like dust baths are denied to them. We are very happy to see Lakshmi reclaiming what it means to be an elephant by taking regular dust baths.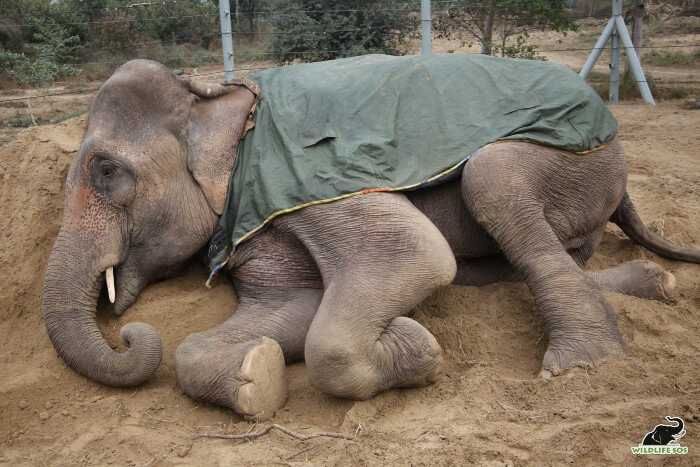 The entire elephant rescue team was worried about Lakshmi. She was mostly unresponsive and withdrawn at the time of her rescue. To a degree, Lakshmi is still a lot quieter and more introverted as compared to most of our resident elephants. However, we can clearly see the progress that she is making by taking mud baths and feeling more comfortable in her new surroundings!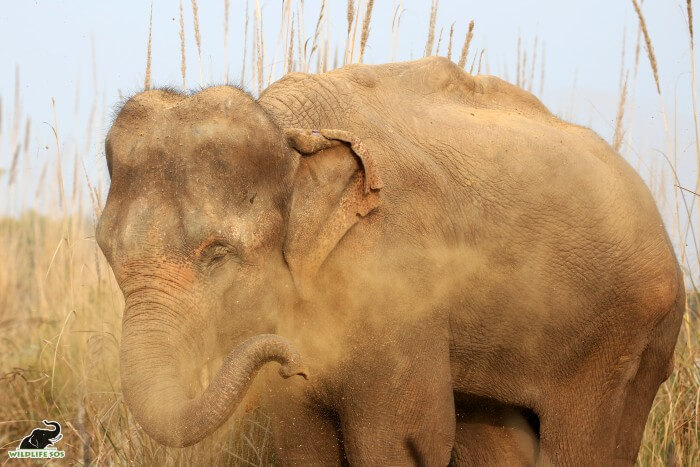 At the moment, there are no plans to introduce Lakshmi to a herd, as her limbs are too weak to keep up with other elephants. As Lakshmi is much more shy and anxious compared to our other elephants, we are working to make sure that she feels more confident before she interacts with any new elephants.
Lakshmi is receiving the utmost care and love at the Wildlife SOS Elephant Hospital. Lakshmi is still a little nervous during her medical-check ups. However, the veterinarians are extremely patient with her. A lifetime of trauma cannot be undone in just a few weeks. But the team at Wildlife SOS will work to earn her trust, even if it ends up taking years to do so.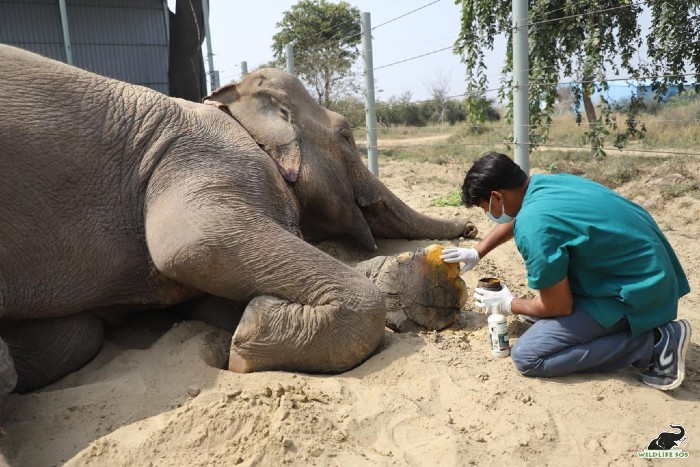 We urge you to become a monthly supporter for Lakshmi. If you wish to support Lakshmi's care and donate even a small amount, you can donate to her HERE