In modern civilisations, one thing that has changed human society remarkably is the construction of roads. Roads not only made far-off places more accessible, they also unlocked the doors for trade. It can be said that those were the first opportunities to interact with more varied people and cultures. It's true that roads help us in many ways – they help us reach our workplace, connect us to our close ones and even make travel for leisure possible. But these roads kill. Why do we say that? Because building roads requires cutting down virgin, old-growth forests, logging at an unprecedented scale, draining wetlands and polluting natural freshwater bodies. All this leads to the creation of something called linear infrastructures. These infrastructures eventually lead to fragmenting the habitats of wild animals.
Roads that lead to nowhere
Have you ever thought about what happens when you drive a car at high speeds on a road which passes through the heart of a forest? An animal might be trying to cross the road at the same time to go to the other side of the forest. What follows is most likely a fatal injury, or death. According to one report, 23 leopards were killed in road accidents in a period of five years in Karnataka. In Tami Nadu's Mudumalai Tiger Reserve, the common toad was found to be the most susceptible to road accidents, accounting for over 50% of the total mortalities. In Pench Tiger Reserve, reportedly 1.13 snakes were killed per 10-km stretch of road every day.
According to some experts, we are facing the most explosive era of road expansion in human history. Scientists believe that more than 25 million kilometres of road could be built worldwide by 2050. But the most problematic part of that is the environmental damage it could pose. Not only would it displace wildlife, but also harm complete ecosystems and their balance will go for a toss.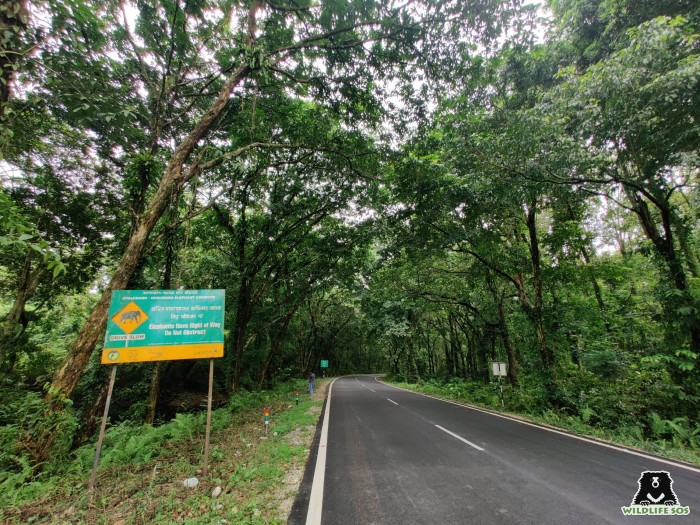 That is why we need impactful and meaningful solutions such as eco-bridges, wildlife overpasses and corridors for the safe passage of animals. For instance, the 62-m ecological bridge in Singapore connecting the Bukit Timah Nature Reserve with the Central Catchment Nature Reserve separates wildlife from human-frequented areas and was constructed after a massive rise in roadkill incidents. Similarly, the Banff National Park in the USA has several overpasses and underpasses built on the Trans-Canada highway. The Netherlands have also developed eco ducts to allow safe passage of wild animals across its protected areas throughout the country.
Life on track
The accidents which happen on roads can still be avoided with better planning, management and vigilance. The ones which are even more dangerous are rail kills, wherein linear intrusion takes another devilish avatar in the form of railway tracks. Long, unending tracts of railway lines running through forests is not an uncommon sight in India. But laying railway tracks in an unplanned way does more harm than good and countless innocent animals die each year due to that.
The 650-m long behemoths, running at an average speed of 70-80 kmph can become killing machines – yes, we are talking about trains. The state of West Bengal knows this better than any other. According to an MoEF&CC report, between 2009-10 to 2020-21, 57 elephants were mowed down by trains in West Bengal. The goriest of them all would likely be the Chapramari tragedy. In May 2013, a passenger train travelling through the East Chapramari forest near Gorumara National Park in Jalpaiguri district ran over 17 elephants. The incident is the worst such accident in recent memory, which killed five adults and two calves, and injured 10 more. This was indeed a dark day in the history of wildlife conservation, and that too occurring near a Protected Area. This incident drew a huge uproar from wildlife conservationists and activists, blaming the authorities over unrestricted train speeds in a well-known elephant corridor.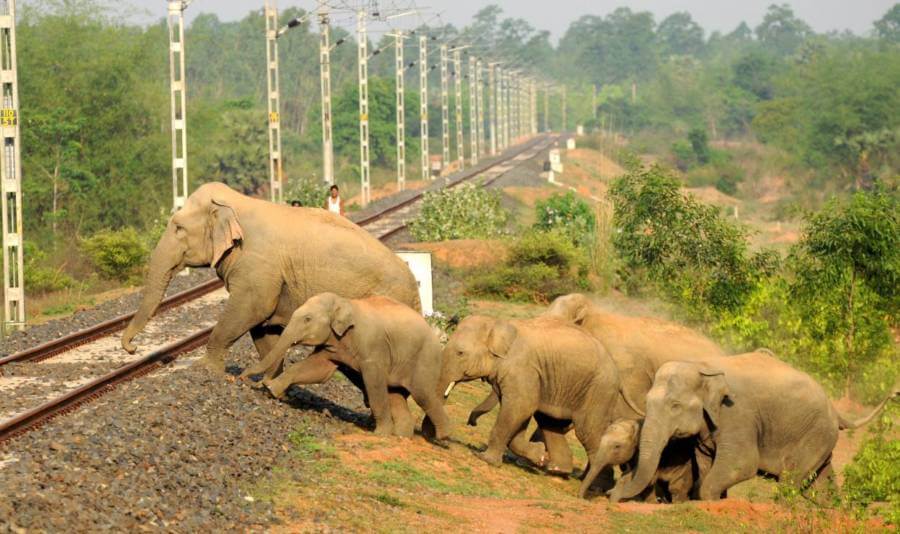 Tamil Nadu is a major state in terms of elephant population and has five sanctuaries covering nearly 8,000 sq km. From 1996 to 2014, 16 elephants in Tamil Nadu were victims of tragic accidents. Of this, three were victims of train collisions whereas five succumbed to grievous injuries sustained in accidents due to other reasons.
This shows that there needs to be measures put in place, beginning with restricting train speeds and keeping them at a bare minimum while moving through forests. It also requires developing early warning systems which can alert the drivers beforehand about a herd crossing. The installation of cameras and speed monitoring systems can also contribute significantly towards keeping vigilance in cases of over speeding and slapping hefty fines on perpetrators. Lastly, powerful lights and signage boards should be installed near every important wildlife corridor, not just for elephants, but for other wild animals too.
The intervention of Wildlife SOS
Wildlife SOS has rescued animals from several instances of road accidents and provided emergency treatment. The most recent one was that of a Sambar deer in June 2021. The deer was hit by a speeding vehicle while crossing NH 222 near Vadkhal village in Pune district, Maharashtra. Wounded and in severe shock, the Sambar was found sitting by the side of the road by concerned passers-by. Wildlife SOS veterinary officers provided on-site treatment to the animal, including fluid therapy and the deer was eventually released into the wild.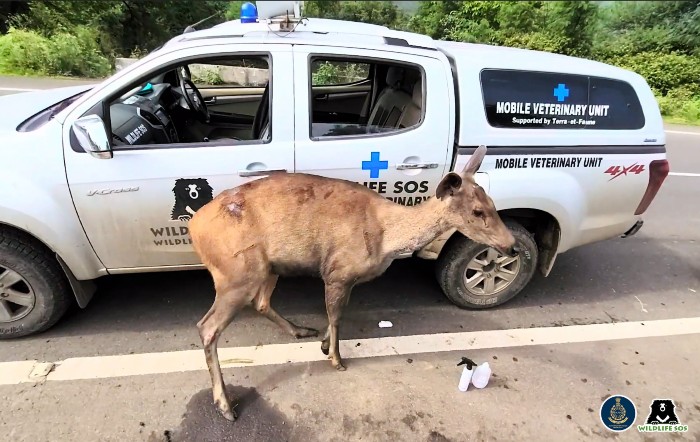 Other cases include administering treatment to a 7-month-old female leopard and a 40-year-old adult male elephant. The leopard had been hit by a vehicle on a highway near Igaptpuri in Nashik district of Maharashtra, and she sustained spinal injuries causing complete limb paralysis. The elephant, on the other hand, was mowed down in a tragic incident by a container truck on the Hosur-Krishnagiri highway in Tamil Nadu. In both the cases, Wildlife SOS provided veterinary assistance to the animals.
Wildlife SOS' experience with rail accidents related to wildlife have been quite unpleasant too. In March 2021, the NGO rescued a striped hyena who was hit by a speeding train in Garhi Dryab village of Fatehabad, Agra. On being medically examined, the hyena was found to have a severe spinal injury. In another horrific incident in 2018, a Nilgai was left almost on the brink of death after a speeding train hit the animal near Delhi. In this case too, Wildlife SOS stepped in to provide medical assistance to the antelope.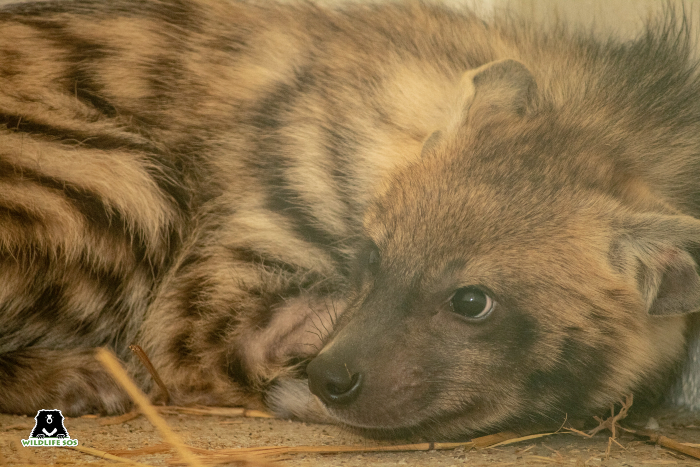 Wildlife SOS has also rescued quite a few elephants from tragic road accidents and rehabilitated them, which include Bhola, Chanchal and Bijli. In November 2011, Wildlife SOS rescued Bhola when he was left struggling for his life after being hit by a speeding truck. Bijli is another brave accident survivor, when a collision with a truck left her with a permanently broken and diffused joint in her hind legs. But today, both of them call the Wildlife SOS Elephant Conservation and Care Centre their home for more than 10 years.
Hence, all this clearly indicates that development comes at a huge cost, and that cost is lives. However, we have to be extremely careful about where our roads are built and railway tracks are laid. The next time we are going for a long drive with forests on both sides, it's better to be on the lookout for important sign boards indicating animal movement. You can also be part of the cause by becoming a monthly donor for Wildlife SOS and support our lifesaving work.