Can the footprint of Homo sapiens be so impactful, that the species can alter the very geological composition of Earth? The abundant and unabashed use of plastic by human beings has had inconceivable repercussions on the planet's health. And guess what? A new kind of rock has formed known as plastiglomerate, which is a combination of rocks and molten plastic.
There is barely any portion of the Earth's terrain that is spared from litter. Be it cities, deserts, forests, beaches, sea shores, rivers or oceans, each and every one of these ecosystems carries a considerable amount of inorganic, non-biodegradable waste generated by human beings. The waste ends up in these natural spaces either as a result of direct dumping due to unchecked waste disposal or indirectly due to unregulated waste management practices.
Need for Clean-up Drives
As a social responsibility, a small population of good samaritans and concerned citizens come forward to tackle the waste problem through clean-up drives. Clean-up drives are an effective way to clear waste from natural habitats. Moreover, the visual impact of seeing others cleaning up a particular place littered with waste can have a domino effect and compel people to reflect on their actions.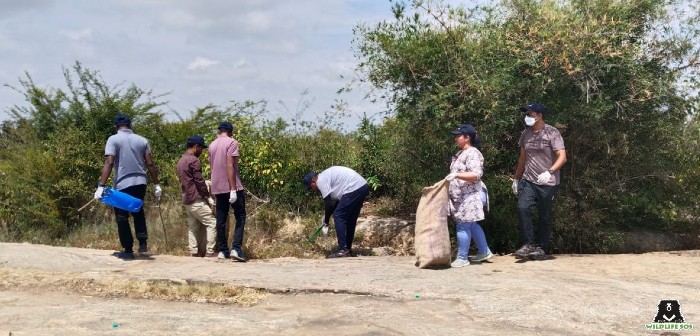 At Wildlife SOS, we believe in the importance of clean-ups and follow it thoroughly with our actions on ground. Our dedicated teams conduct clean-up drives to uphold the purity and sanctity of wild spaces. Green areas are not meant to be littered with filth and garbage, not just for the sake of cleanliness but also due to the harm they can cause to natural environments.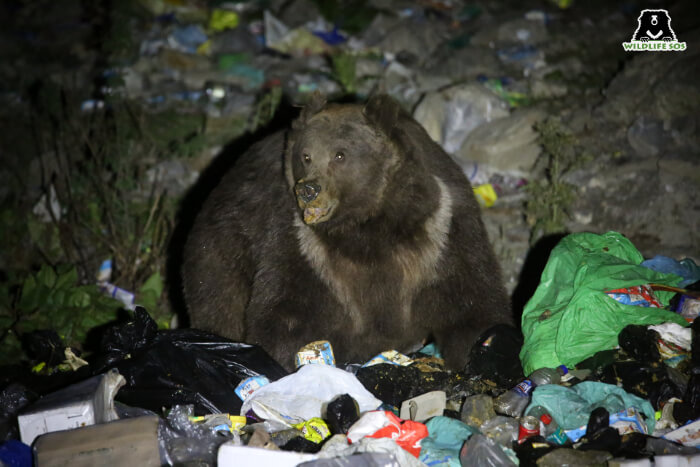 Non-biodegradable waste can be hazardous to soil health and cause groundwater contamination. They can also be mistaken for food by animals and consumed accidentally. As a result, inorganic waste such as food wrappers, packets, bottles, cigarette butts, straws, and cups can enter the natural food web. According to one Wildlife SOS study, 75% of food items in a Himalayan brown bear's diet consists of human produced garbage!
Wildlife SOS in Action
As a conservation NGO, we are aware of how vital it is to keep green areas such as forests clean. To see that translated into action, Wildlife SOS diligently undertakes clean-up drives throughout its various centres. On World Wildlife Day this year, the Wildlife SOS team at the Bannerghatta Bear Rescue Centre partnered with Bannerghatta National Park (BNP), Champakadhama Temple Committee, the panchayat and local police, and conducted a clean-up drive for the benefit of the wildlife inside the park.
Just like World Wildlife Day (March 3), we make the most out of all occasions related to nature, environment and wildlife. Last year on World Environment Health Day, that is observed on September 27, over 20 volunteers from JP Morgan, along with our team members, participated in a cleanliness drive of Bannerghatta's parking area. Each of the volunteers cleared out trash that was found littered in the area and discarded it safely, while engaging in healthy discussions about keeping our natural surroundings clean.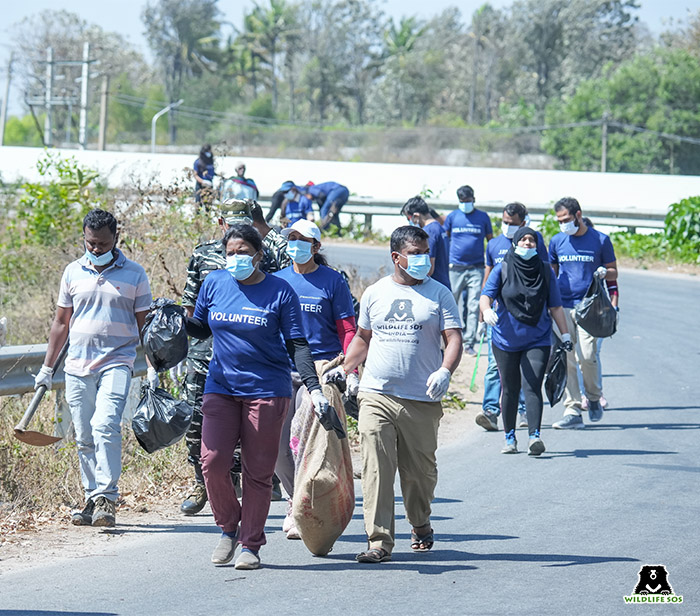 Due to a large part of Jammu and Kashmir still being forested and wild, especially near cities and towns, the impact of waste disposal on green spaces is more stark here. Our team in Jammu and Kashmir has actively conducted cleanliness drives in the past on World Environment Day.
One such clean-up initiative was taken up at Manasbal Lake. Known to be a tourist hotspot, the lake is prone to littering. So our staff, along with student volunteers, were engaged for one whole day picking up plastic waste and trash in the area. Similarly, the J&K team conducted cleanliness drives at the Thajwas Wildlife Sanctuary and Drang areas. These drives are usually carried out in collaboration with the J&K Wildlife Protection Department, local administrative authorities, and school and college students.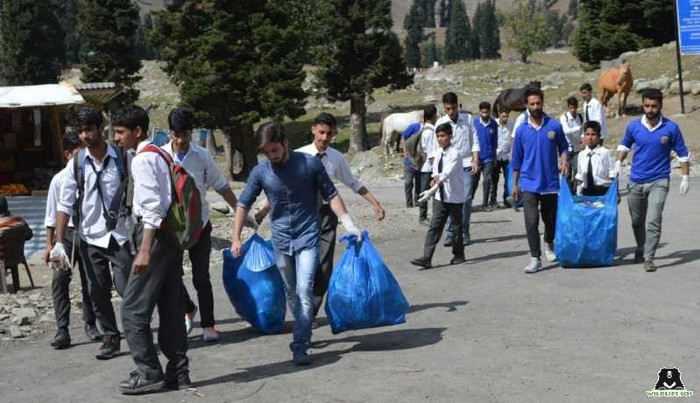 Despite the deterrent on use of plastic bags, these places are dotted with plastic waste and other trash items. The action of littering can have negative impacts on the health of the surrounding areas that are a repository of J&K's wildlife.
Clean-up and Awareness go Hand-in-Hand
We understand the importance of turning a trash-filled area into a filth-free one. But unless there is relevant education and awareness among the locals and tourists, waste disposal will continue to be a conundrum. Wildlife SOS conducts several awareness sessions for children and adults alike, to engage them in correct waste management practices.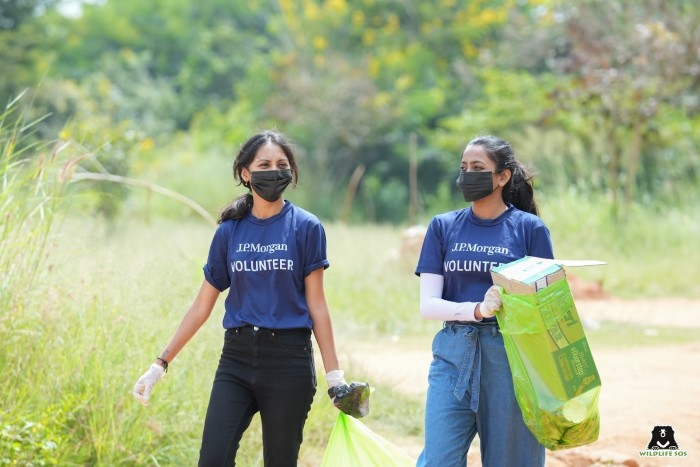 To that end, our team in Jammu & Kashmir actively conducts awareness and outreach programmes involving various stakeholders of the societal echelons. While picking and removing garbage from the area, the participants interact with the local masses and inform them about proper waste disposal. Additionally, the J&K team also came up with the concept of bear-proof bins. They encouraged the residents of the region to adopt the bins (they come with latches that the bears cannot open) to prevent wild bears from raiding the dustbins.
This year on the occasion of International Plastic Bag Free Day (July 3), Wildlife SOS joined hands with Raksha Foundation in Mumbai to reach out to over 40 young kids from the underprivileged sections of society. During the informative session, the participants were discouraged from using plastic carry bags after explaining their harmful effects on the surrounding soil and environment. The children were also guided towards eco-friendly alternatives to plastic such as cloth or jute carry bags.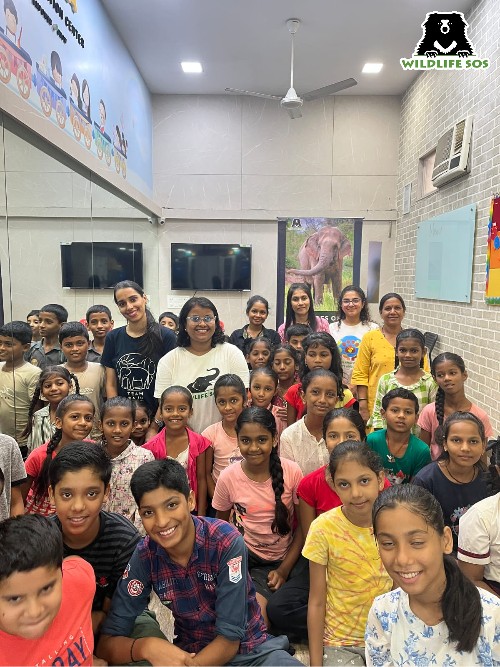 Often people are willing to make a change to protect nature, but are unable to do so due to lack of resources. This is where mindful collaboration with organisations such as Wildlife SOS can prove to be successful. By joining hands with us to volunteer for such initiatives, or by simply donating to support our efforts can bring about remarkable changes. And the cherry on top would be the feeling of self-fulfilment after doing something as meaningful as conserving nature and wildlife.