"Van Mahotsav" or Festival of Forests is celebrated across India from July 1-7 every year. This event was established in 1950 in an effort to safeguard the environment and increase public awareness of the value of trees and forests. To observe this week-long festival, several people come forward to plant trees and engage in awareness activities. While the intention of Van Mahotsav has been to repopulate our surroundings with invaluable assets of our ecosystem, we still have a long journey to make to fulfil this dream.
According to a study, between 1990 and 2000, India's deforestation increased by 384,000 hectares, and the rate of deforestation rose to almost twice that number (668,400 hectares) between 2015 and 2020. As forest cover dwindles, the animal species residing in these jungles face a strong threat to their survival.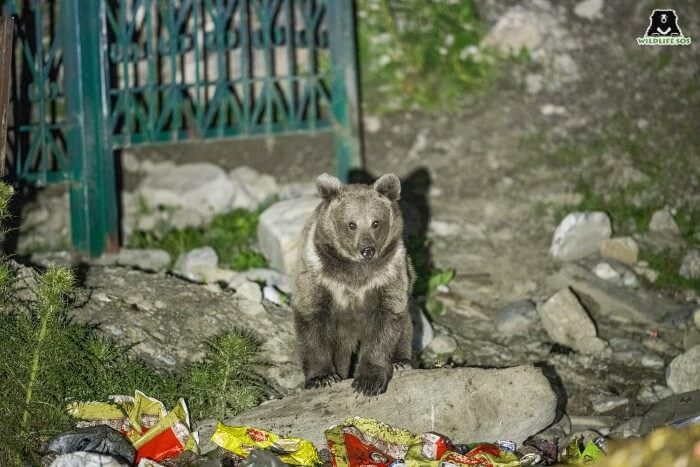 Anthropogenic factors like industrialisation, urbanisation, and rising human population are fast taking over wild spaces. Due to the lack of trees, hazards caused by various pollutants cannot be controlled. Human-induced climate change has caused the planet to warm up at an alarmingly high pace. Therefore, every small individual and collective effort is an urgent step to safeguard the future of our natural environment.
Our teams at Wildlife SOS too have come up with several innovative methods to combat depletion of forest cover, decline of natural resources and improper waste management. By adopting organic farming and the Miyawaki method of plantation, along with organising clean-up drives and awareness sessions, our endeavours strive to sustain our planet's rich colours of blue and green.
Clean is Green
Did you know that plastic has had such a great impact on the planet that a new kind of rock has formed? Yes, plastiglomerate is a combination of rocky material and molten plastic that have melded together.
The massive use of plastic – a non-degradable pollutant made of polythene – has clogged even our scroll social media timelines that now throw up images of wild animals on land and underwater consuming plastic with their meals. Another disastrous effect of plastic waste is taking place simultaneously: soil contamination.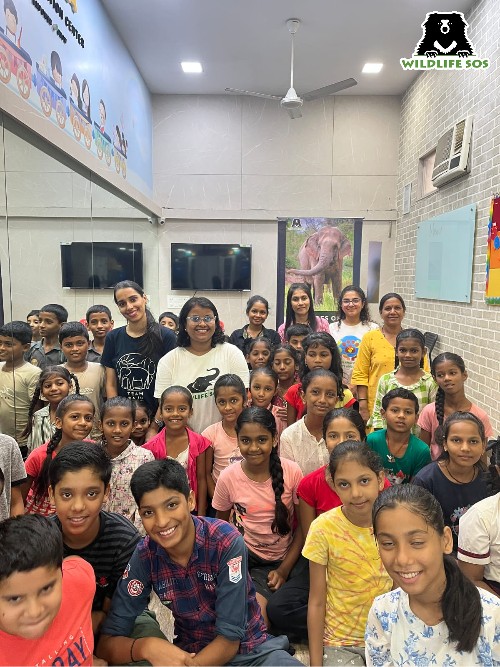 Wildlife SOS conducts several awareness sessions with children to engage them in conservation activities. On the occasion of International Plastic Bag Free Day on July 3, 2023, we joined hands with Raksha Foundation in Mumbai to reach out to over 40 bright minds from the underprivileged sections of society. During the enlightening session, young participants were dissuaded from using plastic after they were informed of its harmful effects on surrounding soil that could support several flourishing trees.
Understanding and adopting an eco-friendly lifestyle is now paramount to fight pollution and climate change. During an event organised for students of Vidya Mandir in Mumbai, the Wildlife SOS team emphasised on how afforestation can bring a balance to the scales that are tilting against the ecosystem.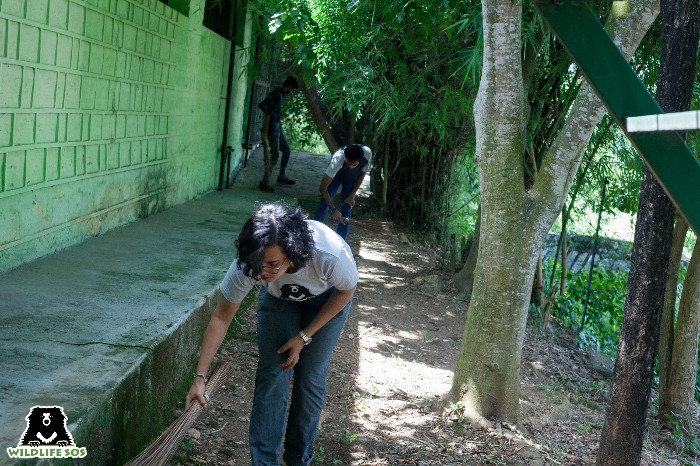 To propagate the "go green" message among the country's future leaders, our team at the Bannerghatta Bear Rescue Centre (BBRC) joined hands with interns from Symbiosis College and Christ University in March 2023 to conduct a clean-up drive inside the rescue centre.
Back to Nature with Organic Farming
The term "organic" means anything related to living matter. Organic farming at the Elephant Conservation and Care Centre (ECCC) began when the team discovered pumpkins sprouting from the seeds in the elephants' dung.
It was in 2018 that organic farming was started across three acres of the large facility. This was done primarily to grow fresh vegetables and herbs to provide a nourishing diet for tireless workers at the centre and the emaciated elephants that were rescued from brutal captivity. Since then, the farm effectively grows a range of seasonal vegetables, including carrots, cauliflower, eggplants, beetroot, cabbage, pumpkins, bottle gourds, cucumbers, tomatoes, chillies, garlic, spinach, and much more, using natural and chemical-free methods.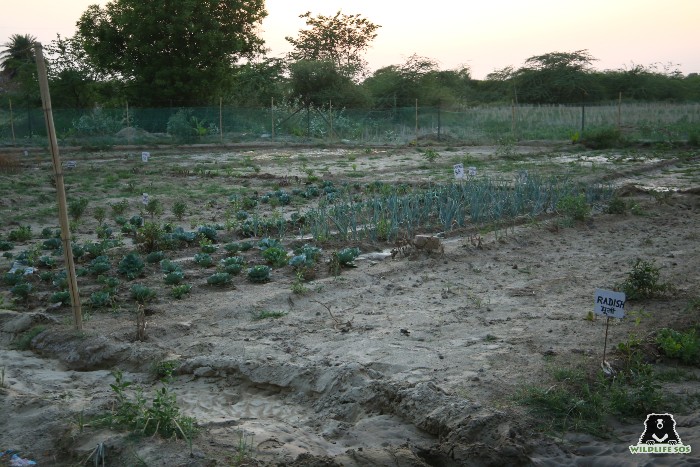 Additionally, water for the crops is reused from the facility itself. This idea was conceived when our staff observed that a vast amount of water was required for rescued elephants for their daily upkeep. To ensure that water from here doesn't go to waste, it is diverted towards the organic farm.
The farm also uses elephant excrement as nutrient-rich manure gathered from a digestion unit at the centre along with powerful natural fertilisers. Organic farming followed at the centre is therefore completely free of harmful chemicals.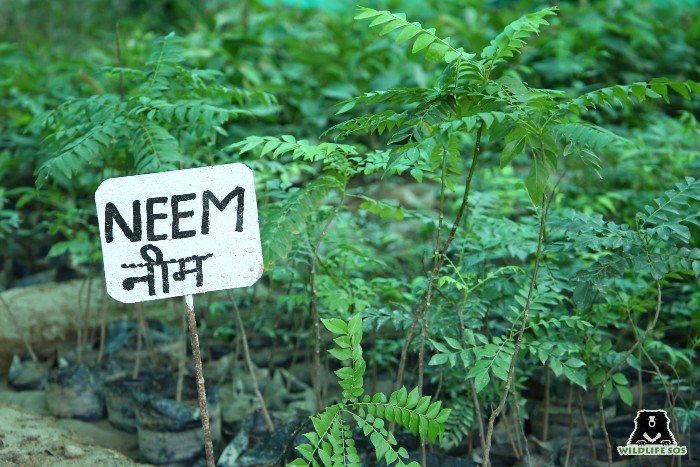 Following the Footsteps of Akira Miyawaki
Japanese botanist Akira Miyawaki conceptualised a unique way to combat diminishing forest cover. The Miyawaki method involves the plantation of native trees to restore flora and fauna. Allowing different native trees to grow can encourage and bring back biodiversity.
As opposed to ecological succession, which is a slow and time-consuming process for a land to become an abundant forest, the Miyawaki method produces self-sustaining, biologically diverse micro forests that foster biodiversity, carbon sequestration, and ecological resilience.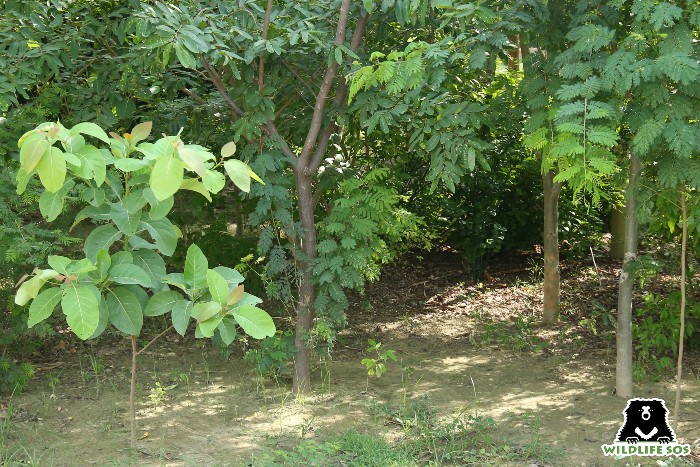 Wildlife SOS adopted the Miyawaki method for the reforestation of arid, dry lands surrounding the ECCC in Mathura. More than 250 seedlings were planted in order to kick-off the project. After its outstanding success, a second drive on the development site across the Yamuna river began with the plantation of almost 11,000 native trees.
Over 20 native tree species, including shisham (Indian rosewood), neem, amla (Indian gooseberry), Indian elm, lemon, bamboo, babool (Gum tree), guava, moringa, arjun, banyan, gulmohar (Royal poinciana), peepal (Sacred fig), jamun (Java plum), mango, curry tree, giloy (Heart-leaved moonseed), and tecoma, were planted.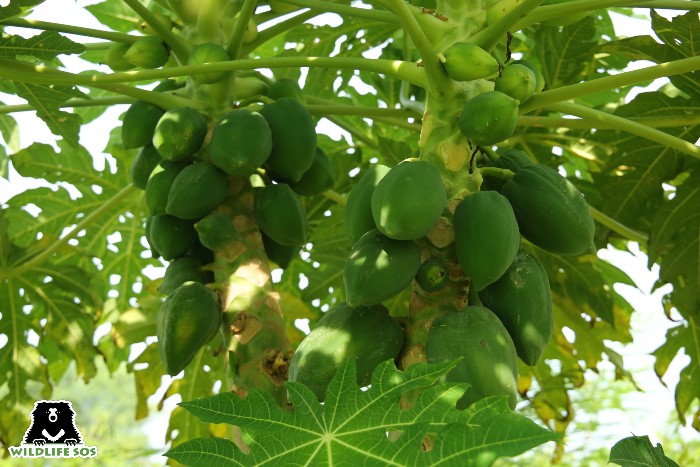 Our hard working team chose these tree species, amended the soil with organic matter, and followed this up by planting saplings at a high density of roughly 3-5 saplings per square metre in order to achieve success. These plants were compatible with the environment and therefore developed quickly. To preserve moisture and prevent weed growth, the land was first mulched before actual plantation started.
Weeding, monitoring, and routine maintenance were also essential to create this man made forest. The Miyawaki method of plantation has not just provided copious foliage in the area, it has also secured shelter for diverse avifauna like barbets, bulbuls and peacocks.
Restoration of Forests at Ramdurga
What was once a dry and barren land became a lush and blossoming landscape when Wildlife SOS began the Ramdurga Project in Koppal in 2007, as part of our effort to protect the endemic sloth bears of India. Once home to a variety of native fauna, the area was left bereft of its inhabitants due to hunting, mining and deforestation activities.
To facilitate the return of native species, especially sloth bears, Wildlife SOS began a massive plantation project in this area. At first, 40 square kilometres of land was bought, and five years later, additional land was procured. As many as 10,000 saplings of native and fruit trees, including neem, amla, custard apples, stone apples, bamboos, and banyans, were planted after consultation with horticulturists.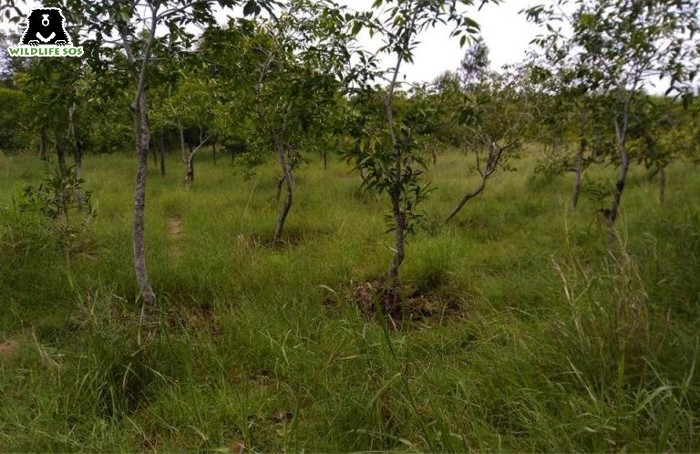 Wildlife SOS believes in involving local communities on the frontlines of conservation, and the Ramdurga Habitat Restoration Project was no different. To ensure the livelihood of the local tribes and mitigate hunting, a drip irrigation system and a bore well were installed. These irrigation measures facilitated local agricultural practices, reducing the dependency on hunting while also restoring the native wetlands!
Furthermore, the success of our community-based conservation model was realised with the establishment of a patrolling squad of six individuals. Having knowledge and experience as local hunters, the team members now counter problems like illicit mining and hunting!
The survival rate of native floral species has soared to 90 percent, marking a triumphant step towards the rectification of humanity's relationship with nature. With support from our allies such as BHEL, PSSR Chennai, and Water for Voiceless, we have also witnessed wildlife making a comeback.
As birds flit through the trees, leopards rest under the cool shade. We have also spotted the elusive pangolin, an animal that has come close to extinction because of habitat loss and illegal pet trade.
Sloth bears, our charismatic, flagship species for the Ramdurga Valley, returned as well. While the peril of 'dancing' bears has come to an end, Wildlife SOS is still embroiled in a host of conflict mitigation projects involving sloth bears.
Conflict arises as sloth bears, in quest of food and refuge, get closer to populated areas with the loss of their forested homes. It is truly a relief therefore to witness these bears return to their former habitat. In this valley brimming with trees, sloth bears and other wildlife species can live a life away from anthropogenic dangers like poaching and snare traps, a fate that many of our resident ursines at BBRC have suffered from.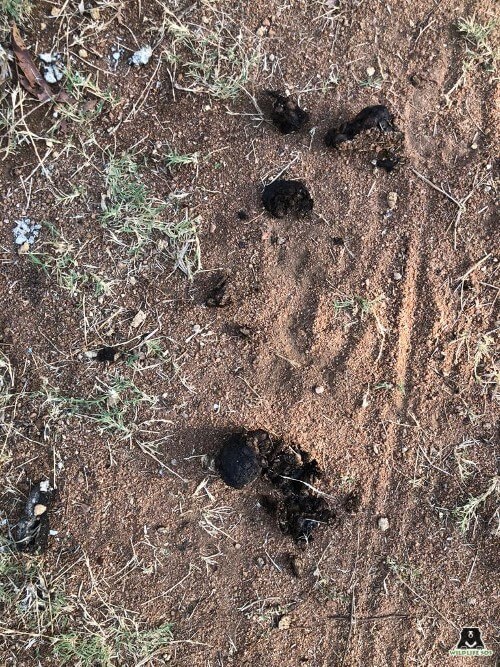 While rescued sloth bears might not experience a life in the wild again, we have created an environment at our centres that is akin to forests. To help us sustain the lush landscape for our rescued bears, please consider making a donation.