Climate change is a haunting reality. According to scientists, humans have played a huge role in creating it, and we have fallen short of addressing this conundrum. The Indian Meteorological Department (IMD) revealed that this year, India recorded its hottest March in 122 years. The Indian capital city of Delhi reportedly experienced its second hottest April in 72 years. The entire northern India was baked under heatwaves, and the neighbouring country of Pakistan wasn't spared either from this ruthlessly hot weather.
Heatwaves are definitely one of the nastiest impacts of anthropogenic climate change. According to media reports, the Met Office of the United Kingdom has studied real time data to decipher that the heatwaves in India and Pakistan are 100 times more likely to occur in the future than they otherwise would. These temperatures have not been experienced before in the modern world, since earlier, an extreme rise would happen after a gap of nearly 300 years. This rapidly changing climate is not just impacting human beings, but non-human species too.
Birds Falling Due to Heat
The resultant warming of the planet has seen ramifications across the globe, leading to increased flash floods in the mountains, flooding in cities, increased frequency of super cyclones, coastal storm surges and rising sea levels. But these are impacts of extreme precipitation. Conversely, when temperatures become unbearably hot, we experience heatwaves and wildfires. A certain section of animals is severely affected by these deadly heatwaves more than others.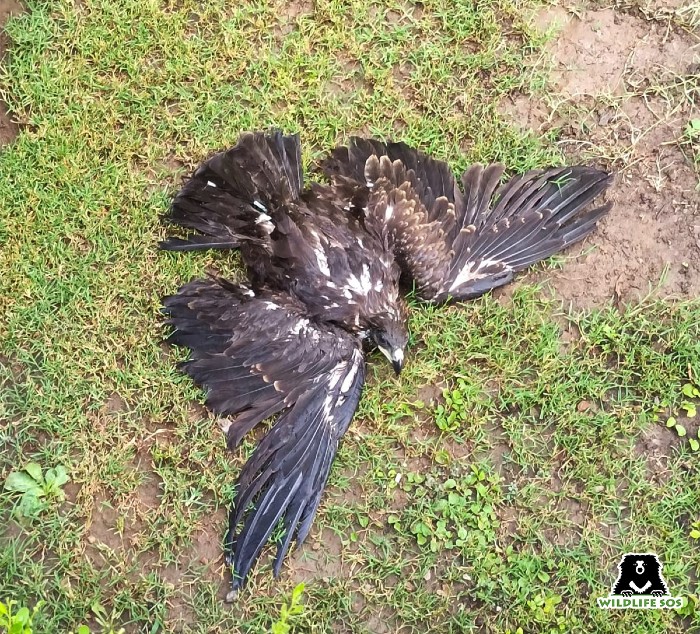 A record number of birds were treated for conditions such as fever, dehydration and heatstroke as temperatures rose to a sweltering 46 degrees Celsius (118.4 degrees Fahrenheit) in Delhi-NCR. Wildlife SOS treated over 300 birds with heat-related illnesses in the summer of 2022. According to reports, a rescue group in Hyderabad retrieved more than 150 dehydrated birds whereas a bird hospital in Gurgaon saw an intake of 1.5 times the usual number of birds, compared to previous years.
In the month of March alone, the Wildlife SOS Rapid Response Unit rescued nearly 120 birds, which included 30 kites and more than 70 pigeons. April remained busier for our Rapid Response Unit in Delhi-NCR as they rescued a whopping 156 birds including 82 Black kites and 42 pigeons. Other birds included mynah, peacocks, Barn owl, Shikras and doves, to name a few.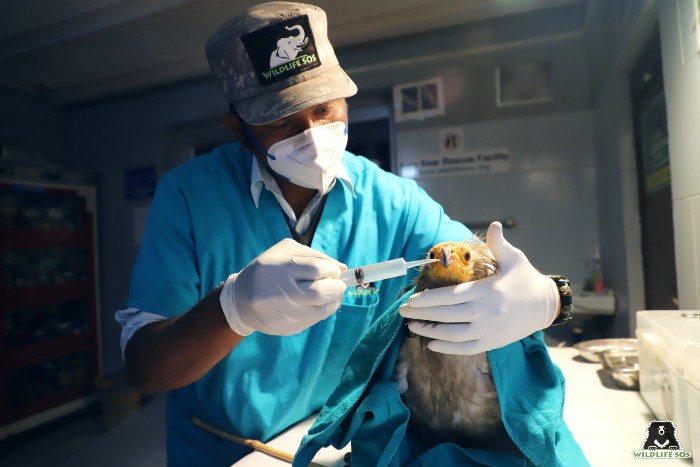 The avian population of NCR probably faced the worst impact of the heat in May 2022. A total of 176 birds were rescued from this region in May: from kites to bulbuls and parakeets. Most of these birds were suffering from dehydration or heatstroke. Even the Agra team had a busy time running across the city, eventually rescuing 40 birds from the scorching heat. The list included an Egyptian vulture, Barn owl and Shikra, among others.
Reptiles Come Out For Shade
Birds were not the only ones who had to suffer the monstrous heat; reptiles were severely impacted too. As people in Delhi-NCR started seeing more reptiles coming inside their residences, the Wildlife SOS emergency helpline rang more frequently. The team remained preoccupied with the rescues of a 6-foot-long Indian Rat snake that was coiled around the bed of a resident in Ghitorni in south-east Delhi, a juvenile Black-headed royal snake from the storage area of a residence in Kashmere Gate in north Delhi and a Bengal Monitor from an apartment in south Delhi's Sarita Vihar.
The Agra team was not left far behind. From rescuing a 6-foot-long Indian Rat snake from the electric fuse panel of a house in Bodla to a 5-foot-long venomous Spectacled cobra from Shri Shyam Mahavidhyalaya, and a Bengal Monitor under the mixer grinder of a house in Awas Vikas Colony, the Wildlife SOS team had a lot of running around to do.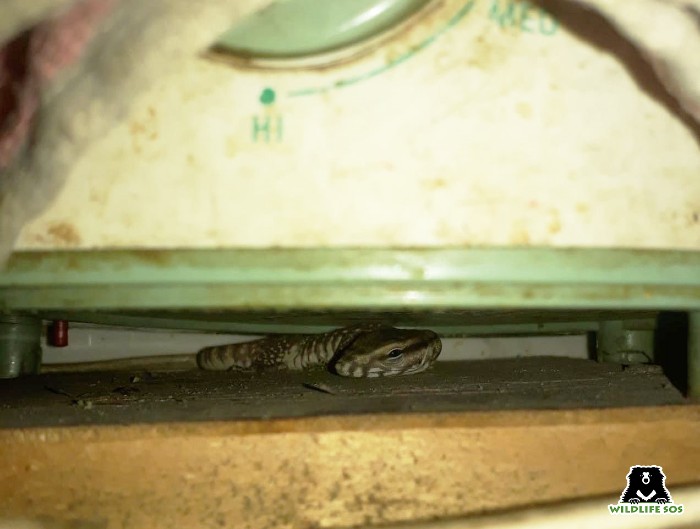 Meanwhile, in northern India's Kashmir, the Wildlife SOS rescue team received 19 snake rescue calls in April this year as compared to just one in 2021! This was also caused by a warming Kashmir, where snakes do not emerge during the colder months of March and April. But this year, summer arrived early and calls to the helpline had started pouring in since March. The month of May also saw a considerable rise in reptile sightings with a total of 24 snake rescues.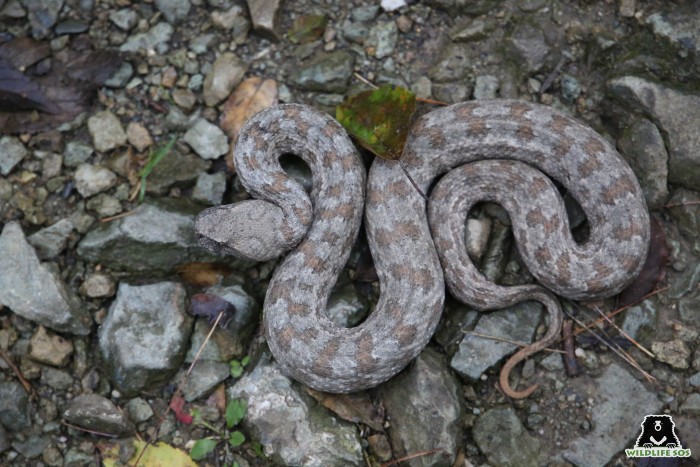 Reptiles are ectothermic animals, which means that they need to use outside sources to regulate their body temperature. Therefore, on excessively hot days, they come out of their pits in search of cooler, shaded places to take shelter. With less forest cover and degraded habitats caused by unplanned urbanisation, the reptiles have no option but to venture into human-populated areas. But people are now well-informed about this particular reptile behaviour, thanks to the awareness work done by Wildlife SOS and they inform our rescue team about their presence. This conscious effort helps mitigate conflict.
Mammals and Other Animals Affected
Heatwaves caused by a rapidly-changing climate have made drought-like crises more severe across wild habitats. Therefore, a severe water shortage impacted a number of animals such as tigers, leopards, civets and foxes. Even elephants need enormous amounts of freshwater, without which their daily lives, including their breeding and migration patterns, can be negatively affected. Even inside protected areas, animals faced water shortages which required the filling of waterholes manually by forest rangers and officers.
As water becomes scarce for wild animals, food shortage presents another problem up in the high Himalayas. Would it be surprising if we told you that this too is caused by climate change? Snow leopards are facing a depletion of their food sources as their high-altitude habitat alters. This species is known to live above the treeline, in alpine grasslands. Global warming is gradually shifting the treeline higher, thereby fragmenting and shrinking invaluable Snow leopard habitat. As alpine grasslands degrade, other animals that depend on these lands for food drastically fall in number as well, making it difficult for leopards to find enough prey. Climate change has threatened an entire food web that exists here.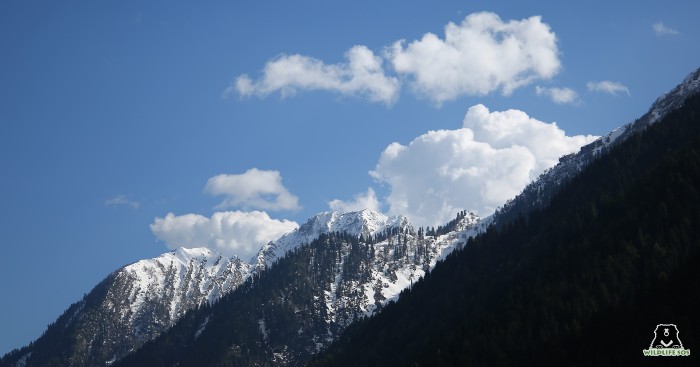 Whichever way we see it, meteorologists and climatologists have already given us concrete scientific proof that our individual actions, when combined collectively, have greatly aggravated these changes. On an individual level, we all can make a difference by bringing small changes in our lifestyle, starting with eco-friendly modes of using transport like cycles and e-rickshaws, opting for shared mobility or public transport, producing less waste as well as managing whatever we produce, and gaining awareness about the health of our oceans and forests. In addition to adopting these crucial steps, the decision-makers in the administration need to implement strict policies as well, to protect our planet's natural habitats. Once all that is done, we can be on a path to reverse this damage.