There is no conservation without conversation. As human and animal habitations intersect due to diminishing spaces and resources, more and more wild animals are entering into conflict with Homo sapiens. To turn conflict into cohabitation in India, Wildlife SOS takes the essential route of dissipating proper knowledge and busting myths among local communities by conducting awareness sessions in places where interactions with wildlife are often a lived reality.
In this regard, it was a busy two months for the Wildlife SOS team operating out of the Manikdoh Leopard Rescue Centre (MLRC). Among the sessions conducted was one with the staff from the Goa Forest Department that visited MLRC in the month of July. Here, they were guided about factors leading to human-animal conflict, and the methods of mitigating the same.
Citizens who reside closer to wild habitats are on the frontlines of conservation in a state fraught with human-leopard conflict, hence, vigilance and proper know-how are necessary to maintain the peace. Wildlife SOS works closely with educational institutions, especially those situated on the fringe of wild spaces where human-animal conflict occurs in Maharashtra.
In the month of August, our team visited Jila Parishad Primary School in Madh Island to show the students a documentary regarding the intricacies of human-wildlife conflict. Awareness among students can help them become capable protectors of the environment.
Capacity-building programmes and training sessions are staple activities conducted by the team at MLRC as well. In another awareness session, 35 forest officials at Junnar were explained how to conduct animal rescues in the most appropriate way.
To ensure local participation and the dissipation of knowledge, our team visited the Hivare village and Netwad village of Junnar Range, and Saradwadi in Shirur to conduct awareness sessions. The team travelled on two consecutive days to carry out these sessions. With leopard-human conflict on the rise, and more and more of these big cats ending up in the residences of people, in sugarcane fields and inside open wells, it is imperative to take care of both the humans and animals to mitigate peril.
Why do Leopards enter Human Populated Spaces?
With great power comes great responsibility. Human beings' influence on the world has reached a scale that has never been seen before by any other extant or extinct species. To accommodate our ever-increasing population, more and more wild spaces are being cleared to construct concrete jungles, consequently rendering many animal species homeless. Even those that do find a way to survive with us aren't exempt from danger.
The prime example of this is the Indian leopard (Panthera pardus fusca) and its tense relationship with the people of Maharashtra. In recent times, many leopards have entered residential areas, leading to conflict scenarios. Many meet tragic ends in open wells, dying of either starvation or drowning, while many leopard cubs are hidden in agricultural fields, necessitating external help in reuniting them with their mothers.
Wildlife SOS' awareness sessions seek to offer insight into how this elusive big cat operates and how we can prevent fatalities or injuries through proper waste disposal methods. Numerous wild animals are drawn to human-populated areas in the high likelihood of finding an easy meal there. Smaller animals that rummage through trash in close proximity to human settlements end up as prey for larger predators like leopards.
Living with Leopards through Cultivation of Awareness
People living close to forested areas are advised not to venture outdoors at night. Leopards are nocturnal predators, and so, in case one spots a big cat prowling at night, our team urges the local residents to make loud sounds or flash bright light to dissuade the leopard from approaching. These were among the several helpful tips offered in the sessions conducted with the inhabitants of Hivare, Netwad and Saratwadi. There is also strength in numbers, so our MLRC team, led by Project Manager Mr. Mahendra Balu Dhore, advised participants to go out in groups, preferably before it is dark.
Seeing a leopard might be scary but it is important to stay calm, and never, on any account, engage with the animal or its cub alone. It is essential to also remember that the leopard is no less scared of you than you are of it. Violence is never the answer to solving human-animal conflict situations, so our team advised attendees to refrain from pelting stones at the animal.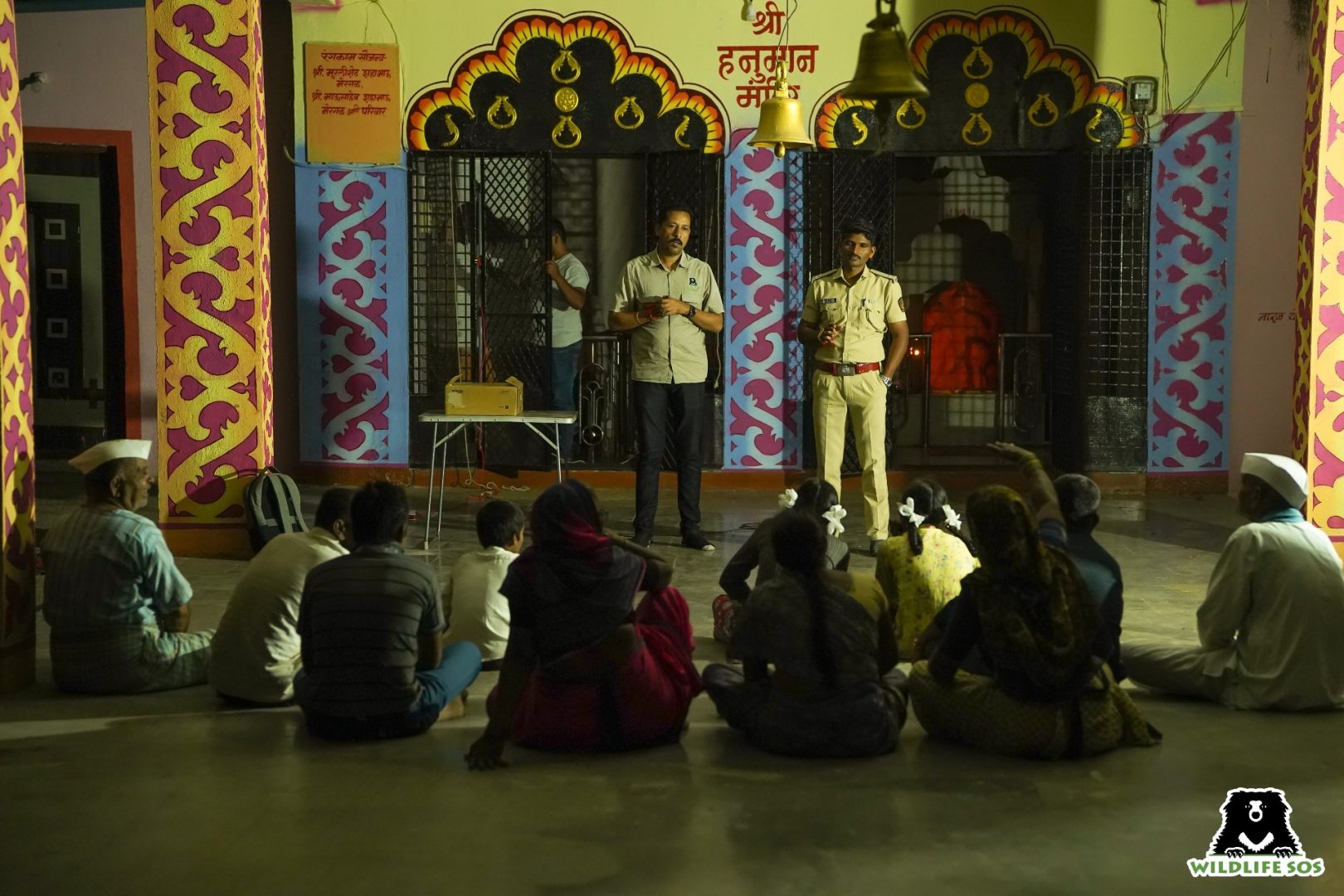 Extra emphasis was laid on contacting the relevant authorities in case they were to spot a leopard in the wild, whether it is an abandoned cub in a sugarcane field or a leopard stuck in an open well. To reduce the likelihood of human-animal conflict, it is essential to promptly notify the local forest department and wildlife officials about all animals, big and small, found in distress.
Contact us at info@wildlifesos.org if you are interested in having us conduct awareness or training sessions led by our team of professionals.