"A leopard never changes its spots."
This popular proverb is meant to imply that one cannot change their inherent nature. However, nothing could be further from this truth as far as an actual leopard is concerned! Highly adaptable and the smallest among all the big cats, the leopard (Panthera pardus) occupies a wide range of terrains from deserts to mountains to forests. Due to increasing urbanization, the Indian Leopard subspecies (Panthera pardus fusca) has even made its home within urban landscapes, where other big cats cannot dwell. However, over time, this has also increased the propensity of human-leopard conflict in human settlements, with grave consequences for both man and the animal.
On this International Leopard Day, it is important to look at one of the major threats that haunts this animal: open wells. Many uncovered wells are scattered across the buffer zones between forested and populated areas. These open wells have sizable openings and have been excavated to a depth that reaches the water table. These wells are between 1 and 70 metres deep and 2 to 20 metres in diameter. Most wells lack any kind of lid or barrier walls to keep animals from falling in, and they don't offer any way for animals that do fall in to escape. They not only spell doom for leopards but also for various other fauna.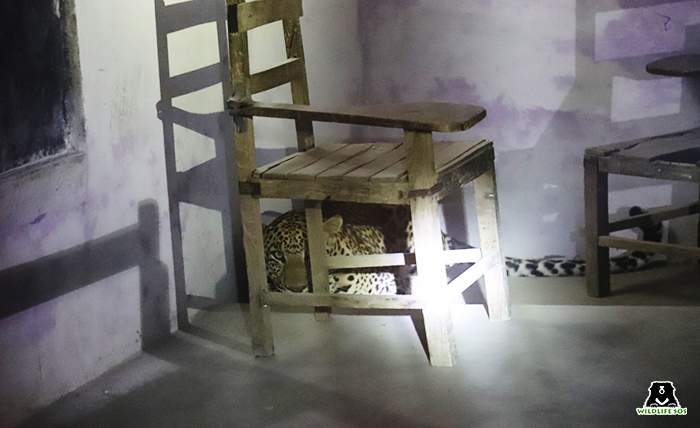 Over the years, our team at Wildlife SOS has rescued and rehabilitated various animals like hyenas, civet cats and Sambar deer that had fallen into these wells. Without proper help, these animals are often unable to clamber up vertical walls and can die of starvation, drowning or injuries. Leopards are nocturnal animals, and therefore, are more likely to fall into one of the giant pits that become difficult to spot in the dark when they're wandering or hunting. The threat posed by open wells was demonstrated in the month of October 2021 when Wildlife SOS successfully freed not one, but three leopards trapped in them from Maharashtra, the state that has the third-highest population of leopards in India.
However, even before that, our team at the Manikdoh Leopard Rescue Centre in Junnar (MLRC) had been rescuing both adult leopards and cubs from uncovered wells. Over 40 leopards have been saved from drowning by Wildlife SOS in Maharashtra. However, such rescues are often complicated by several factors, including the presence of civilians in the area. In one instance, a two-year-old female leopard that was rescued from a well became so anxious by the noise and presence of people that, in a desperate bid to escape, she jumped into another well nearby. In the following year, a five-year-old leopard wandered into the Savidhane fields of the Shirur district and found herself stuck inside the well.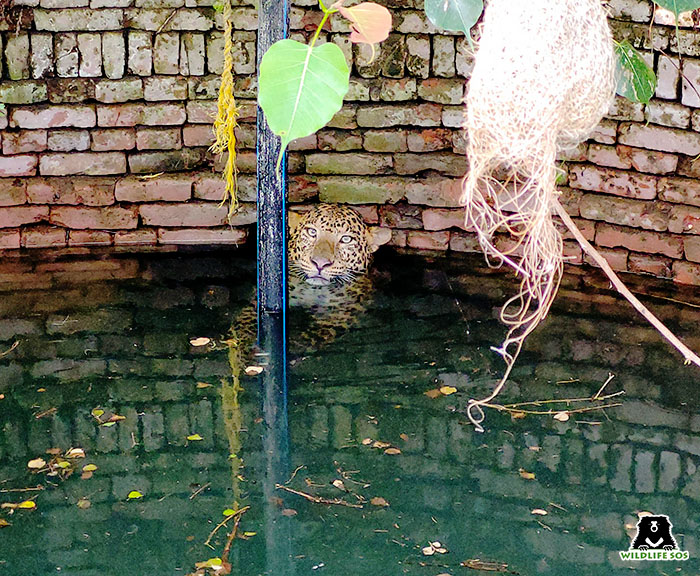 She was discovered the following morning by a farmer who contacted the forest department, from where officials reached out to Wildlife SOS immediately. The importance of local participation in our rescue efforts – ranging from timely information on rescue helplines to hands-on participation – can never be undervalued.
While the wells remain an issue of concern in Maharashtra primarily, other states are not exempt from this specific peril. A stretcher was used to rescue another frightened feline of two years of age from a six-feet-deep well in Madhya Pradesh, while another big cat was saved from drowning in a well in Uttar Pradesh.
Maternity among the Junnar leopards comes with a whole set of complications, and open wells scattered around sugarcane fields has become the most daunting one. While these deep wells serve as the lifeline for farming communities, they are hazardous for any unattended cubs that fall into them. One mother leopard had to wait for a long time as her cub battled for life in an uncovered well in the village of Kolawadi, before the rescue team from MLRC arrived. In another instance, two cubs were rescued from a 15-foot deep well in the Gatwadi village of Otur and reunited with their mother.
While some feline families are reunited successfully, others are not so lucky. One of our most famous rescues has been that of the siblings George and Natalie who found a new lease of life at MLRC after their mother was no more. With much-needed care and attention, the two have grown into energetic, youthful felines who have captivated the hearts of our caregivers. Awareness workshops on open wells and human-animal conflict mitigation sessions have vastly helped us in rescuing these elusive animals from potentially tragic fates.
Even during the pandemic lockdown, our team had adequate local assistance while rescuing a leopard that had fallen into an uncovered well in Maharashtra. Compassionate villagers are invaluable sources of help during our rescue operations, but it was becoming increasingly clear that there needed to be a more long-lasting solution to the problem of open wells. Wildlife SOS launched the Open Wells Conservation Project, a massive initiative to cover Maharashtra's open wells in an effort to turn the state's landscape into a safe haven for leopards. After years of field research and consideration, this extensive project began in 2022 and is currently ongoing.
Our team discovered that because the majority of the wells continue to be an essential supply of water for the communities, sealing them is not an option. Additionally, not all wells presented an equal risk to wildlife; the risk varied depending on the well's location and the local flora. In order to determine the risks an open well poses, our team identified wells from which we have saved several animal species in the past. Our goal is to cover every open well, and we have started with those that have proved to be most dangerous for wildlife. While covering them would keep any animal from falling into it, the wells will not lost their purpose of supplying water to people. Wildlife SOS strives to cover all of these wells with expertise and by using strong materials that can withstand any deterioration in the future.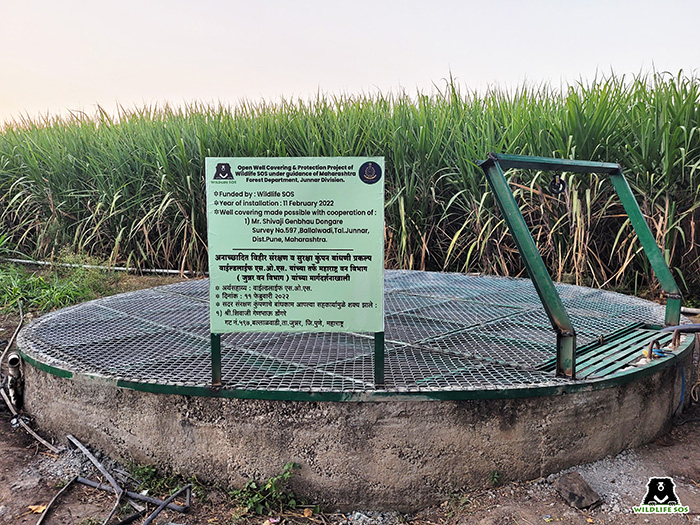 Phase One of Wildlife SOS's project aims to cover 40 wells deemed to pose a risk to wildlife. Since the majority of these wells are located on private property, the Wildlife SOS field team has been collaborating closely with landowners to comprehend their requirements, develop a rapport of trust, and spread awareness on the necessity of protecting wildlife from open wells. Wildlife SOS involves farmers in order to decide the well cover's design and usability. With their input and assistance, the community can partake in the maintenance of the well coverings. To date, we have covered 10 open wells in Junnar, including the ones in Pimpalgaon Siddhanath, Pimpalwandi Bangalawasti, Pune and Kabadwadi. Wildlife SOS aspires to cover more wells in Maharashtra after the successful completion of Phase One of the project. By refining designs and evaluating the materials used, we hope to increase the efficiency and speed of covering wells.
The dangers of open wells regarding human-leopard conflicts is a lived reality that has harmed both man and animal. Help us save lives by making a donation towards our Open Wells Project and sign the petition at https://action.wildlifesos.org/page/32432/action/1.