While deserts are often misunderstood as lifeless habitats, these landscapes serve as a refuge for wildlife. A desert ecosystem has a lot to give to its inhabitants, and in return, the inhabitants safeguard their home. This might shock you, but deserts are the world's largest terrestrial biome, covering nearly 20% (⅕th) of the Earth's land surface area. This also reflects that the areas falling under this particular biome are heavily rain-deficient (usually less than 250 mm annually).
The Thar desert region stretching across north-western India including Rajasthan, Gujarat and Haryana is a part of the deserts and xeric shrublands biome. But don't let the lifeless appearance of the Great Indian Desert fool you. This large arid region covers an area of nearly 2,00,000 sq km and has faunal diversity that deserves attention.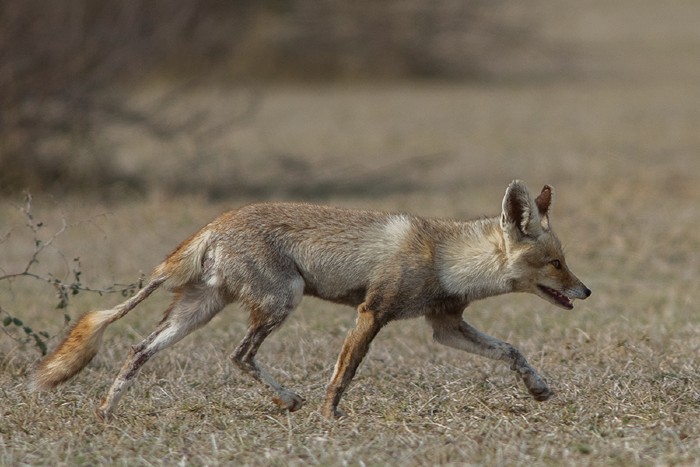 Thar is a refuge for small animals such as scorpions and lizards, desert eagles, vultures, falcons, small cats, antelopes such as the Blackbuck and Chinkara (Indian Gazelle), and canids such as the Desert fox, Bengal fox, Golden jackal and Indian Grey wolf, to name a few. Some of these desert animals are elusive, while some are rather commonly spotted. In fact, Wildlife SOS has encountered and rescued quite a few desert animals – some suffering serious injuries, while others were saved from life-threatening situations!
Blackbuck
Recently, an injured Blackbuck fawn was brought to the Wildlife SOS Manikdoh Leopard Rescue Centre (MLRC) for treatment by the Maharashtra Forest Department. The fawn was found near Otur village, which falls under the Otur Forest Range in Pune district. Upon closer inspection, the Wildlife SOS veterinary officers found minor wounds on the animal's hind limbs and treated the injuries with topical medication. Once it was declared fit by the veterinarians, the fawn was released back into the wild.
In another incident, Wildlife SOS rescued an abandoned Blackbuck fawn in 2016 from Greater Noida (National Capital Region) after it was found being attacked by a pack of stray dogs. The animal had wandered close to a residential area when an animal lover spotted it and called for help. The fawn was transferred to the NGO's animal rescue shelter in Delhi and after a thorough medical assessment was safely released into the wild.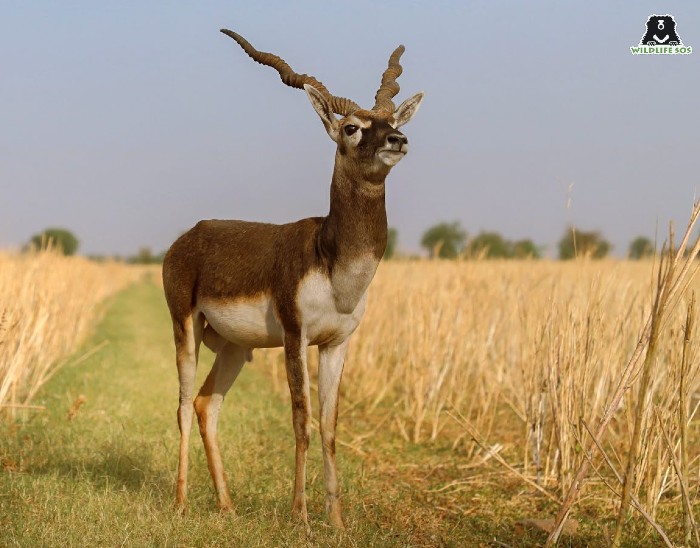 Blackbucks are one of the bigwigs of the wild for any wildlife photographer. Males are aggressive and are often spotted locking their spiral horns in a battle for territory. Their horns can grow up to 29 inches long! Blackbucks are known to be quite social as well, and live in herds that range from five to 50 individuals. Today, Blackbucks are scattered in nearly 13 states of India, including Rajasthan and Gujarat in the west.
Unfortunately, only 1% of their former population is known to remain today despite the species being placed under Schedule I of the Wildlife (Protection) Act, 1972. In Rajasthan, these antelopes are found to coexist with the Bishnoi community. In areas such as Guda Vishnoiyan, Dhawa Doli and Kankania, they are protected by the Bishnois who consider the Blackbuck sacred.
Striped Hyena
The Striped hyena or Indian hyena is another desert animal with whom Wildlife SOS has had multiple encounters in critical scenarios. We have rescued hyenas from open wells, deadly jaw traps, and from the bane of linear infrastructures that include highway and road accidents.
Last year, an adult female Striped hyena was found critically injured in Bhilawali village, Agra. Victim of a speeding vehicle, the hyena was carried off to our animal hospital for medical examination and was provided necessary treatment. In a recent incident, a Striped hyena had a close brush with death after getting hit by a speeding vehicle on the Pune-Nashik highway in Maharashtra. The animal sustained injuries on its head, shoulders and legs, and was placed under intensive care at MLRC. On conducting further examinations, it was found that the hyena had suffered a mandibular symphysis fracture (fracture in its jaw). Following the diagnosis, Wildlife SOS veterinary officers performed a surgery on its lower jaw.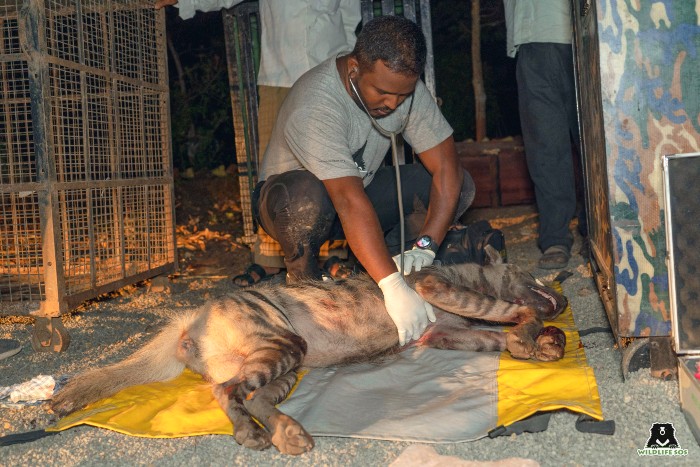 In India, the Striped hyena mostly inhabits arid and semi-arid regions. They are highly intelligent and socially complex animals. Hyenas are known to live in monogamous pairs and the males play an equal role in nurturing their cubs. Although they can hunt down prey, hyenas are generally scavengers, feeding on domestic and wild animal carcasses. By doing so, they play a vital role in maintaining a healthy ecosystem.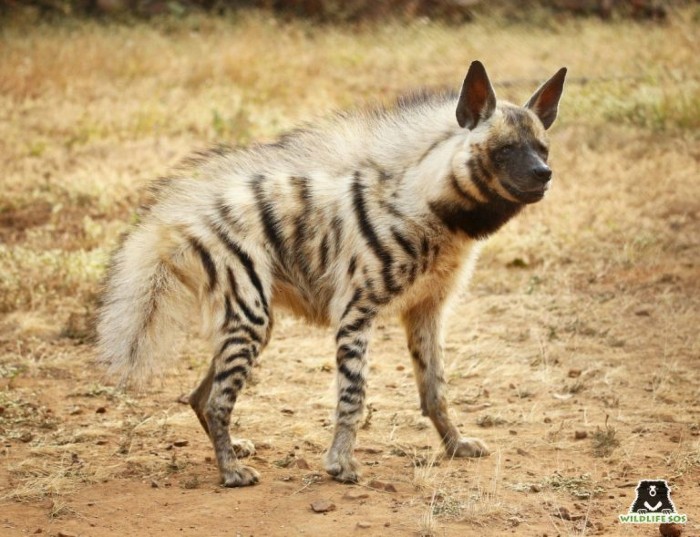 But an estimated 10,000 individuals remain in the wild and they are mostly threatened by roads, highways and railways fragmenting their habitats. Unplanned urbanisation leads to expanding roadways and railways, thereby shrinking the hyenas' habitat and forcing them to venture into human habitation for food.
Golden Jackal
Wildlife SOS not only rescues, but in some cases, provides immediate treatment to grievously injured animals. In one such incident, the team imparted medical care to an injured Golden jackal that was rescued by the Maharashtra Forest Department. When local farmers came across the young female jackal lying in a semi-conscious state near a field, they informed the forest department, who then brought the distressed animal to the Wildlife SOS Manikdoh Leopard Rescue Centre.
After conducting thorough medical examinations, the jackal was diagnosed with dehydration and severe diarrhoea. As the vets administered antibiotics and fluid therapy, the jackal gradually recovered and was eventually released back into its natural habitat.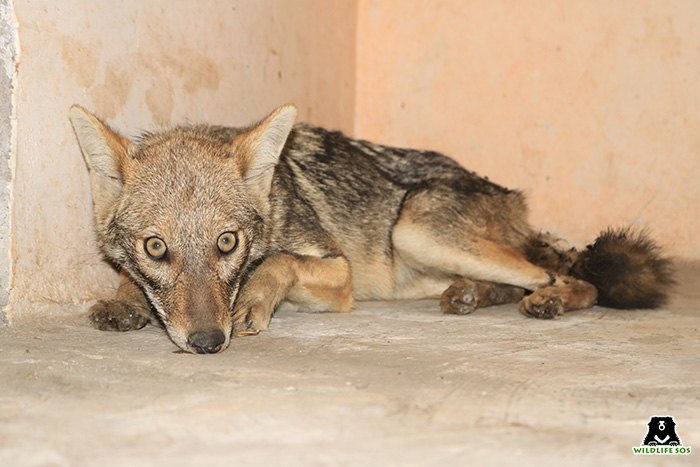 In a memorable incident, Wildlife SOS rescued 4 jackal puppies. At the time of rescue, the pups were only 15 days old and had lost their mother. The orphaned puppies were then placed under weeks of intensive care at the Wildlife SOS rescue facility and when they reached a suitable age, the young jackals were finally reintroduced into the wild.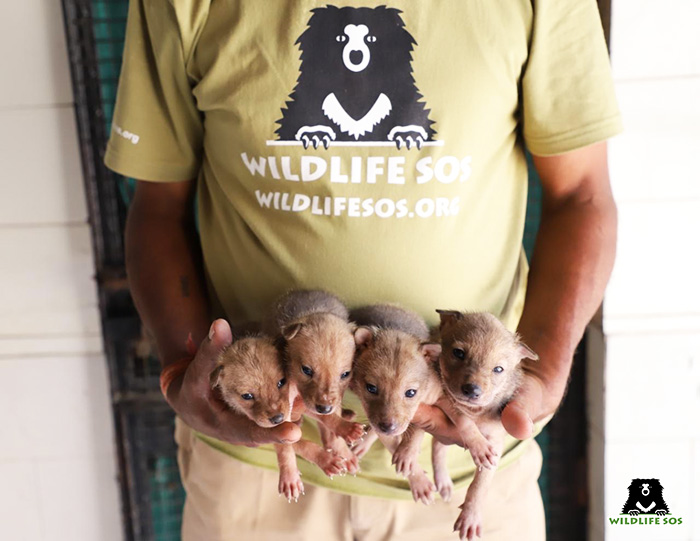 Jackals are known to be generalists, and almost ubiquitous. These canids can also survive in dry, arid regions and call the Thar their home, thus making the jackal a desert animal. They are omnivorous in nature and feed on a variety of small mammals, birds, hares and fruits as well! Unfortunately, the Golden jackal is a victim of numerous threats such as habitat fragmentation, habitat encroachment and poaching for meat, skin and pelts. The species is protected under Schedule II of the Wildlife Protection Act, 1972 and its estimated wild population is said to be 80,000.
Rusty-spotted Cat
Though not a true desert animal, this rare small cat inhabits semi-arid and dry regions. According to a report published by Wildlife SOS on multiple reunion efforts for Rusty-spotted cats in the Journal of Threatened Taxa (December 2020), 26 kittens were reunited with their mothers. These reunions were carried out by Wildlife SOS and the Maharashtra Forest Department, and occurred between 2014 and 2019. The estimated age range of the kittens was between 30 and 60 days.
Rusty-spotted cats are found in a variety of habitats and have adapted to human-dominated landscapes as well. Wildlife SOS rescues focus on decreasing the time of separation between the mother and the kitten, which is vital for a successful reunification. We also work with the local and indigenous communities to make them conscious about the presence of these cats, who share the landscape with them. We ask the villagers to not handle or remove any kitten and inform the concerned authorities once they spot one.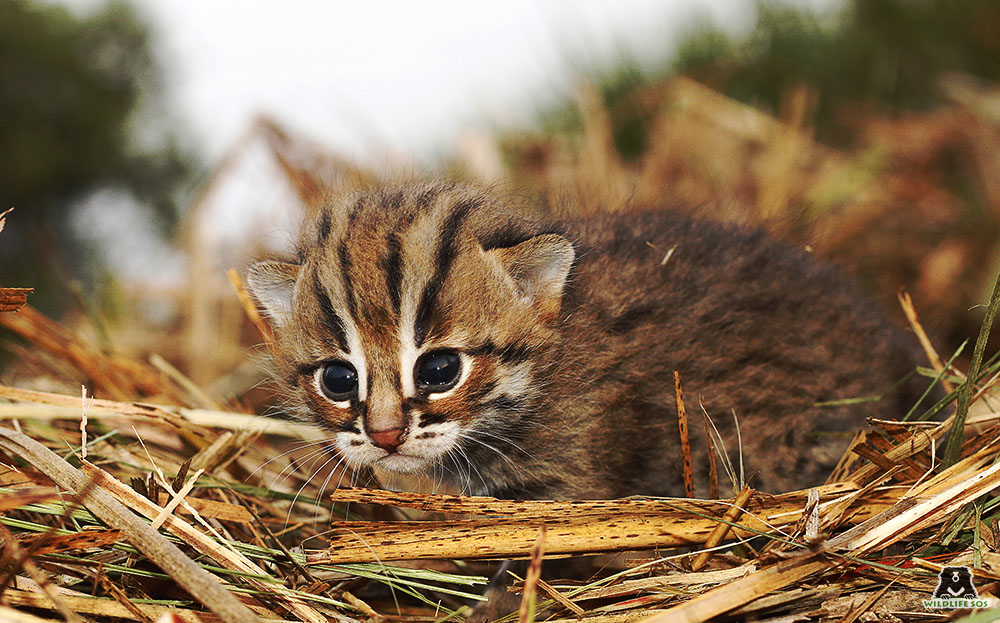 The Rusty-spotted cat is the smallest member of the wild cat family. They are solitary and nocturnal in nature. The feline is a small but fierce hunter, and a small population of the cat has been recorded in the Kutch region. The animal is known to eat insects, reptiles and frogs; it even preys on small birds and mammals such as rodents, thus playing an important ecological role in the food chain. In terms of reproduction, a litter of one to three kittens is born in a secluded den after a gestation of approximately 67 days, and newborns weigh less than an egg!
Currently, the wild population of Rusty-spotted cats is suspected to be below 10,000 mature individuals. But they are already threatened by a number of anthropogenic factors like change in their habitat due to encroachment. Often the kittens are mistaken as leopard cubs and hunted for their meat and skin. Hence it is crucial to generate more awareness about this rare and understudied species.
Wildlife SOS works to protect and conserve these endangered animals through tireless rescue and research efforts. But a great deal of time and resources are required to continue doing the work that we do. You can be a part of wildlife conservation too, just by becoming a monthly donor for Wildlife SOS. Support us to save India's threatened wildlife.