From a sand boa stuck between metallic motor pump rings to a spotted deer lost in the open fields – our Rapid Response Units are here to save the day. Operating for 24 hours seven days a week, these rescue teams work tirelessly to relieve animals found in unfortunate situations.
Our dedicated units rescued a total of 483 animals in distress in the month of May from across Jammu and Kashmir, Gujarat, Delhi, and Agra.
Rescued Sand Boas and Dehydrated Kites of Delhi-NCR
Our Rapid Response Units rushed to the aid of 175 animals in the region of Delhi-NCR. Out of these were 19 reptiles including 3 common cobras, 1 common Indian wolf snake, 5 black-headed royal snakes, 8 rat snakes, 1 common sand boa, and 1 red sand boa. Rat snakes are the most commonly rescued reptile as they often end up in human habitations after following the trails of their preferred prey, rodents.
The red sand boa found itself in a unique predicament: it was stuck between motor pump rings. However, members of our Rapid Response Unit were up to the challenge and extricated the snake by cutting through the rings with patience and skill.
In another incident, a concerned professor from the Indian Institute of Technology, Delhi reached out to our helpline. A peacock had entered the campus and was seen wandering about. Our team rushed to the site and found that the male peafowl was suffering from an eye infection. It was immediately brought under our medical care.
Our team rescued a whopping 130 avian species this month. Among them were 7 Indian peafowls, 3 mynas, 10 parakeets, 5 barn owls, 5 barbets, 1 duck, 2 doves, and 9 green pigeons in May, along with 47 pigeons and 41 black kites. Despite being highly adaptable to city life, both pigeons and black kites suffer from extreme temperatures, leading to severely dehydrated states.
Two subadult black kites made news when they crash-landed into the Prime Minister's office. Thanks to timely intervention, these dehydrated birds were given water in time and saved. Within a week of this incident, another kite found itself stranded in the Swedish Embassy.
Mammals and Reptiles in Peril at Agra
Dehydration, along with injuries due to animal attacks and sharp glass strings of kites (manjha) was also a recurrent problem afflicting avifauna in Agra and the rest of Uttar Pradesh. We rescued 17 black kites, 21 Indian peafowls, 7 Indian rock pigeons, 3 rose-ringed parakeets, 1 Asian koel and 1 spotted owlet from Agra, bringing our avian rescues to a count of 50.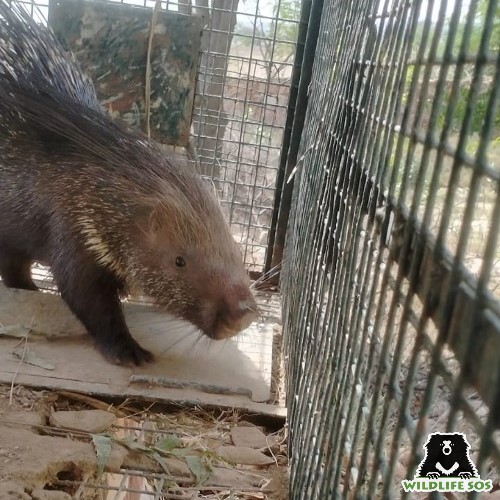 The Indian crested porcupine is the largest rodent in India, and is often prone to being hunted for its quills and claws. In a strange occurrence, a porcupine was found within the bustling region of Fatehpur Sikri in Agra, near an agricultural land. The rescue team used a trap cage to rescue the animal in time and put it out of harm's way.
Rhesus macaques are highly adaptable to life in cities but this also means that they are prone to human-wildlife conflict. While some are victims of road accidents, others unwittingly meet tragic fate through electrocution from cable wires.
Apart from 32 rhesus macaques, our Rapid Response Unit operating out of Agra also saved 3 nilgais, 1 golden jackal, 1 Asian palm civet, 1 wild hare, 2 gray langurs, and 2 spotted deer. A female spotted deer had wandered into private farmland and, panicked by the attempts of locals to chase it away, was found wandering inside the farm area. Thankfully, our team managed to rescue and release it in time.

Often, our Rapid Response Units are summoned to the most bizarre of rescue situations. A 5-foot-long rat snake was caught between wire cables, needing immediate assistance and careful extrication. In May, the team also rushed to a CNG pump near the Soor Sarovar area to rescue a monitor lizard in peril.
The month saw a total of 42 reptilian rescues, including 2 Indian wolf snakes, 2 checkered keelbacks, 5 spectacled cobras, 2 Indian rock pythons, 13 Indian rat snakes, 1 black-headed royal snake, 2 red sand boas, 1 common krait, 10 monitor lizards, and 1 flapshell turtle.
Busting Illegal Operations from Vadodara
Our unit in Vadodara rescued 16 venomous and 23 non-venomous snakes as well as 5 monitor lizards, 8 monkeys, 3 blue bulls and 1 squirrel. Monkeys found in Vadodara include gray langurs, which have become a mainstay of urban spaces. Being close to sites of human-animal conflict, many of these langurs experience early orphaning, road accidents, and electrocution. Improper waste management has also led to toxic consumption of stale food.
Increasing temperatures soared the number of avian rescues in the month of May. Suffering from injuries caused by the glass-coated manjha string, dehydration or accidents caused due to reflective solar flares, several of these birds needed immediate aid. A total of 72 birds were rescued in the entire month, including 10 raptors, 3 peafowl, and 8 parrots. Seven of these parrots were victims of illegal wildlife trade, and our alert team members rushed to the spot in order to save the parakeets from a lifetime of abuse in captivity.
The month of May also included a strategic undercover operation to save a vulnerable tortoise species from illegal trade. Wildlife SOS Rapid Response Unit in association with the GSPCA (Gujarat Society for Prevention of Cruelty to Animals) rushed to the rescue of 6 Indian star tortoises trapped in an aquarium shop. Indian star tortoises are some of the most trafficked reptiles in India owing to their popularity in the exotic pet trade.
In another raid, 2 more tortoises were recovered from a local's residence at Vadodara. The individual was in illegal possession of 23 different aquatic animal species, some of which were preserved in chemicals, including starfish, octopus, coral, jellyfish, sea horses, small sharks, and others. A concerned person who discovered this immediately reached out to Wildlife SOS' rescue helpline. Our team joined hands with the forest department in a collaborative attempt to recover these animals.
Tryst with Rescued Snakes in Jammu and Kashmir
Snakes are ectothermic or cold-blooded animals that are unable to regulate their body temperatures. Hence, snakes choose to brumate during winters and retreat into their underground burrows during monsoons. While most animals rescued in the winters of Jammu and Kashmir are avifauna, summers are dominated by snake rescues.
May was no different. The Zabarwan range, which is located in the Dachigam foothills, has frequently been the location from where requests of rescue reach our team. Snakes constituted 19 of the 20 animals we rescued this month from Jammu and Kashmir, including 4 trinkets, 13 rat snakes and 2 venomous vipers.
Many of these rat snakes and trinkets were saved from unusual places, such as washroom pipes, behind water drums, garden areas and even automobiles! Our Rapid Response Unit is active 24X7, meaning that they often have to conduct late-night emergency rescues. In one such instance in May, they rushed to save a rat snake that had been stuck inside an auto-rickshaw.
Two Himalayan trinkets were extricated from the wheel and engine of a vehicle respectively, while 1 snakelet had even managed to enter into a shop! Years of awareness sessions and proper dissipation of information have instilled the correct ways to respond in locals when they encounter a snake in their vicinity. Where there were several instances of even non-venomous snakes being injured due to strong negative reactions, residents now call our helpline numbers for assistance.
Spotting Wildlife in Distress
Our Rapid Response Units work under challenging conditions to protect the voiceless animals of the country, but without local help, their tasks would be next to impossible.
If you spot wildlife in distress or suspected instances of poaching and illegal trafficking, we urge you to do the same. Reach out to your nearest animal welfare organisation, and if you are based in our operating cities, reach out to Wildlife SOS Rapid Response Units on our 24X7 hotlines:
Delhi-NCR: +91-9871963535
Agra, Uttar Pradesh: +91-9917109666
Vadodara, Gujarat: +91-9825011117
Srinagar, Jammu and Kashmir: +91-7006692300/ +91-9419778280