For urban wildlife, adaptability is a double-edged sword. On one end, several animals are now accustomed to cityscapes and can derive their needs from the urban environment. However, the ever-growing, dynamic cities have also brought unpleasant challenges that need urgent redressal.
The black kite (Milvus migrans) is one of the most abundant members of the Accipitridae family of raptors, and are well-settled urban dwellers. Spread across Europe, Africa, Australia and Asia, this highly opportunistic bird owes its diverse range to a flexible diet, and the ability to thrive in both natural and concrete jungles. They find their vantage points on the tops of trees and towers.
Once active hunters, Indian black kites have increasingly taken to scavenging carrion and ready-to-eat scraps. A large number of them hover over garbage dumps. Expanding urban settlements have resulted in the decline of their original prey base, thereby modifying the diet of black kites.
There are two subspecies of the black kite one can spot in India – the Milvus migrans lineatus or the black-eared kite in the northern parts of the country, and the Milvus migrans govinda or small Indian kite in tropical India.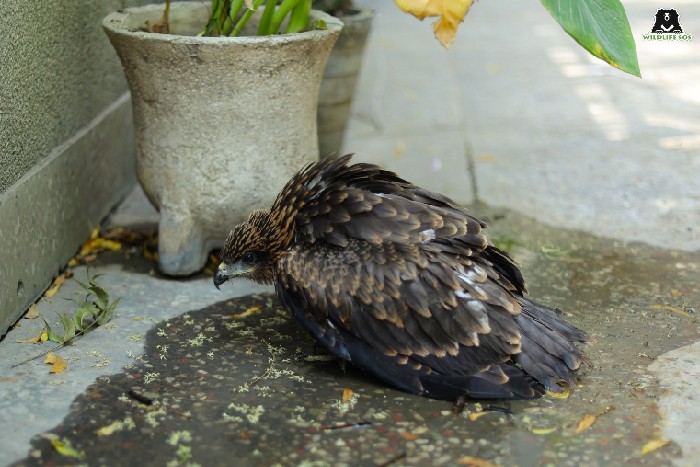 Over time, the black kite has become inextricably tied to the urban ecology of Indian cities. The small Indian kite, which was earlier also known as the pariah kite, prefers populated urban regions like that of Delhi-NCR over heavily forested areas. Though black kites have settled into urban locales with essential access to food and nest sites, they are now confronted with risks specific to city life.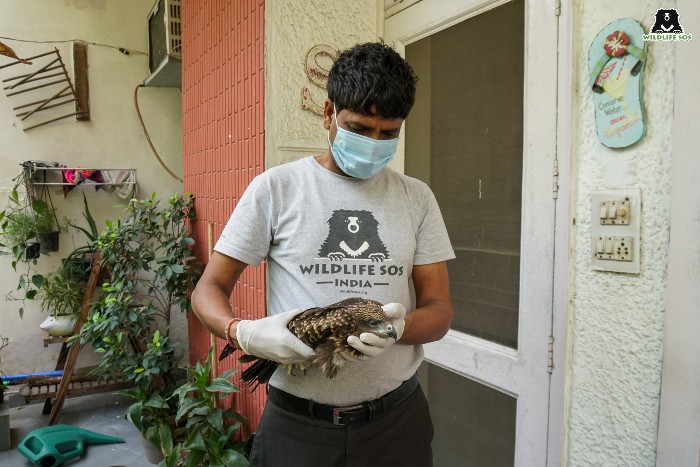 Beating the Heat
Many of us are familiar with the Greek story of Icarus, the boy who flew close to the sun and got burnt.
But did you know that similar incidents are taking place among city birds in the blazing summer season? While black kites can impressively soar up to high altitudes, such extreme heights also render them vulnerable to the sun during tropical summers. They frequently collapse from heatstrokes while making a descent in search of prey and water sources.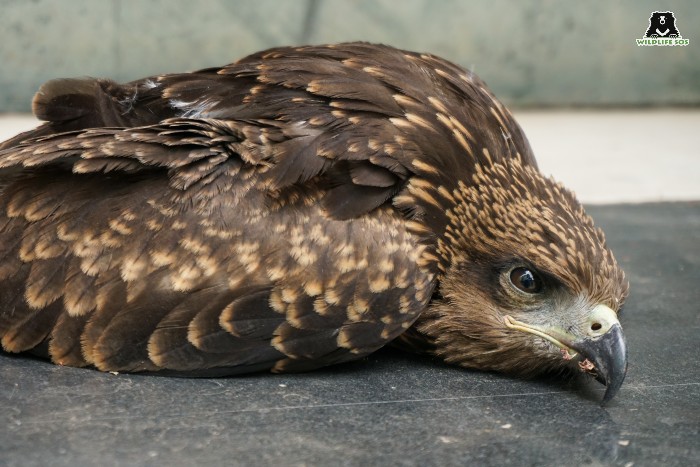 Black kites were among the avifauna that was worst hit by the severe heatwaves that had enveloped the country in the summer of 2022. In the months of March and April, Wildlife SOS rescued over 100 black kites from the Delhi-NCR alone.
The tender age of fledglings and nestlings renders them especially susceptible. In March 2022, after receiving a call from Delhi's Nyaya Marg in Chanakyapuri, we rescued a young kite that was lying motionless due to exhaustion in a garden there. In such situations, the first step our team takes is to orally rehydrate the bird. Shortly after, these birds are brought to our transit facility where they are kept under medical observation for some time before being deemed fit for release.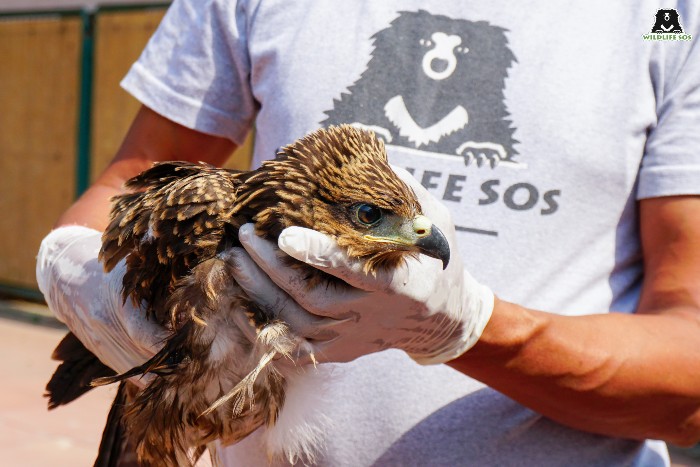 Summer is also when black kites often crash-land in unexpected places. Our Rapid Response Unit rushed to rescue two dehydrated kites found at the Prime Minister's Office in May 2023. Within a week after this rescue, Wildlife SOS arrived at the Swedish Embassy when the team was informed about another dehydrated black kite spotted there.
Wildlife SOS had come to the aid of a black kite in the Prime Minister's residence in August 2022 as well. The bird was unable to fly due to the scorching heat at the time.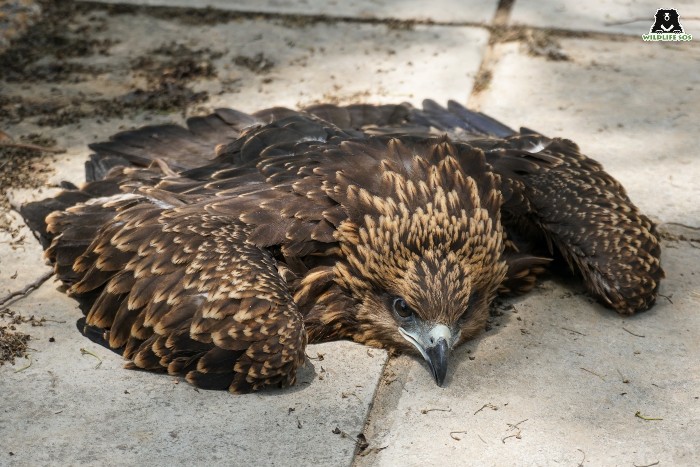 However, what comes as a surprise is that despite higher altitudes, regions within Jammu and Kashmir are susceptible to heatwaves as well. During a particularly extreme heatwave that had engulfed the valley in June and July of 2021, our team rushed to the rescue of a dehydrated kite that had collapsed in a resident's yard.
Kite versus Kite
The most harmful adversaries to these animals are the other kind of kites – the artificial ones made of plastic, paper and deadly glass-coated strings called manjha. Once used as a symbol of freedom and resistance, kites are also flown to express jubilation after a successful harvest, but they bear fatal consequences for urban avifauna.
The glass string is sharp enough to sever the flesh and bones of a bird, rendering them immobile on the ground after causing damage to their wings. In Gujarat, the Wildlife SOS team collaborates with the Gujarat Society for Prevention of Cruelty to Animals (GSPCA) to raise awareness about the harmful effects of kite-flying.
In south Delhi last year, a black kite was found caught in a deadly manjha, hanging from a tree inside a residential complex in Sheikh Sarai Phase-I. The bird was rescued through a collaborative effort of the Wildlife SOS Rapid Response Unit and the Delhi Fire Service.
Our Rapid Response Unit and veterinary teams can manage such scenarios. However, a large number of birds are injured during this festive season and managing their aid requires a more streamlined measure. In January 2022, Wildlife SOS collaborated with Eco Rescuers Foundation to organise a bird treatment camp in Jaipur.
After last year's positive response, a four-day bird treatment camp was held in Jaipur in 2023 as well to tend to injured birds. Civilians were also guided with the necessary know-how to care for an injured or ailing bird till the time expert assistance could be provided.
Mid-air Collisions
Imagine gliding at a height as an adept aerial acrobat when suddenly, your world is turned upside down, quite literally, by a large obstruction in the way. This happens to be a reality for urban black kites in India when they find their flight path interrupted by large buildings.
Five juvenile kites were saved from Srinagar in October 2021 after they had crashed into an electric pole. Our team soon realised that the birds had fractured their wings due to collision, and each had suffered electric shocks.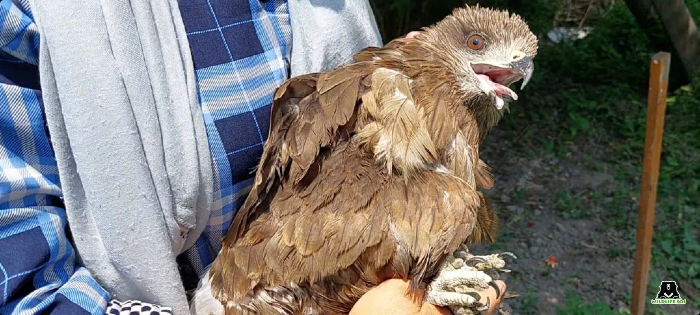 In another incident that took place in August 2022, our team received a call from employees of Nirman Bhawan, New Delhi, who had spotted an injured black kite on the ground. Upon investigation, the team found out that the bird had a damaged right wing, possibly due to a vehicular collision.
As incidents such as this become increasingly common across urban spaces, we realise there is no easy fix. While we do beseech the use of cotton strings for kite-flying, accidents due to collision and dehydration are ongoing urban realities that are more difficult to avoid.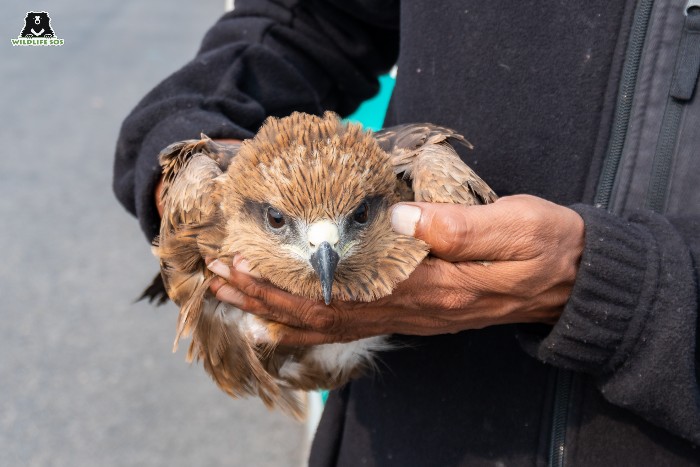 Upon spotting a bird in distress in your backyard or on a busy road, you may carefully move the bird closer to where the risk of harm is the least, but be careful not to impede on its normal behaviour. Observe the bird for a few minutes to gauge its health, and if it shows no signs of improving, immediately contact Wildlife SOS on our 24×7 rescue helplines:
Delhi NCR: +91-9871963535
Agra, Uttar Pradesh: +91-9917109666
Vadodara, Gujarat: +91-9825011117
Jammu and Kashmir: +91-7006692300/ +91-9419778280