We often get confused when we hear the word 'education' since its textbook definition is one-dimensional. Most of us associate the process of learning within certain settings of schools, colleges and universities, but we tend to forget about the most important education centre of all – Nature.
All of Wildlife SOS' rescue and rehabilitation centres have one component in common: they are surrounded by or are in the middle of natural habitats such as dense forests, lakes and even rivers. This makes them perfect centres of education for people who wish to learn more about nature. Most importantly, these centres also provide education on conservation because of the rich knowledge these sanctuaries and their residents are waiting to share. Let's understand how exactly their stories contribute to conservation education.
Education Centres for Students
Wildlife SOS' Dachigam and Pahalgam Bear Rescue Centres in the northern state of Jammu and Kashmir, the Agra Bear Rescue Centre, the Elephant Conservation and Care Centre in Mathura and the Bannerghatta Bear Rescue Centre (BBRC) in Bengaluru work as excellent places for people to visit and learn the stories of the rescued and rehabilitated animals. One particular group of people whom we wholeheartedly welcome are students – from younger school children to the ones studying in colleges and universities.
The bear rescue centres play an important role in educating students about the crucial conservation aspect of human-wildlife conflict. If one ever visits the Dachigam Bear Rescue Centre in Kashmir, the story of Sebastian (one of the rescued Himalayan Brown bears) has a lot to tell about human-bear conflict arising from unplanned waste disposal by humans. Uncovered garbage dumps and waste bins attract wild bears like Sebastian who end up raiding these bins in search of easily available food. Eventually, young Sebastian had to be rehabilitated at our centre to avoid any undesirable confrontations. Nawab, another Brown bear under Wildlife SOS' care, was rescued as a cub from a makeshift kitchen at a location en route to Amarnath, a sacred pilgrimage site. Easy access to food lured the cub near the site and he had to be rehabilitated at our centre in Pahalgam. These stories allow the visitors to grasp the intensity of the rapid urbanisation conundrum in Jammu & Kashmir and the plight the bears face due to shrinking natural habitats.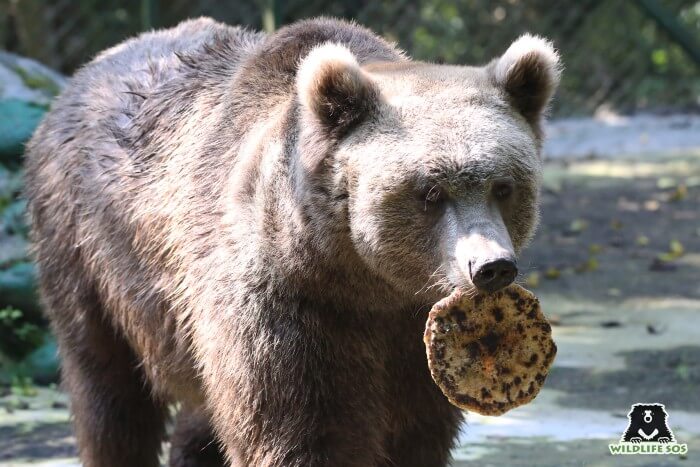 Apart from understanding the reasons why these bears were rehabilitated, visits to the centre can play another important function. Seeing bear behaviour first-hand helps to negate the various misconceptions people have regarding these animals. Witnessing the bears going about their daily routine provides a perfect opportunity to learn about certain aspects of their behaviour and their management in a rehabilitation centre.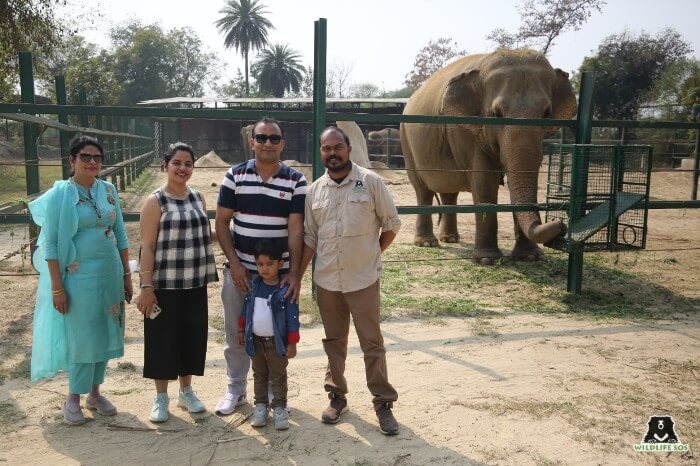 Many children pay a visit to our centres to know more about our animals and wildlife conservation. Padmanabham, a 4-year-old spirited boy learnt about Wildlife SOS through the National Geographic series 'India's Jungle Heroes', and was deeply inspired by Baiju Raj M.V, Director-Conservation Projects at Wildlife SOS. Several students visit the rescue centre at Bannerghatta (BBRC) too and here, they get an insight into the tragic past of the resident bears. This allows them to understand the causes of poaching, trafficking and bear-human conflict.
Education Centres for the Public
The Wildlife SOS centres have welcomed many visitors, volunteers and even a few celebrities over the years. Recently, the Bannerghatta Bear Rescue Centre (BBRC) played host to renowned Kannada TV and film actresses- sister duo Neha and Sonu Gowda, as well as twins Adhvithi and Ashvithi Shetty!
The actors spent a day at the centre and were given a tour of the facility, where they participated in a lot of activities as well. They helped the bear care staff and caregivers in preparing engaging enrichments for the bears. This was followed by a tour of the veterinary unit, and the green kitchen where eco-friendly cooking is done on-site for the resident bears.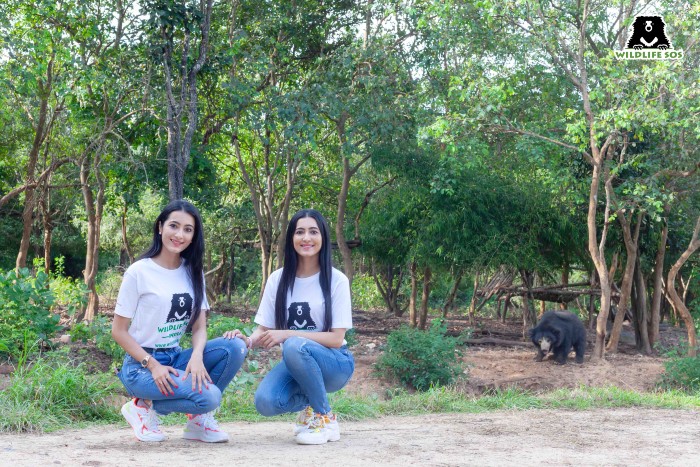 ​​These visits include engaging and interactive sessions with the Wildlife SOS veterinarians and staff who talk about the painful history of cruelty inflicted upon the former 'dancing' bears, and the organisation's efforts to help these animals have a better future. The veterinarians educate them regarding the various veterinary care and treatment procedures applicable to the resident Sloth bears followed by an extensive tour of the treatment facility.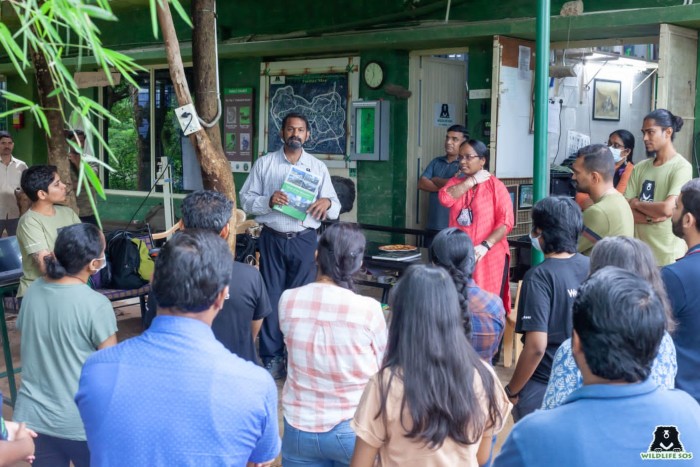 The Agra Bear Rescue Facility works as a perfect learning experience where people are taught about the fundamentals of animal welfare, ex-situ conservation and operating a rescue centre. As a volunteer, some of the duties include building hammocks for Sloth bears to rest in, constructing enrichment structures for play and assisting caregivers with daily feeding duties. This allows volunteers to gain practical knowledge and experience on how to care for bears, should they choose to help such animals in the future.
Learning Centres for Experts
Often a certain amount of training needs to be imparted to experts who are already working in the field with animals, and Wildlife SOS rescue centres have played host to such professionals. In December 2021, Wildlife SOS in collaboration with the Wildlife Institute of India (WII), organised an exposure visit and training workshop on wildlife and health management for 25 serving veterinary officers from the Department of Animal Husbandry, Madhya Pradesh. The workshop took place at the Agra Bear Rescue Facility (ABRF) and Elephant Conservation and Care Centre (ECCC). Covering the broader theme of 'Wildlife and Health Management' with an objective to enhance basic skills and knowledge of field veterinary officers, they were made privy to various wildlife health issues, health monitoring procedures, captive care and managing animals in distress.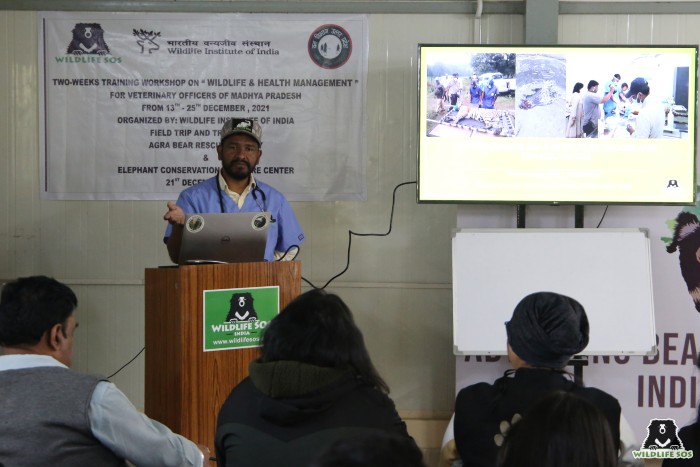 At ABRF, the officers were briefed about the physiological and behavioural aspects of Sloth bears as well as challenges faced by the veterinary team regarding the gamut of health issues found in the resident bears. The visit to the Elephant Conservation and Care Centre included a demonstration of scientific and humane elephant management techniques such as using positive reinforcements in target training. The officers also visited the Treatment Unit of ECCC where they were told about the various challenges one can face in managing elephant care and treatment, with a special focus on foot care and abscesses. The officers also got a chance to look at the various modern techniques and advanced medical equipment and facilities which help in the seamless treatment of the rescued elephants.
In the western part of the country, the Manikdoh Leopard Rescue Centre (MLRC) in Maharashtra has also acted as a learning and educational centre for forest officers. This year in January, Wildlife SOS in collaboration with the Ahmednagar Forest Division, conducted a rescue equipment training workshop at MLRC. Thirty-five forest officials attended the training in order to better understand the nuances of leopard rescues as part of the broader canvas of leopard conservation science.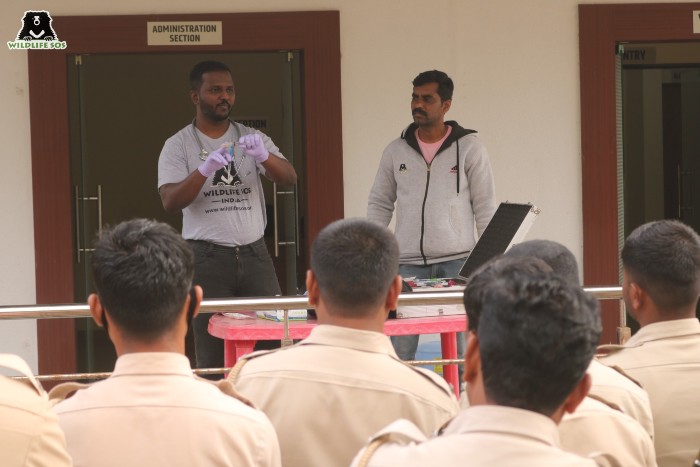 The Wildlife SOS team, led by Mahendra Dhore, Project Manager-Wildlife SOS and the veterinary team conducted the session in two halves – one part covered leopard rescue situations while the other dealt with rescue equipment information and leopard tranquilisation. Several videos were shown to throw light on the various types of rescue scenarios. They were also familiarised with rescue equipment such as a snare pole, safety net, net gun, blowpipe, shield and anti-scratching jacket, to name a few. The workshop concluded with a demonstration on safe and proper methods of using a tranquilising gun. Very recently, veterinary officers from the Yashada Training Centre in Pune visited MLRC to get well-versed in dealing with emergency treatments of wild animals. These veterinarians were imparted skills to ensure that they can be called in for medical assistance at short notice, in case of a rare leopard or tiger rescue.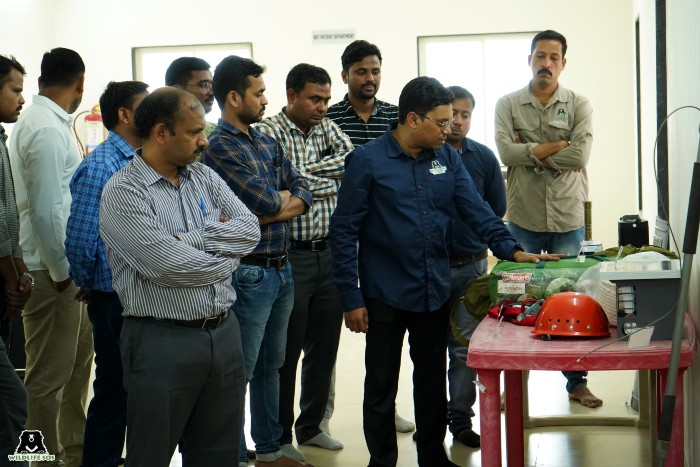 Instances like these are galore where Wildlife SOS rescue centres have successfully acted as learning centres to impart training, education and awareness. A close observation of animals, their behaviour and the sensitivity with which they are cared for at our centres have inculcated respect for the wild and a responsibility towards wildlife conservation among visitors, volunteers and participants of workshops. Doors are wide open to those wanting to learn more about wildlife conservation and animal welfare.
Running these centres is resource-intensive, and you can play a part in helping us. Become a monthly donor by clicking here and support our significant work.