Ever since its foundation 28 years ago, Wildlife SOS has been dedicated to rescue and rehabilitate numerous sloth bears in distress. Among these, over 628 sloth bears were liberated from the clutches of the 'dancing' bear trade, while several others found sanctuary after surviving conflict situations in various regions near our rescue centres.
In both scenarios, these bears arrived in our care carrying a myriad of complex medical issues, all requiring the expertise of our highly skilled veterinarians. The bears rescued from the Kalandar community came with a host of health problems, ranging from malnourishment, dental issues, and tuberculosis to tumours and issues with their liver and kidneys. Meanwhile, those saved from conflict situations were found with injuries acquired from traps such as vicious snares and concealed explosives laid by poachers.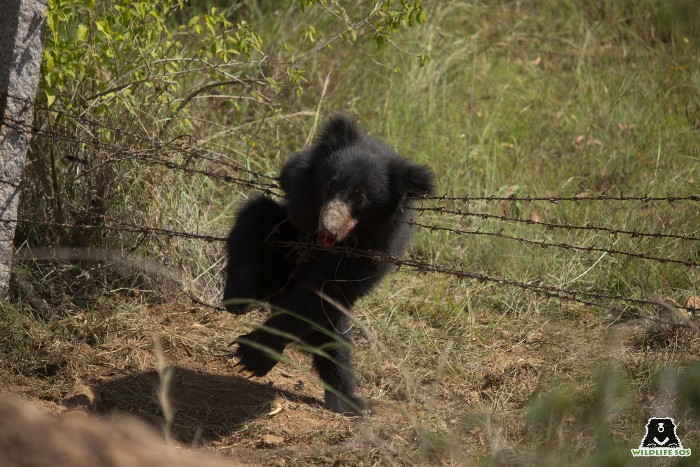 To ensure that these remarkable mammals receive the best possible care and medical treatment, our rescue centres are equipped with an array of medical apparatuses. These provisions are essential in the diagnosis and treatment of injured and ailing sloth bears at our centres.
Preliminary Diagnosis
The very first step while examining a rescued animal is a weight check. When sick, most animals, including sloth bears, often cease eating. In the animal kingdom, displaying any signs of weakness can be perilous, as it signals vulnerability to predators. By weighing the bears, we are provided crucial insights on the initial condition of the animal, especially for those rescued from conflict situations.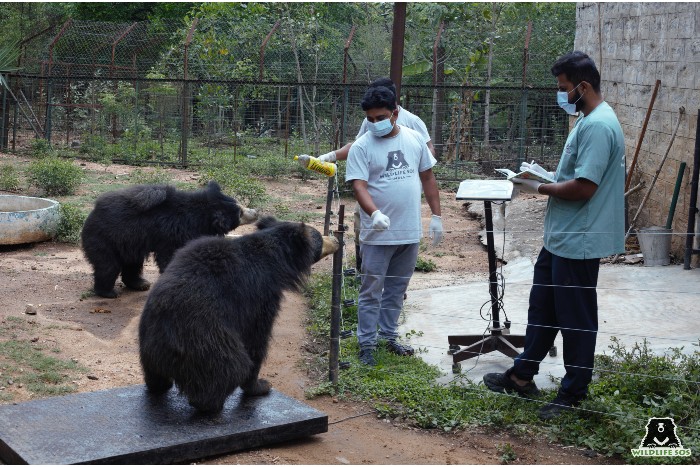 Next, our veterinarians conduct a thorough visual examination of the bears, checking for injuries, skin issues, oral health, and eye conditions. This is followed by a general health examination that involves analysing blood and stool samples for any abnormalities or parasites. For more advanced tests, we may need to send samples to external laboratories. However, our in-house laboratory at the rescue centres consists of specialised equipments that can help us identify vital discrepancies in health:
Compound microscope: This microscope aids in performing basic analysis of stool and blood samples. Stool samples are checked for the presence of helminthic parasites, protozoa, or faecal leukocytes, among others. Blood samples are also examined for parasites and other diagnostic factors that contribute to the overall diagnosis of the animal's condition.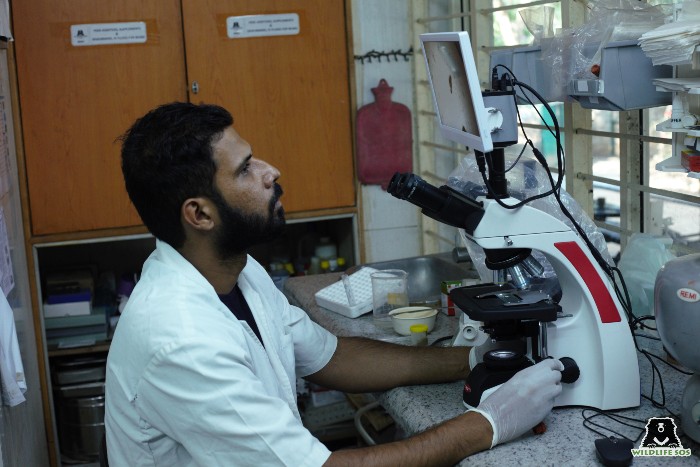 Centrifuge machine: Prior to the microscopic examination of blood, the sample undergoes centrifugation, a process in which a centrifuge machine separates blood components, like serum and red blood cells, by density. This allows for easier detection of the different blood parameters.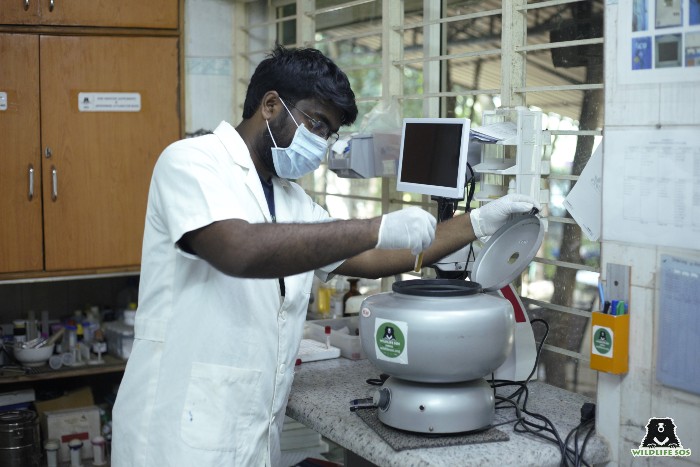 Urine analyser: This is a valuable clinical tool used for automated urine testing. This device can efficiently detect and quantify numerous analytes, including bilirubin, protein, glucose, and red blood cells.
These preliminary tests are essential for uncovering any underlying health issues that may impact the sloth bear's well-being. To monitor and combat any untoward condition on time, these tests are conducted on a quarterly basis.
Surgical Treatment
Following the preliminary screening, if any abnormalities surface in the medical reports of the sloth bears, our veterinarians promptly administer the required medication and treatment. For instance, if the stool samples indicate the presence of helminths, then we provide deworming medication. Similarly, if the routine blood work reveals any minute deviation from normal, such as anaemia, liver and kidney issues, and viral, bacterial, and protozoan infections, our veterinarians prescribe the appropriate medication to counteract this.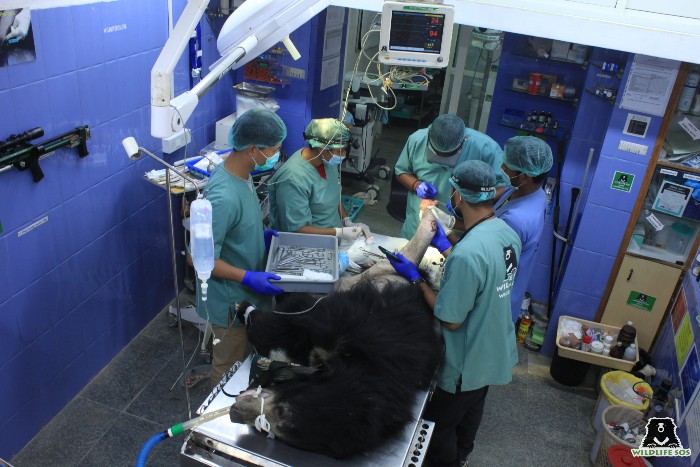 However, in some cases where a more in-depth examination needs to be done, we opt to tranquillise the animal and transfer them to our state-of-the-art, sterile Operation Theatre (OT). Here, our team of skilled veterinarians conducts more comprehensive tests. To facilitate this, our medical team uses a range of tools specifically designed to ensure accurate diagnosis.
Devices at the Rescue Centre
Sloth bears saved from conflict situations often suffer from internal injuries, broken bones, or twisted joints that demand immediate attention. To pin-point these issues accurately, we utilise a portable X-ray machine that can be used in both field conditions and within our rescue centres. Additionally, 'dancing' bears rescued from the Kalandar trade often have dental issues resulting from the crude way they would break off their canines to keep them from attacking their abusers. This machine can also be employed to assess the dental health of these bears, revealing any cavities they may have.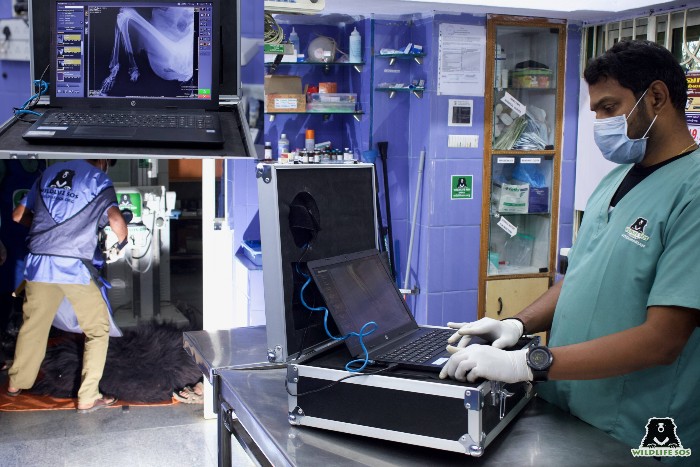 Our operation theatre also has an ultrasound machine, a key tool to examine the internal body structures of sloth bears under our care. It allows us to inspect the bear's abdominal and pelvic organs, heart, and blood vessels. Many of our rescued bears suffer from liver and kidney issues stemming from their mistreatment in the 'dancing' bear trade. Several bears are also found having tuberculosis, which affects their lungs. An ultrasound test is therefore especially important to diagnose the condition.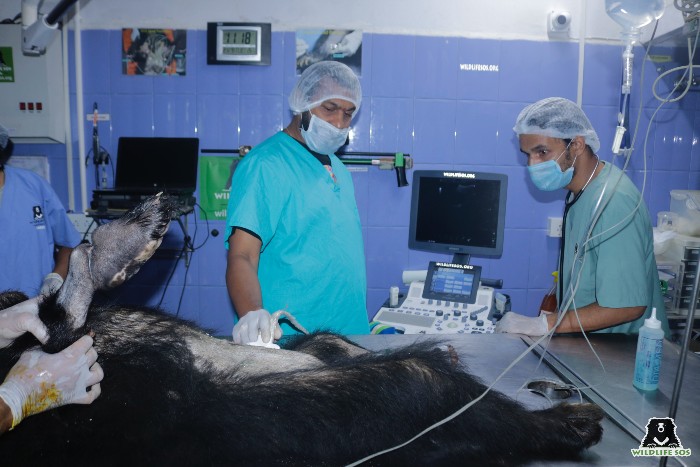 Furthermore, we maintain an ECG (Electrocardiogram) machine at our rescue centres to assess the electrical activity and rhythm of a sloth bear's heart, ensuring there are no irregularities that might threaten their health.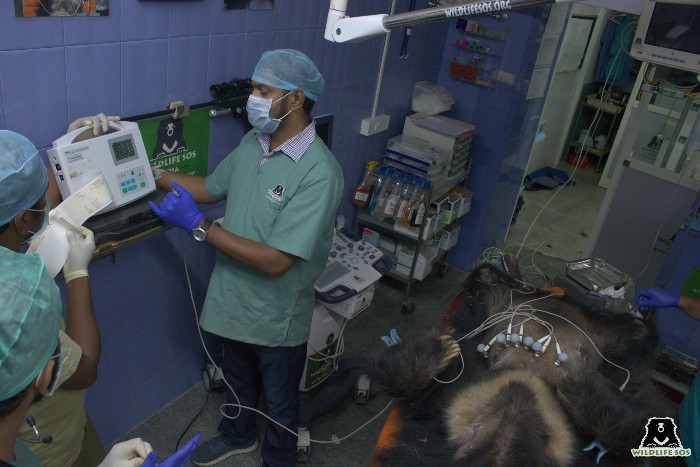 To tackle the dental issues faced by our bears, our OT is also equipped with a specialised dental machine that allows us to perform tooth extractions and root canal treatments as needed. While it is similar to the gear used for human dental procedures, certain parts have been modified to suit the unique dental physiology of bears.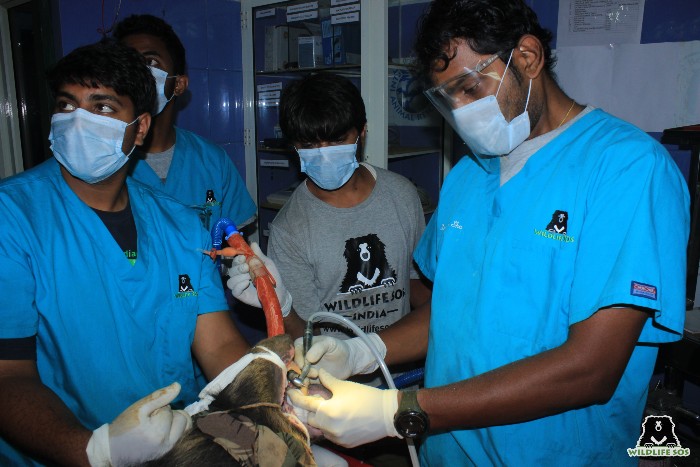 Other equipments that are present for use during the surgical procedures or general health examinations are:
Blood gas analyser: This tool helps to assess the lung function of the animal. It conducts an arterial blood gas analysis (ABG), examining the oxygen-to-carbon dioxide ratio in the blood and evaluating its acid-base balance. This information is pivotal for understanding the animal's respiratory health.
Glucometer: Also known as a glucose meter, this device is used to determine the concentration of glucose in the blood of rescued bears.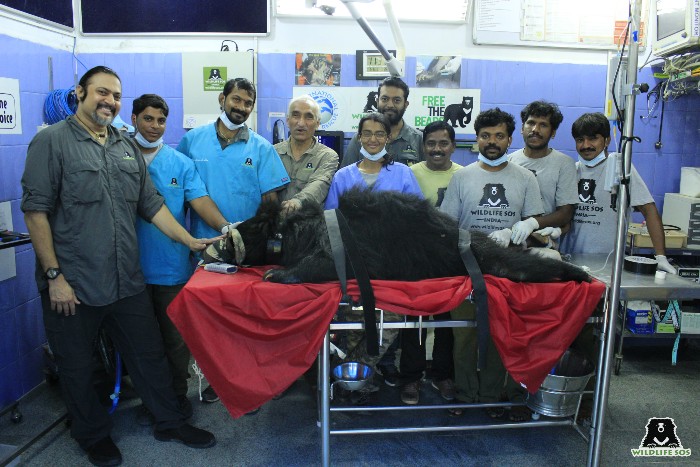 Patient monitor: This keeps a constant watch on an animal's essential vital signs, ensuring they remain stable and safe under anaesthesia. It provides real-time data and alerts for quick intervention, enhancing patient safety and the accuracy of medical procedures.
Gas anaesthesia machine: A critical tool for the comfort and safety of animals during medical procedures. It delivers precise mixtures of gases, allowing veterinarians to tailor anaesthesia to each animal's needs. This machine plays a crucial role in surgeries, maintaining consistent anaesthesia levels throughout the procedure. It also boasts of a rapid onset and offset, enhancing the animal's recovery post-surgery.
Healing Treatment
Apart from essential diagnostic and surgical instruments, we possess specialised tools for treating specific health concerns in our sloth bears. The therapeutic laser machine plays a desired role in treating wounds, injuries, inflammation, and nerve issues without harming healthy cells. It promotes healing by enhancing vascular activity and by stimulating the growth of new capillaries. Moreover, it provides relief to the rescued 'dancing' bears who often suffer from arthritis due to their laborious past.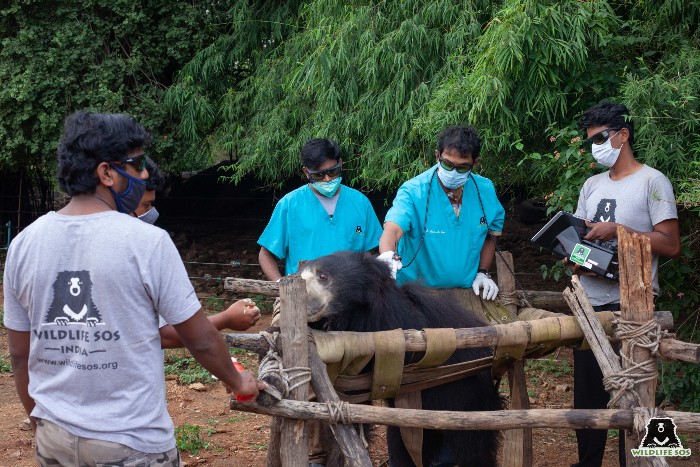 Kuber, one of our sloth bears rescued as a cub, receives this treatment regularly to address his muscular incoordination. This condition stemmed from a brain haemorrhage he experienced in the left cerebral hemisphere when he was just a few years old.
Wildlife SOS has four sloth bear rescue centres across India, each with a dedicated team committed to providing the best possible geriatric and palliative care for these incredible creatures. These centres include the Agra Bear Rescue Facility, Bannerghatta Bear Rescue Centre, Van Vihar Bear Rescue Facility and West Bengal Bear Rescue Centre. Together, we nurture hope and healing for India's sloth bears. Join us in safeguarding their future by supporting our rescue centres. Your involvement can make a world of difference. Click here to donate.