Volunteers become an indispensable part of NGOs, especially those advocating for the rights of voiceless animals. On International Volunteer Recognition Day 2023, Wildlife SOS takes the opportunity to acknowledge and applaud the tireless efforts of those who work towards wildlife conservation. These unsung heroes come from various walks of life, including collectives, interest groups, youth clubs, celebrities and local communities from cities or villages.
Local communities have always been the ultimate stewards of the land, and by conducting effective awareness sessions, Wildlife SOS encourages such communities to become active participants as far as community-based conservation is concerned. Community-based solutions have proven effective in mitigating human-animal conflict in Chhattisgarh, where wild elephants and villagers often clash in human habitations. With the aid of village volunteers and the frontline officials of the forest department, Wildlife SOS delivered training sessions to guarantee that a set protocol was followed in cases of wild elephant sightings.
The workshops also covered the ecology of elephants, the biology and natural history of elephants, the basics of social behaviour and communication among elephants, and the procedure of obtaining compensation for agricultural or property damage caused due to the Human-Elephant Conflict (HEC) in Chhattisgarh. Volunteers also become the heart of an NGO's internal operation, with organisations like Wildlife SOS enlisting the help of such passionate people in their daily activities.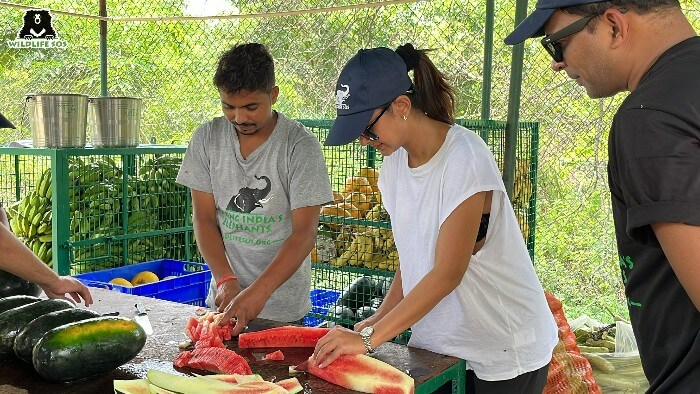 Volunteers at Wildlife SOS, both from within and outside the nation, are often tasked with preparing food for rescued elephants and Sloth bears residing at the Elephant Conservation and Care Centre, the Agra Bear Rescue Facility, and the Bannerghatta Bear Rescue Centre. Other activities include cutting vegetables and fruits for the animals, making various enrichments, assisting the caregivers in cleaning up food plates, maintenance work in the enclosures and dens, and more.
Celebrity volunteers have long exercised their passion for the cause of abused elephants and bears, with actress Jennifer Winget even forming a special connection with our elephant Suzy on World Elephant Day in 2022. On the day spent at the centre, Jennifer Winget witnessed elephants exercise their natural foraging skills while also learning more about them. An earnest animal lover who had already worked for the betterment of stray dogs, her experience as a volunteer and dedication to the cause of animal welfare touched many hearts.
Volunteers also get a chance to indulge their creativity by knitting hay net feeders for the elephants or building hammocks and platforms enrichments for the Sloth bears. Volunteers can also engage in offline and online fundraising activities to help support the animals in our care. Moved by the cause of animals in distress, students in the Ace Priyadarshani School of Mysore, Karnataka recently banded together to raise funds for wildlife conservation and awareness.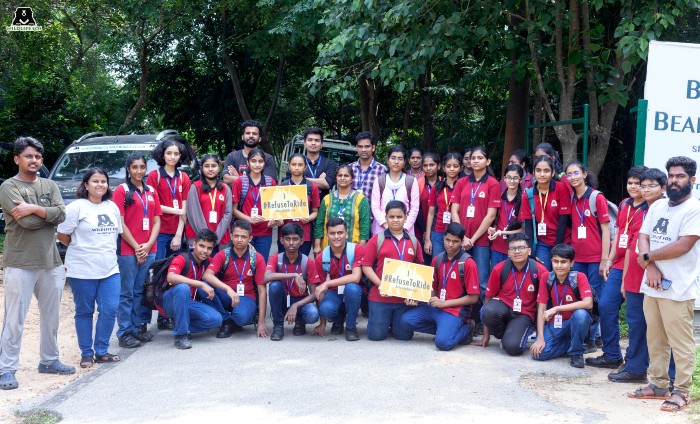 As future guardians of a world fraught with the climate crisis, mass extinctions and other anthropogenic disasters, students often form the most passionate demographic when it comes to animal conservation. We noticed this in our partnership with Orchid International School in Bengaluru, where a group of 125 students worked together to support Hamsi bear at our Bannerghatta Bear Rescue Centre. The school's principal has consistently contributed to Hamsi's upkeep on a monthly basis. The students set out to follow this example after being inspired by their teacher, and collectively raised money for Hamsi's food and medical expenses.
Education and generating awareness are factors of prime importance when it comes to building the next generation of animal activists. Earlier this year, students and teachers from the Muktangan Adivasi School visited our Manikdoh Leopard Rescue Centre in Junnar, where they had a chance to learn about the elusive felines of India. Home to about 35 leopards rescued from various sites of conflict, MLRC served as the perfect location to educate students about increasing human-leopard clashes in urban areas, the dangers to these creatures in the modern day and the basics of leopard biology and ecology. Students also had the chance to observe the young cub Simba from up close, and learn about an important aspect of mitigating human-leopard conflict and leopard cub reunions.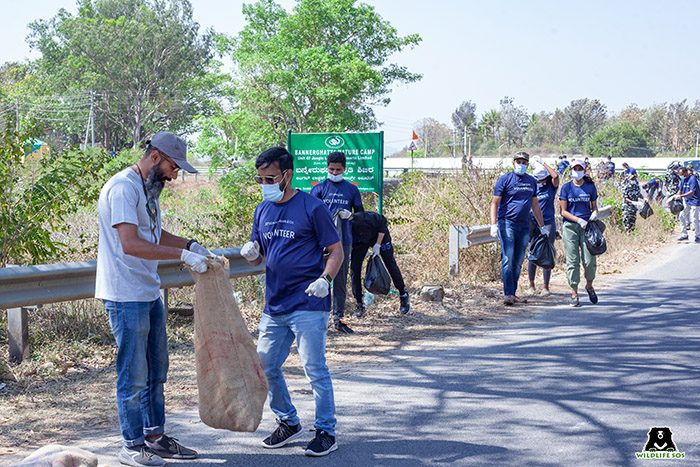 Wildlife SOS also commemorated World Wildlife Day on 3rd March through a clean-up drive at the Bannerghatta Bear Rescue Centre in association with Champakadhama Temple Committee, Panchayat, local police force, Bannerghatta National Park (BNP) and Bannerghatta Biological Park (BBP). Volunteers were educated about the detrimental effects of plastics on terrestrial fauna, especially when consumed by large mammals. A discussion regarding the perilous impacts of plastic waste and the necessity of cleanliness drives was followed by a group activity including 350 participants.
Volunteers, students, members of the Central Reserve Police Force (CRPF), our CSR partners (Atlassian India, JP Morgan Chase and Co, Aquarelle India Pvt. Ltd., Sarla Birla Academy, Byju's, Colliers Bengaluru), and others joined ourcause to fight against the plastic pollution that is pervasive along the roads leading to the National Park. Throughout the morning, volunteers picked up plastic rubbish and other kinds of waste that they came across. The roadways were cleared of rubbish by nearly six tractors, leaving behind cleaner surroundings.
Wildlife SOS firmly believes in the CSR (corporate social responsibility) approach to the protection of the environment and its non-human inhabitants, and alliances with various corporate bodies have proved beneficial in terms of the welfare of the animals in our care and wildlife conservation. We align ourselves with the Sustainable Development Goals put down by the United Nations, which manifest in our work regarding conservation, tribal rehabilitation, education for Kalandar children, women empowerment, habitat restoration and more! As such, we extend an invitation to businesses of all types to support our organisation financially or by participating in our organisation's life-changing mission through corporate employee engagement.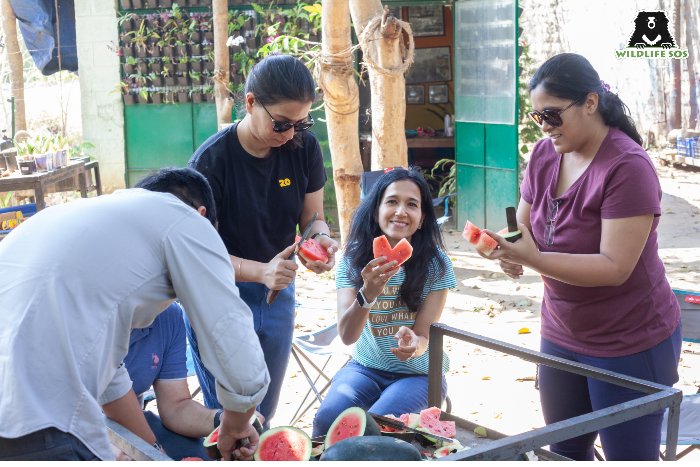 Our volunteers also take the shape of driven individuals who participate in Wildlife SOS's numerous art and writing contests, to lend a voice to the victims of anthropogenic actions in a creative space. Wildlife SOS never fails to recognise their participation. To honour the extraordinary commitments of people from across the world, we have initiated Volunteer Awards to commemorate individuals who have made a significant impact on the cause of animal welfare and conservation. The Wildlife SOS Awards of 2022 honoured Gumi Malhotra with the "Compassionate Creator Award" and Ayan with the "Rising Star Award" for their active involvement.
If you too want to volunteer and make a difference for our rescued bears, elephants, and leopards, do get in touch with us! Wildlife SOS welcomes motivated people who can dedicate their time towards this cause. Drop us an email at volunteer@wildlifesos.org.